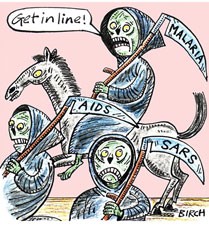 Health authorities in Hong Kong are coming under intense criticism over their use of an antiviral drug combined with anti-inflammatory steroids to treat patients with severe acute respiratory syndrome (SARS).
Critics of the treatment say that there are few indications that the combination of steroids and the antiviral drug ribavirin is effective. And autopsies revealing damage to organs other than the lungs have raised the question of whether the drugs are partly to blame.
"There has been concern in Hong Kong about the efficacy of the treatment, and doctors there are calling for a re-examination of the protocol amid concerns that the prolonged use of high-dose ribavirin may be causing or exacerbating multi-organ failure," says Gurinder Shahi, a physician and chairman of the Singapore-based biotechnology company BioEnterprise Asia.
Many in Hong Kong say that the necessary clinical tests have not been done, and that it is therefore too early to judge. "There is no clear evidence either way right now," says Ka-fai To, a pathologist at the Chinese University of Hong Kong whose autopsies of SARS victims found evidence of damage to the lymph nodes and spleen. "These findings could be side effects of the drug, but they could also be the effect of the virus or even an immune response to the virus," she says.
In Hong Kong, which has the largest number of SARS cases and deaths outside mainland China, all patients receive the combination treatment, says John Tam, director of virology at the Prince of Wales Hospital in Hong Kong. The combination is also being used in China's Guangdong Province, Singapore and Toronto.
Although ribavirin is known to be toxic in some patients, it has been prescribed because of its effectiveness against respiratory syncytial virus. This virus is similar to the metapneumovirus that was first isolated in Hong Kong and was originally thought to be the cause of SARS, says Masato Tashiro of the National Institute of Infectious Diseases in Tokyo.
But the drug's efficacy against SARS, which is now thought to be caused by a new strain of coronavirus, is unknown. "Increasing numbers of patients show no improvement," says Tam. In vitro tests are also negative, according to Tashiro.
But in the absence of any obvious alternative, health authorities in Hong Kong are sticking with the therapy. In a speech in Kuala Lumpur on 26 April, the health secretary Carrie Yau Tsang Ka-lai said that 80% of patients seem to respond favourably to the treatment.
But US officials have rejected ribavirin as a treatment for SARS. At a press briefing on 22 April, Julie Gerberding, director of the Centers for Disease Control and Prevention, said: "There doesn't seem to be any activity of ribavirin against this particular coronavirus."
About this article
Cite this article
Cyranoski, D. Critics slam treatment for SARS as ineffective and perhaps dangerous. Nature 423, 4 (2003). https://doi.org/10.1038/423004a
Issue Date:

DOI: https://doi.org/10.1038/423004a
This article is cited by
Alok Sharma
Suhail Ahmed
Chandrababu Rejeeth

VirusDisease (2021)

European Journal of Clinical Microbiology & Infectious Diseases (2005)

Takeshi Fujii
Aikichi Iwamoto
Aikichi Iwamoto

Journal of Infection and Chemotherapy (2004)