Abstract
Nicotinamides and flavins are essential cofactors in enzyme-catalysed reduction–oxidation (redox) reactions and are classified as vitamins because they must be supplied in the diet. Another redox cofactor, pyrroloquinoline quinone (PQQ), was first discovered in bacteria1 and is also likely to be important in mammals2,3, but the biochemical pathways in which it participates are unknown. Here we identify a PQQ-dependent dehydrogenase enzyme that is crucial for the degradation of the amino acid lysine in mice. PQQ is acting as a mammalian redox cofactor in this reaction, and therefore qualifies as a newcomer to the B group of vitamins.
Access options
Subscribe to Journal
Get full journal access for 1 year
$199.00
only $3.90 per issue
All prices are NET prices.
VAT will be added later in the checkout.
Rent or Buy article
Get time limited or full article access on ReadCube.
from$8.99
All prices are NET prices.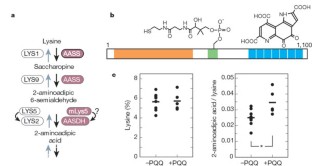 References
1

Salisbury, S. A., Forrest, H. S., Cruse, W. B. & Kennard, O. Nature 280, 843–844 (1979).

2

Killgore, J. et al. Science 245, 850–852 (1989).

3

Steinberg, F. M., Gershwin, M. E. & Rucker, R. B. J. Nutr. 124, 744–753 (1994).

4

Higashino, K., Fujioka, M. & Yamamura, Y. Arch. Biochem. Biophys. 142, 606–614 (1971).

5

Bhattacharjee, J. K. Crit. Rev. Microbiol. 12, 131–151 (1985).

6

Ehmann, D. E., Gehring, A. M. & Walsh, C. T. Biochemistry 38, 6171–6177 (1999).

7

Praphanphoj, V., Sacksteder, K. A., Gould, S. J., Thomas, G. H. & Geraghty, M. T. Mol. Genet. Metabol. 72, 336–342 (2001).

8

Mathews, F. S. Methods Enzymol. 258, 191–216 (1995).

9

Flückiger, R., Woodtli, T. & Gallop, P. M. Biochem. Biophys. Res. Commun. 153, 353–358 (1988).

10

Kumazawa, T., Seno, H., Urakami, T., Matsumoto, T. & Suzuki, O. Biochim. Biophys. Acta 1156, 62–66 (1992).
Ethics declarations
Competing interests
The authors declare no competing financial interests.
About this article
Cite this article
Kasahara, T., Kato, T. A new redox-cofactor vitamin for mammals. Nature 422, 832 (2003) doi:10.1038/422832a
Comments
By submitting a comment you agree to abide by our Terms and Community Guidelines. If you find something abusive or that does not comply with our terms or guidelines please flag it as inappropriate.