The polymerase chain reaction is widely used to amplify samples of DNA for genetic analysis, and fast, high throughput is the ideal. Microscale, chip-based devices are now proving themselves in this arena.
Access options
Subscribe to Journal
Get full journal access for 1 year
$199.00
only $3.90 per issue
All prices are NET prices.
VAT will be added later in the checkout.
Tax calculation will be finalised during checkout.
Buy article
Get time limited or full article access on ReadCube.
$32.00
All prices are NET prices.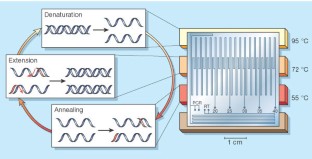 References
Mullis, K. B. et al. Cold Spring Harb. Symp. Quant. Biol. 51, 263–273 (1986).

Woolley, A. T. et al. Anal. Chem. 68, 4081–4086 (1996).

Northrup, M. A. et al. Anal. Chem. 70, 918–922 (1998).

Lagally, E. T., Medintz, I. & Mathies, R. A. Anal. Chem. 73, 565–570 (2001).

Obeid, P. J., Christopoulos, T. K., Crabtree, H. J. & Backhouse, C. J. Anal. Chem. 75, 288–295 (2003).

Kopp, M. U., deMello, A. J. & Manz, A. Science 280, 1046–1048 (1998).
About this article
Cite this article
deMello, A. DNA amplification moves on. Nature 422, 28–29 (2003). https://doi.org/10.1038/422028a
Issue Date:

DOI: https://doi.org/10.1038/422028a