Newton devised his universal law of gravitation for planets, but does it work at small scales? A search for a deviation from the expected behaviour could provide the first evidence in support of string theory.
Access options
Subscribe to Journal
Get full journal access for 1 year
$199.00
only $3.90 per issue
All prices are NET prices.
VAT will be added later in the checkout.
Tax calculation will be finalised during checkout.
Buy article
Get time limited or full article access on ReadCube.
$32.00
All prices are NET prices.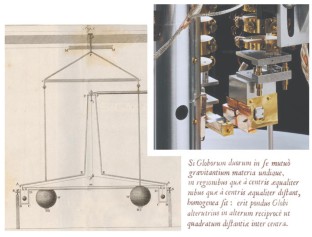 References
Cavendish, H. Phil. Trans. R. Soc. Lond. 17, 469–526 (1798).

Pease, R. Nature 411, 986–988 (2001).

Long, J. C. et al. Nature 421, 922–925 (2003).

Lamoreaux, S. K. Phys. Rev. Lett. 78, 5–8 (1997).

Hoyle, C. D. et al. Phys. Rev. Lett. 86, 1418–1421 (2001).

Hoskins, J. K., Newman, R. D., Spero, R. & Schultz, J. Phys. Rev. D 32, 3084–3095 (1985).

Arkani-Hamed, N., Dimopoulos, S. & Dvali, G. Phys. Lett. B 429, 263–272 (1998).

Kaplan, D. B. & Wise, M. B. J. High Energy Phys. 8, 37 (2000).
About this article
Cite this article
Hoyle, C. The weight of expectation. Nature 421, 899–900 (2003). https://doi.org/10.1038/421899a
Issue Date:

DOI: https://doi.org/10.1038/421899a