The effect of greenhouse gases on climate is underscored by modelling work showing that formation of the Antarctic ice sheet, 34 million years ago, occurred largely because of a fall in atmospheric CO2 concentration.
This is a preview of subscription content
Access options
Subscribe to Journal
Get full journal access for 1 year
$199.00
only $3.90 per issue
All prices are NET prices.
VAT will be added later in the checkout.
Tax calculation will be finalised during checkout.
Buy article
Get time limited or full article access on ReadCube.
$32.00
All prices are NET prices.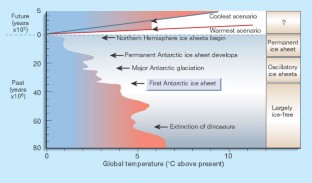 References
Barrett, P. J. Terra Antartica 3, 103–119 (1996).

DeConto, R. M. & Pollard, D. Nature 421, 245–249 (2003).

Shackleton, N. J. & Kennett, J. P. Init. Rep. Deep Sea Drilling Project 29, 743–755 (1975).

Crowley, T. J. & Kim, K.-Y Geophys. Res. Lett. 22, 933–936 (1995).

Kennett, J. P. J. Geophys. Res. 82, 3843–3859 (1977).

Sloan, L. C., Walker, J. C. G. & Moore, T. C. Jr Paleoceanography 10, 347–356 (1995).

Naish, T. R. et al. Nature 413, 719–723 (2001).

Miller, K. G., Wright, J. D. & Fairbanks, R. G. J. Geophys. Res. 96, 6829–6848 (1991).

Raine, J. I. & Askin, R. A. Terra Antartica 8, 389–400 (2001).

Wilson, G. S. et al. Palaeogeogr. Palaeoclimatol. Palaeoecol. 179, 1–15 (2002).

Barrett, P. J., Bleakley, N. L., Dickinson, W. W., Hannah, M. H. & Harper, M. A. in The Antarctic Region: Geological Evolution and Processes (ed. Ricci, C. A.) 763–770 (Terrapub, Siena, 1997).

Houghton, J. T. et al. Climate Change 2001: The Scientific Basis (Cambridge Univ. Press, 2001).
About this article
Cite this article
Barrett, P. Cooling a continent. Nature 421, 221–223 (2003). https://doi.org/10.1038/421221a
Issue Date:

DOI: https://doi.org/10.1038/421221a