Neat rows of paired photon receptors are caught on camera in their natural state.
Abstract
In vertebrate retinal photoreceptors, the rod outer-segment disc membranes contain densely packed rhodopsin molecules for optimal light absorption and subsequent amplification by the visual signalling cascade1, but how these photon receptors are organized with respect to each other is not known. Here we use infrared-laser atomic-force microscopy to reveal the native arrangement of rhodopsin, which forms paracrystalline arrays of dimers in mouse disc membranes. The visualization of these closely packed rhodopsin dimers in native membranes gives experimental support to earlier inferences about their supramolecular structure2,3 and provides insight into how light signalling is controlled.
This is a preview of subscription content
Access options
Subscribe to Journal
Get full journal access for 1 year
$199.00
only $3.90 per issue
All prices are NET prices.
VAT will be added later in the checkout.
Tax calculation will be finalised during checkout.
Buy article
Get time limited or full article access on ReadCube.
$32.00
All prices are NET prices.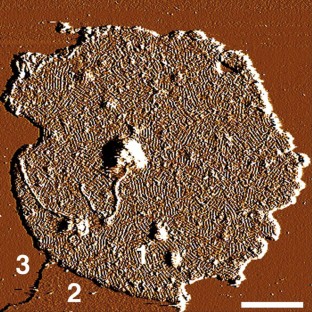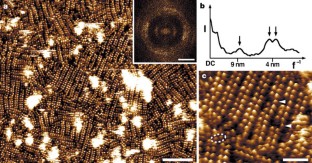 References
Papermaster, D. S. Invest. Ophthalmol. Vis. Sci. 43, 1300–1309 (2002).

Rios, C. D., Jordan, B. A., Gomes, I. & Devi, L. A. Pharmacol. Ther. 92, 71–87 (2001).

Dean, M. K. et al. J. Med. Chem. 44, 4595–4614 (2001).

Palczewski, K. et al. Science 289, 739–745 (2000).

Molday, R. S. Invest. Ophthalmol. Vis. Sci. 39, 2491–2513 (1998).

McBee, J. K., Palczewski, K., Baehr, W. & Pepperberg, D. R. Progr. Retin. Eye Res. 20, 469–529 (2001).
Ethics declarations
Competing interests
The authors declare no competing financial interests.
About this article
Cite this article
Fotiadis, D., Liang, Y., Filipek, S. et al. Rhodopsin dimers in native disc membranes. Nature 421, 127–128 (2003). https://doi.org/10.1038/421127a
Issue Date:

DOI: https://doi.org/10.1038/421127a
Comments
By submitting a comment you agree to abide by our Terms and Community Guidelines. If you find something abusive or that does not comply with our terms or guidelines please flag it as inappropriate.