Huge amounts of methane are locked up in deposits that lie deep beneath the sea floor. New seismic images reveal that these deposits possess unexpected features that might affect their stability.
Access options
Subscribe to Journal
Get full journal access for 1 year
$199.00
only $3.90 per issue
All prices are NET prices.
VAT will be added later in the checkout.
Tax calculation will be finalised during checkout.
Buy article
Get time limited or full article access on ReadCube.
$32.00
All prices are NET prices.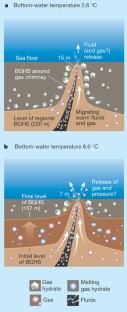 References
Wellsbury, P. & Parkes, J. R. in Natural Gas Hydrate in Oceanic and Permafrost Environments (ed. Max, M. D.) 91–104 (Kluwer, Dordrecht, 2000).

Sloan, E. D. Clathrate Hydrates of Natural Gases (Dekker, New York, 1990).

Wood, W. T., Gettrust, J. F., Chapman, N. R., Spence, G. D. & Hyndman, R. D. Nature 420, 656–660 (2002).

Gorman, A. R. et al. Geology 30, 327–330 (2002).

Dickens, G. R. Org. Geochem. 32, 1179–1193 (2001).

Mienert, J., Posewang, J. & Baumann, M. in Gas Hydrates: Relevance to World Margin Stability and Climatic Change (eds Henriet, J. P. & Mienert, J.) 275–291 (Geol. Soc., London, 1998).

Dillon, W. P. et al. in Proc. 29th Offshore Technol. Conf. 201–209 (Offshore Tech. Conf., Dallas, 1997).

Holbrook, W. S. et al. Geology 30, 467–470 (2002).

Lashof, D. A. & Ahuja, D. R. Nature 344, 529–531 (1990).

Katz, M. E., Pak, D. K., Dickens, G. R. & Miller, K. G. Science 286, 1531–1533 (1999).

Fowler, C. M. R. The Solid Earth (Cambridge Univ. Press, 1990).
About this article
Cite this article
Pecher, I. Gas hydrates on the brink. Nature 420, 622–623 (2002). https://doi.org/10.1038/420622a
Issue Date:

DOI: https://doi.org/10.1038/420622a