Between the Magellanic Clouds, in a region swept with tides of gas, stars are forming. The detection of carbon monoxide shows gas is condensing, and further observations may reveal the ultimate fate of the clouds.
Access options
Subscribe to Journal
Get full journal access for 1 year
$199.00
only $3.90 per issue
All prices are NET prices.
VAT will be added later in the checkout.
Tax calculation will be finalised during checkout.
Buy article
Get time limited or full article access on ReadCube.
$32.00
All prices are NET prices.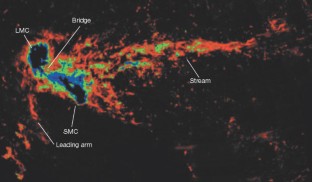 References
Muller, E., Staveley-Smith, L. & Zealey, W. J. Mon. Not. R. Astron. Soc. (in the press); Preprint astro-ph/0209523 (2002), http://arXiv.org

Putman, M. E., Staveley-Smith, L., Freeman, K. C., Gibson, B. K. & Barnes, D. G. Astrophys. J. (in the press); Preprint astro-ph/0209127 (2002), http://arXiv.org

Putman, M. E. et al. Nature 394, 752–754 (1998).

Gardiner, L. T. & Noguchi, M. Mon. Not. R. Astron. Soc. 278, 191–208 (1996).

Rubio, M. et al. Astron. Astrophys. Suppl. Ser. 118, 263–275 (1996).

Braine, J. et al. Astron. Astrophys. 378, 51–69 (2001).

Brouillet, N., Henkel, C. & Baudry, A. Astron. Astrophys. 262, L5–L8 (1992).

Lisenfeld, U. et al. Astron. Astrophys. (in the press); Preprint astro-ph/0208494 (2002), http://arXiv.org
About this article
Cite this article
Wiklind, T. Close encounters of the tidal kind. Nature 420, 38–39 (2002). https://doi.org/10.1038/420038a
Issue Date:

DOI: https://doi.org/10.1038/420038a