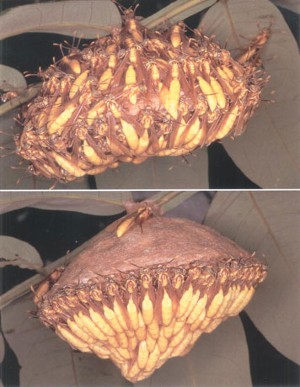 The Canadian painter-turned-photographer Jacques de Tonnancour captured these nocturnal wasps (Apoica pallens) on film in Brazil. At first the wasps crawled all over their nest (top), but within 20 minutes, in a remarkable display of social behaviour, they had aligned themselves to protect the underside of their nest (bottom). De Tonnancour has spent the past 20 years photographing insects around the world. A collection of his work, with an insight into his subjects' ecology, anatomy and behaviour, can be found in Insects Revealed: Monsters or Marvels? (Cornell University Press, 2002), translated from the French by Luke Sandford.
About this article
Cite this article
Insects in focus. Nature 419, 340 (2002) doi:10.1038/419340b
Comments
By submitting a comment you agree to abide by our Terms and Community Guidelines. If you find something abusive or that does not comply with our terms or guidelines please flag it as inappropriate.