The man at the head of Italy's national space agency, ASI, is ruffling feathers both at home and abroad.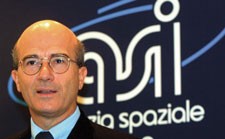 Sergio Vetrella's plan for the agency's 2.8-million-euro (US$2.8-million) budget for 2003–2005 leaves the future of many projects in doubt. The biggest single category in the budget for 2005 is "initiatives yet to be approved", leaving it unclear whether funding for other areas, including collaborations with NASA and the European Space Agency (ESA), remains intact.
The plan was approved by the Italian government on 5 August, but the details will not be finalized until the national budget is set later this year.
ASI's partners have already asked for clarification. David Southwood, director of ESA's science programme, says he is expecting an answer before his 15 October deadline about ASI's commitment to Venus Express, an exploratory mission to Venus planned for 2005 (see Nature 418, 360; 2002). "I will have little choice but to cancel the mission if they do not come on board," he says.
NASA is waiting to hear whether Italy will go ahead with building a water-seeking radar for the Mars Reconnaissance Orbiter, which is due to launch in 2005. "We will need a definite commitment from Italy within the next couple of months," says a NASA spokesman.
Vetrella, who was appointed last November, says that many project proposals were in a confused state with no clear written objectives when he arrived. "There was no time to include them in the defined part of the space plan. I preferred to separate them from the more mature projects," he says.
Southwood has also asked for assurances that the Italian instrument for Planck, ESA's 2007 mission to observe the cosmic microwave background, will be delivered on schedule. But he adds that Planck is suffering because other countries are also behind schedule for payload construction, and that in the future he wants member countries to make firmer commitments before industry is engaged. "There have been too many gentleman's agreements," says Southwood.
About this article
Cite this article
Goodman, S. Italy's space partners left in the dark. Nature 419, 327 (2002) doi:10.1038/419327b
Comments
By submitting a comment you agree to abide by our Terms and Community Guidelines. If you find something abusive or that does not comply with our terms or guidelines please flag it as inappropriate.