Plans for a new National Underground Science Laboratory in an abandoned gold mine in South Dakota have now gained the backing of both physicists and geologists. But just as scientific interest in the Homestake mine gathers pace, political momentum is waning.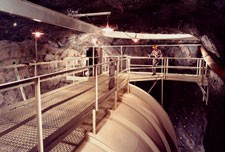 Physicists have already chosen the Homestake mine as their first choice for the new lab (see Nature 410, 292; 200110.1038/35066704), on the grounds that it is deeper than the alternatives and so is better protected from cosmic rays, which can interfere with their experiments.
At a National Science Foundation (NSF) meeting, held in Washington on 19–21 September to discuss plans for an underground lab, geologists also gave Homestake their backing. They say that the 2,500-metre-deep mine is ideal for studying geology, hydrology and subterranean bacteria.
For physicists, the site offers a chance to conduct studies such as the Underground Nucleon Decay and Neutrino Observatory — a 400,000-tonne water tank designed to detect neutrinos and proton decays. Observing such a decay would provide evidence for theories of supersymmetry, which could help unify gravity with the three other fundamental forces. Some physics experiments, such as the neutrino studies run by the Brookhaven National Laboratory, already take place at Homestake.
Around 70 of the 300 delegates at last week's Washington meeting were geologists. One reason for their support is that Homestake offers the potential to study subterranean bacteria that can live for hundreds of thousands of years, says Tullis Onstott, a geomicrobiologist at Princeton University. These bacteria feed on minerals rather than organic compounds, and so could provide clues about early life on Earth. Little is known about them because scientists are rarely able to study them at the temperatures and pressures at which they naturally live.
"There are many questions that need to be answered," says John Parkes, a geomicrobiologist at the University of Bristol, UK. "A deep mine will be very valuable."
Both Republicans and Democrats had originally been keen to back the project in order to win support for their candidates contesting the South Dakota seat in this November's Senate elections.
But with political enthusiasm lessening as attention turns to Iraq, a dispute between the NSF, which is expected to fund and run the lab, and Barrick Gold Corporation, Homestake's owners, could scupper the plans of physicists and geologists. The NSF is adamant that the proposal must undergo peer review, but in a public letter last month, Barrick's vice-president Patrick Garver stated that the process would take too long. "It appears to us that a final determination is unlikely to be finalized for several years," he said.
Moreover, Congress is reluctant to agree to Barrick's demand that the NSF assumes environmental liability for the lab before the takeover. If an agreement cannot be reached soon, Barrick says it will allow the mine to flood.
Nonetheless, scientists at the Washington conference remained hopeful that Homestake, or perhaps another site, will become a reality. They say they appreciated the chance to discuss one another's fields, and look forward to the possibility of sharing a lab. "To have these kinds of conversations around the lunch table would just be fantastic," says Onstott.
About this article
Cite this article
Brumfiel, G. 'Mile-deep club' of researchers sets sights on disused gold mine. Nature 419, 325–326 (2002) doi:10.1038/419325a
Comments
By submitting a comment you agree to abide by our Terms and Community Guidelines. If you find something abusive or that does not comply with our terms or guidelines please flag it as inappropriate.