People with the genetic disease Peutz–Jeghers syndrome have many intestinal polyps — benign tissue outgrowths. These seldom become malignant, and the reason may lie in the properties of the affected gene.
Access options
Subscribe to Journal
Get full journal access for 1 year
$199.00
only $3.90 per issue
All prices are NET prices.
VAT will be added later in the checkout.
Tax calculation will be finalised during checkout.
Buy article
Get time limited or full article access on ReadCube.
$32.00
All prices are NET prices.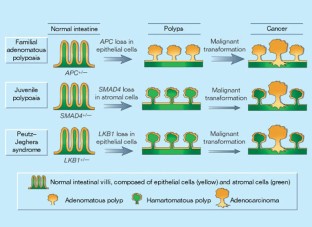 References
Bardeesy, N. et al. Nature 419, 162–167 (2002).

Haggitt, R. C. & Reid, B. J. Am. J. Surg. Pathol. 10, 871–887 (1986).

Kinzler, K. W. & Vogelstein, B. Science 280, 1036–1037 (1998).

Wang, Z. J. et al. J. Pathol. 188, 613–617 (1999).

Ylikorkala, A. et al. Science 293, 1323–1326 (2001).

Miyoshi, H. et al. Cancer Res. 62, 2261–2266 (2002).

Jishage, K. et al. Proc. Natl Acad. Sci. USA 99, 8903–8908 (2002).

Sherr, C. J. Nature Rev. Mol. Cell Biol. 2, 731–737 (2001).
About this article
Cite this article
van der Weyden, L., Jonkers, J. & Bradley, A. Stuck at first base. Nature 419, 127–128 (2002). https://doi.org/10.1038/419127a
Issue Date:

DOI: https://doi.org/10.1038/419127a