Abstract
Pressure to ban the hunting of foxes with hounds in Britain has fuelled debate about its contribution to the control of fox populations. We took advantage of a nationwide one-year ban on fox-hunting during the outbreak of foot-and-mouth disease (FMD) in 2001 to examine this issue and found that the ban had no measurable impact on fox numbers in randomly selected areas. Our results argue against suggestions that fox populations would increase markedly in the event of a permanent ban on hunting.
Access options
Subscribe to Journal
Get full journal access for 1 year
$199.00
only $3.90 per issue
All prices are NET prices.
VAT will be added later in the checkout.
Rent or Buy article
Get time limited or full article access on ReadCube.
from$8.99
All prices are NET prices.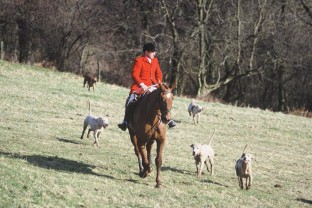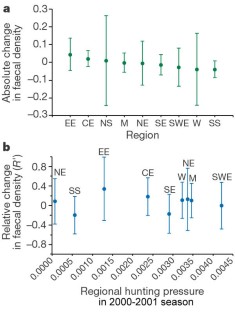 References
1

Anon. Baily's Hunting Directory 2000–2001 (Pearson, Cambridge, 2000).

2

Burns, L., Edwards, V., Marsh, J., Soulsby, L. & Winter, M. Report of the Committee of Inquiry into Hunting with Dogs in England and Wales (Stationery Office, London, 2000).

3

Macdonald, D. W. & Johnson, P. J. in The Exploitation of Mammal Populations (eds Taylor, V. J. & Dunstone, N.) 160–207 (Chapman & Hall, London, 1996).

4

Tapper, S. A Question of Balance: Game Animals and their Role in the British Countryside (Game Conservancy Trust, Fordingbridge, Hampshire, 1999).

5

Harris, S., Morris, P., Wray, S. & Yalden, D. A Review of British Mammals: Population Estimates and Conservation Status of British Mammals other than Cetaceans (Joint Nat. Conserv. Commit., Peterborough, 1995).

6

Harris, S. & Saunders, G. Symp. Zool. Soc. Lond. 65, 441–464 (1993).

7

Putman, R. J. Mammal Rev. 14, 79–97 (1984).

8

Alexander, K. Baily's Hunting Directory 1996–1997 (Pearson, Cambridge, 1996).
Ethics declarations
Competing interests
financial, declared none; P.J.B. and C.C.W. were funded by the International Fund for Animal Welfare.
About this article
Cite this article
Baker, P., Harris, S. & Webbon, C. Effect of British hunting ban on fox numbers. Nature 419, 34 (2002) doi:10.1038/419034a
Comments
By submitting a comment you agree to abide by our Terms and Community Guidelines. If you find something abusive or that does not comply with our terms or guidelines please flag it as inappropriate.