As the World Summit on Sustainable Development was set to wrap up in Johannesburg this week, astronomers are heading to southern Africa for the opening of a γ-ray telescope in Namibia. And they hope that the project will serve, in its own small way, as an example of how to build bridges between science in Europe and Africa.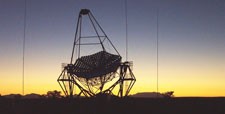 The instrument is the first of an array of four telescopes — called the High Energy Stereoscopic System (HESS) — that will indirectly observe the Galactic sources of cosmic rays. The telescopes will search for faint light called Cerenkov radiation, which is emitted when γ-rays pass through the Earth's atmosphere.
Cosmic rays release large numbers of γ-rays early in their life, so tracking the γ-rays could help researchers locate the source of cosmic rays (see News Feature on page 12). In contrast with the charged cosmic rays, γ-rays are uncharged and always travel through space in a straight line, making them a useful surrogate for the observation of cosmic rays.
But as well as shedding light on a range of extreme cosmic environments, such as supernovae, the new facility, which is located about 100 km southwest of Windhoek, could boost opportunities for local scientists. The physics department at the University of Namibia in Windhoek is a partner in the 7.6-million euro (US$7.5-million) project, which is being led by the Max Planck Institute for Nuclear Physics in Heidelberg, Germany.
Riaan Steenkamp, a cosmic-ray physicist at the University of Namibia, hopes that the arrangement will mean funding for more students in his department. "It's a stroke of luck that they decided to build this in Namibia," he says. "I'm currently the only guy here trained in a relevant field but I hope that within a year or so we can establish a small group."
Student exchange schemes with universities in France and Germany have already been set up, he says, and access to the telescopes could help the university win cash from a new space-science programme in neighbouring South Africa. The telescopes have also sparked national interest — the Namibian Post Office has issued a stamp commemorating its construction, painted by local artist J. J. van Ellinckhuijzen.
In the past, astronomers have been criticized for setting up observatories in the developing world — particularly in Chile — that didn't reach out to local communities, universities or scientists. HESS is being billed as a European–African collaboration by its European sponsors, although the University of Namibia is one of just two partners actually based in Africa, the other being the University of Potchefstroom in South Africa.
"The Europeans were sensitive because of what happened in South America, so they made it a point to involve us," Steenkamp says. Telescope sites in the Southern Hemisphere are popular with astronomers based in the north because they allow them to view different parts of the cosmos, including the centre of our Galaxy.
The first HESS telescope, which was due to be inaugurated on 3 September, should produce its first useful data by the end of the year. The other three telescopes that will make up the array are expected to open by the end of next year.
About this article
Cite this article
Adam, D. Hunt for cosmic rays offers scope for Africa. Nature 419, 6 (2002) doi:10.1038/419006a
Comments
By submitting a comment you agree to abide by our Terms and Community Guidelines. If you find something abusive or that does not comply with our terms or guidelines please flag it as inappropriate.