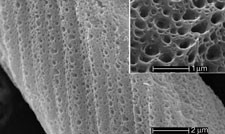 Wood, with applications ranging from construction to cabinet-making, has just notched up another use. As they describe in Advanced Materials, Angang Dong and colleagues (Adv. Mater. 14, 926–929; 2002) have used it as a template for creating zeolites.
Zeolites are porous structures of crystalline aluminosilicate, made on templates that define the size of the pores and their interconnectivity. They can be designed for specific applications; for example, the pore size can be chosen to set the rate at which other molecules will diffuse through the zeolitic structure.
Templates such as shells have already been used to synthesize inorganic analogues of biological materials. As the structural organization of such materials cannot be finely controlled, some of the advantages of rationally designed synthetic templates are lost. But other properties make biological templates attractive: they can be cheap, abundant, renewable, and so commercially viable; and they are also environmentally benign.
Dong et al. report the synthesis of a zeolitic material possessing a porosity inherited from its wood templates — bamboo (a grass with woody stems) and cedar (a conifer). Further advantages of wood are its intrinsically complex and hierarchical pore structure, and the abundance of tree species — and so morphologies.
To make a zeolite, the authors used a 'seeded growth' technique. First they treated the wood templates with a polyelectrolyte, and dispersed pre-formed zeolite nanocrystals through the templates. Then they washed the nanocrystal-coated wood slices and immersed them in zeolite solution for a day. The zeolite–wood composite was heated in air to remove the wood, leaving a free-standing zeolite composed of thin, uniform, continuous membranes.
Using X-ray diffraction on both the bamboo and the cedar templates, Dong et al. verified that the resulting materials were purely zeolitic. Scanning-electron-microscope images revealed that the synthetic strategy had not destroyed the skeleton of the original tissue. Instead, the zeolite nanocrystals had completely penetrated the wood, faithfully replicating the wood's cellular structure in fine detail. The cedar-template zeolite (shown above) was composed of interconnected bundles of micrometre-scale hollow vessels, with some fibres having features such as pits (which originally connected adjacent cells) and helical stripes. The bamboo zeolite showed rings and spine-like structures.
Applications of zeolites formed from wood templates are still some way off. But Dong et al. predict that they could ultimately be useful in catalytic and adsorption technologies.
About this article
Cite this article
Daw, R. Zeolites branch out. Nature 418, 491 (2002). https://doi.org/10.1038/418491a
Issue Date:

DOI: https://doi.org/10.1038/418491a