Abstract
One challenge in condensed-matter physics is the experimental confirmation of a new kind of elementary excitation — orbital waves, or orbitons, which are predicted to exist in an orbitally ordered state. Saitoh et al.1 have observed three peaks at 160, 144 and 126 meV in the Raman scattering of orbitally ordered lanthanum manganate (LaMnO3), and interpret these as evidence of orbitons. However, we find similar peaks in the optical conductivity, σ(ω), of LaMnO3 and point out that the direct observation of orbitons in σ(ω) is prohibited by a selection rule. This suggests that the Raman peaks observed by Saitoh et al. arise from multiphonons, and that the existence of orbitons has yet to be experimentally confirmed.
Access options
Subscribe to Journal
Get full journal access for 1 year
$199.00
only $3.83 per issue
All prices are NET prices.
VAT will be added later in the checkout.
Rent or Buy article
Get time limited or full article access on ReadCube.
from$8.99
All prices are NET prices.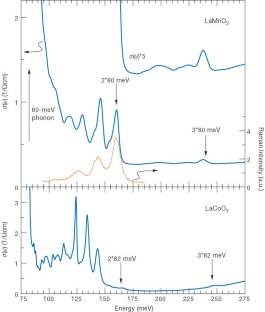 References
1

Saitoh, E. et al. Nature 410, 180–183 (2001).

2

Ballhausen, C. J. Introduction to Ligand Field Theory (McGraw-Hill, New York, 1962).

3

Paolone, A. et al. Phys. Rev. B 61, 11255–11258 (2000).

4

Perebeinos, V. & Allen, P. B. Phys. Rev. B 64, 085118 (2001).

5

Millis, A. J. Phys. Rev. B 53, 8434–8441 (1996).

6

Pickett, W. E. & Singh, D. J. Phys. Rev. B 53, 1146–1160 (1996).

7

Solovyev, I., Hamada, N. & Terakura, K. Phys. Rev. B 53, 7158–7170 (1996).

8

Elfimov, I. S., Anisimov, V. I. & Sawatzky, G. A. Phys. Rev. Lett. 82, 4264–4267 (1999).

9

Allen, P. B. & Perebeinos, V. Phys. Rev. Lett. 83, 4828–4831 (1999).

10

Ahn, K. H. & Millis, A. J. Phys. Rev. B 61, 13545–13559 (2000).

11

Bala, J. & Oles, A. M. Phys. Rev. B 62, R6085–R6088 (2000).
About this article
Cite this article
Grüninger, M., Rückamp, R., Windt, M. et al. Experimental quest for orbital waves. Nature 418, 39–40 (2002). https://doi.org/10.1038/418039a
Comments
By submitting a comment you agree to abide by our Terms and Community Guidelines. If you find something abusive or that does not comply with our terms or guidelines please flag it as inappropriate.