Abstract
RNA interference is an evolutionarily conserved surveillance mechanism that responds to double-stranded RNA by sequence-specific silencing of homologous genes. Here we show that transgene expression can be suppressed in adult mice by synthetic small interfering RNAs and by small-hairpin RNAs transcribed in vivo from DNA templates. We also show the therapeutic potential of this technique by demonstrating effective targeting of a sequence from hepatitis C virus by RNA interference in vivo.
Access options
Subscribe to Journal
Get full journal access for 1 year
$199.00
only $3.90 per issue
All prices are NET prices.
VAT will be added later in the checkout.
Tax calculation will be finalised during checkout.
Rent or Buy article
Get time limited or full article access on ReadCube.
from$8.99
All prices are NET prices.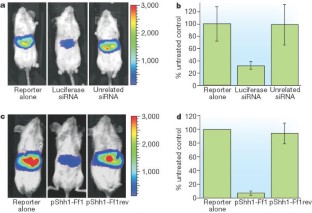 References
1

Elbashir, S. M. et al. Nature 411, 494–498 (2001).

2

Zhang, G., Budker, V. & Wolff, J. A. Hum. Gene Therapy 10, 1735–1737 (1999).

3

Liu, F., Song, Y. & Liu, D. Gene Therapy 6, 1258–1266 (1999).

4

Chang, J., Sigal, L. J., Lerro, A. & Taylor, J. J. Virol. 75, 3469–3473 (2001).

5

Contag, C. H. et al. Photochem. Photobiol. 66, 523–531 (1997).

6

Yant, S. R. et al. Nature Genet. 25, 35–41 (2000).

7

Bitko, V. & Barik, S. BMC Microbiol. 1, 34 (2001).

8

Paddison, P. J., Caudy, A. A., Bernstein, E., Hannon, G. J. & Conklin, D. S. Genes Dev. 16, 948–958 (2002).

9

Tuschl, T. Nature Biotechnol. 20, 446–448 (2002).
Ethics declarations
Competing interests
The authors declare no competing financial interests.
Supplementary information
About this article
Cite this article
McCaffrey, A., Meuse, L., Pham, TT. et al. RNA interference in adult mice. Nature 418, 38–39 (2002). https://doi.org/10.1038/418038a
Comments
By submitting a comment you agree to abide by our Terms and Community Guidelines. If you find something abusive or that does not comply with our terms or guidelines please flag it as inappropriate.