A similar mechanism may underlie the handedness seen in all vertebrate body plans.
Abstract
How left–right handedness originates in the body plan of the developing vertebrate embryo is a subject of considerable debate1,2. In mice, a left–right bias is thought to arise from a directional extracellular flow (nodal flow) that is generated by dynein-dependent rotation of monocilia on the ventral surface of the embryonic node3,4. Here we show that the existence of node monocilia and the expression of a dynein gene that is implicated in ciliary function are conserved across a wide range of vertebrate classes, indicating that a similar ciliary mechanism may underlie the establishment of handedness in all vertebrates.
Access options
Subscribe to Journal
Get full journal access for 1 year
$199.00
only $3.90 per issue
All prices are NET prices.
VAT will be added later in the checkout.
Tax calculation will be finalised during checkout.
Rent or Buy article
Get time limited or full article access on ReadCube.
from$8.99
All prices are NET prices.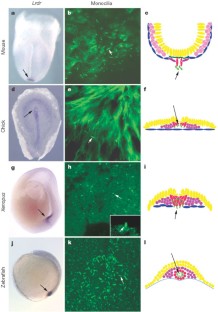 References
1

Capdevila, J. et al. Cell 101, 9–21 (2000).

2

Wright, C. V. E. Dev. Cell 1, 179–186 (2001).

3

Nonaka, S. et al. Cell 95, 829–837 (1998).

4

Okada, Y. et al. Mol. Cell 4, 459–468 (1999).

5

Supp, D. M. et al. Nature 389, 963–966 (1997).

6

Supp, D. M. et al. Development 126, 5495–5504 (1999).

7

Olbrich, H. et al. Nature Genet. 30, 143–144 (2002).

8

Männer, J. Anat. Embryol. 203, 481–490 (2001).

9

Cooper, M. S. & D'Amico, L. A. Dev. Biol. 180, 184–198 (1996).
Ethics declarations
Competing interests
The authors declare no competing financial interests.
About this article
Cite this article
Essner, J., Vogan, K., Wagner, M. et al. Conserved function for embryonic nodal cilia. Nature 418, 37–38 (2002). https://doi.org/10.1038/418037a
Comments
By submitting a comment you agree to abide by our Terms and Community Guidelines. If you find something abusive or that does not comply with our terms or guidelines please flag it as inappropriate.