A researcher is to turn his back on controversial research into the impact of amphetamines on cats, in the face of opposition from individuals and animal-rights groups.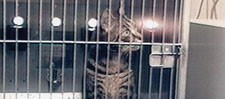 Animal model: researchers study cats to find a link between human drug use and HIV susceptibility.
Credit: MICHAEL PODELL
Michael Podell, a veterinarian at Ohio State University (OSU) in Columbus, will no longer lead its study of the interaction between consumption of methamphetamine — better known as 'speed' — and the impact of feline immunodeficiency virus on cats' brains and immune systems.
Podell's study had been the target of lawsuits (see Nature 415, 106; 200210.1038/415106b) and, according to university officials, he has been subjected to threatening phone calls and e-mails from opponents of the work. He says that he has now accepted a "better opportunity elsewhere", and is leaving the OSU.
Podell cites the protests as a factor in his decision, but adds that he didn't win the backing he wanted from the OSU. "We could not come to agreement on all aspects of my career and how I should be supported," he says.
University officials say that the OSU beefed up its security to protect Podell's work, which is supported by a $1.7-million grant from the National Institute on Drug Abuse (NIDA), part of the National Institutes of Health (NIH). "People are very concerned," says Earle Holland, a spokesman for the OSU. "Nobody wanted him to leave."
Animal-rights groups that opposed the research, including a local organization, Protect our Earth's Treasures (POET), say they will carry on opposing the work if it continues under new leadership.
The first results from the project, published last month (J. Neurovirol. 8, 240–249; 2002), show that methamphetamine drastically increases replication of the virus in cat nerve cells. Podell says this finding vindicates the approach taken by the experiment, which was designed to explore links between human drug use and susceptibility to HIV.
Supporters of biomedical research on animals fear that Podell's departure will compromise other projects. "He isn't the first and will not be the last" to abandon research in the face of opposition, says Frankie Trull, president of the Foundation for Biomedical Research, which lobbies against tougher regulation of animal research.
But Podell does not concede that the circumstances of his departure will encourage the harassment of researchers. "Whether I stay or go, they would continue the same tactics," he says.
OSU officials will decide shortly whether the project, which is due to run until 2005, will continue under new leadership. Timothy Condon, associate director of the NIDA, says that the funding agency would like it to do so. "We will encourage OSU to find an alternative principal investigator for this grant," he says.
The Physician's Committee for Responsible Medicine, a group that supports tighter controls on animal experiments, is suing the NIH for allegedly failing to provide information about the experiment, as required by the Freedom of Information Act.
Rights and permissions
To obtain permission to re-use content from this article visit RightsLink.
Comments
By submitting a comment you agree to abide by our Terms and Community Guidelines. If you find something abusive or that does not comply with our terms or guidelines please flag it as inappropriate.