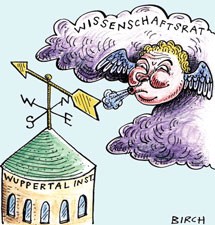 Germany's science council, the Wissenschaftsrat, has issued a scathing evaluation of a research institute that has played an important role in influencing the country's energy and environmental policies.
The assessment, which was published last month, says that the Wuppertal Institute near Dusseldorf should redefine its mission and improve the quality of its scientific research — or else no longer receive public money.
The Wuppertal Institute was founded in 1991 by the state of Nordrhein Westfalen — which supplies most of its funds — to bridge the gap between basic science and political strategy on environmental issues. But some scientists claim that its research findings have been driven more by ideology than by science.
The Wissenschaftsrat's report, which was requested by the state government, says that some of the institute's departments work well. But the climate department, it says, "follows a one-sided concept, thereby weakening the scientific basis of its political advisory role". It adds that the department gives the impression of being selective in its consideration of research results.
The institute should concentrate on fewer projects, interact more with outside scientists, and publish more of its work in peer-reviewed scientific journals, it recommends.
The Wuppertal Institute says that it will try to comply with the recommendations, but has branded parts of the evaluation as "unfair". It argues that the Wissenschaftsrat has ignored its recent efforts to improve its research and failed to take into account its mission to provide policy advice as well as scientific results.
But Reinhard Hüttl, a soil scientist at the Brandenburg University of Technology in Cottbus who headed the evaluation committee, says that "every important detail of the institute" was considered.
Some scientists have sympathy with the institute's predicament. The institute "was founded to foster public debate on environmental policy, not to produce top-notch research", says Carlo Jäger, a social scientist at the Potsdam Institute for Climate Impact Research.
Rights and permissions
To obtain permission to re-use content from this article visit RightsLink.
Comments
By submitting a comment you agree to abide by our Terms and Community Guidelines. If you find something abusive or that does not comply with our terms or guidelines please flag it as inappropriate.