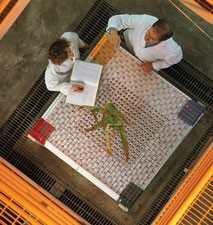 The US Department of Agriculture (USDA) is washing its hands of visa renewals for researchers at its facilities who are not US citizens.
The action — which will disrupt the careers of up to 200 postdoctoral researchers and visiting scientists — has alarmed US scientific leaders. They fear that it could presage wider difficulties for foreign researchers in the country in the wake of last September's terrorist attacks.
Bruce Alberts, president of the National Academy of Sciences, brought the USDA's new policy to the attention of John Marburger, President George Bush's science adviser, during an open meeting of the academy's members in Washington at the end of last month.
"It's not a reasonable policy," Alberts said in an interview. "It's going to hurt us more than help us." But he expressed confidence that the policy will be modified or reversed now that Marburger has been made aware of it.
The USDA — citing a lack of ability to monitor the visa-renewal process with the care that now is expected of government agencies — says that it will no longer sponsor any visa applications or extensions.
Among those directly affected are 200 postdocs, visiting scientists and temporary employees at the agency's Agricultural Research Service laboratories, a network of 100 laboratories that employs about 2,000 scientists. Those affected can continue working until their current visas expire.
The USDA's policy change was triggered by its concerns about another group of immigrants — foreign physicians seeking J-1 visa waivers at the end of their training. In the past three years, the USDA has recommended over 300 of these waivers, which exempt physicians from the usual requirement of returning to their native country after US medical training, provided that they work in rural areas that are short of doctors.
"It is now important for us to know more about the medical doctors and scientists we sponsor," says USDA spokeswoman Alisa Harrison. She adds that the policy remains under review and that the USDA will do what it can to continue to work with the researchers — cooperating, for example, with universities that might sponsor their visa renewals.
The agricultural board of the National Academy has asked Alberts to complain formally to the government about the USDA's new policy. After he complained informally to Marburger on 29 April, Marburger thanked him for raising the issue and pledged to look into it. But a week later, a spokeswoman for Marburger declined to specify what he would do to address the concern, and referred questions on the policy to the USDA.
Visas are not the only security issue worrying US science leaders. In his address to the National Academy meeting, Alberts listed several threats that face US science, and placed "the possibility of excessive restrictions on scientific publication, motivated by security concerns", at the top of the list.
About this article
Cite this article
Gewin, V. Academy protests as agriculture agency abandons visa renewals. Nature 417, 105 (2002). https://doi.org/10.1038/417105a
Comments
By submitting a comment you agree to abide by our Terms and Community Guidelines. If you find something abusive or that does not comply with our terms or guidelines please flag it as inappropriate.