New insight into the rice variant that helped to avert famine over thirty years ago.
Abstract
The chronic food shortage that was feared after the rapid expansion of the world population in the 1960s was averted largely by the development of a high-yielding semi-dwarf variety of rice known as IR8, the so-called rice 'green revolution'1,2,3. The short stature of IR8 is due to a mutation in the plant's sd1 gene, and here we identify this gene as encoding an oxidase enzyme involved in the biosynthesis of gibberellin, a plant growth hormone. Gibberellin is also implicated in green-revolution varieties of wheat, but the reduced height of those crops is conferred by defects in the hormone's signalling pathway4.
Access options
Subscribe to Journal
Get full journal access for 1 year
$199.00
only $3.90 per issue
All prices are NET prices.
VAT will be added later in the checkout.
Tax calculation will be finalised during checkout.
Rent or Buy article
Get time limited or full article access on ReadCube.
from$8.99
All prices are NET prices.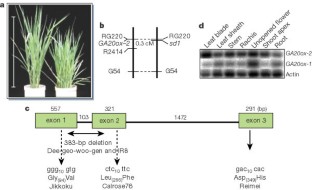 References
1

Hargrove, T. R. & Cabanilla, V. L. BioScience 29, 731–735 (1979).

2

Dalrymple, D. G. Development and Spread of High-yielding Rice Varieties in Developing Countries (Bur. Sci. Tech., Agency Int. Dev., Washington DC, 1986).

3

Khush, G. S. Genome 42, 646–655 (1999).

4

Peng, J. et al. Nature 400, 256–261 (1999).

5

Hooley, R. Plant Mol. Biol. 26, 1529–1555 (1994).

6

Ross, J. J., Murfet, I. C. & Reid, J. B. Physiol. Plant. 100, 550–560 (1997).

7

Hedden, P. & Phillips, A. L. Trends Plant Sci. 12, 523–530 (2000).

8

Toyomasu, T. et al. Physiol. Plant. 99, 111–118 (1997).

9

Xu, Y.-L. et al. Proc. Natl Acad. Sci. USA 92, 6640–6644 (1995).

10

Maeda, H. et al. Breed. Sci. 47, 317–320 (1997).

11

Zhang, W., McElroy, D. & Wu, R. Plant Cell 3, 1155–1165 (1991).
Ethics declarations
Competing interests
The authors declare no competing financial interests.
About this article
Cite this article
Sasaki, A., Ashikari, M., Ueguchi-Tanaka, M. et al. A mutant gibberellin-synthesis gene in rice. Nature 416, 701–702 (2002). https://doi.org/10.1038/416701a
Comments
By submitting a comment you agree to abide by our Terms and Community Guidelines. If you find something abusive or that does not comply with our terms or guidelines please flag it as inappropriate.