Abstract
The quest for metallic hydrogen at high pressures represents a longstanding problem in condensed matter physics1,2. Recent calculations3,4,5,6 have predicted that solid hydrogen should become a molecular metal at pressures above 300 GPa, before transforming into an alkali metal; but the strong quantum nature of the problem makes the predictions difficult. Over a decade ago, an optical study7 of hydrogen was made using a diamond anvil cell to reach 250 GPa. However, despite many subsequent efforts, quantitative studies8,9,10,11 at higher pressures have proved difficult and their conclusions controversial. Here we report optical measurements of solid hydrogen up to a pressure of 320 GPa at 100 K. The vibron signature of the H2 molecule persists to at least 316 GPa; no structural changes are detected above 160 GPa, and solid hydrogen is observed to turn completely opaque at 320 GPa. We measure the absorption edge of hydrogen above 300 GPa, observing features characteristic of a direct electronic bandgap. This is at odds with the most recent theoretical calculations that predict much larger direct transition energies and the closure of an indirect gap3,4,5,6. We predict that metal hydrogen should be observed at about 450 GPa when the direct gap closes.
Access options
Subscribe to this journal
Receive 51 print issues and online access
$199.00 per year
only $3.90 per issue
Rent or buy this article
Get just this article for as long as you need it
$39.95
Prices may be subject to local taxes which are calculated during checkout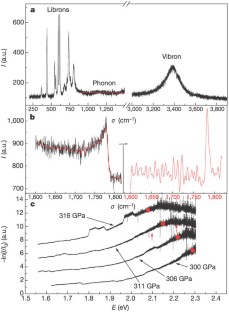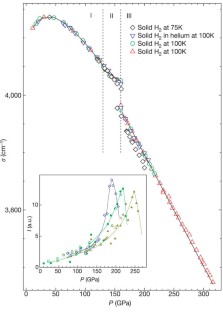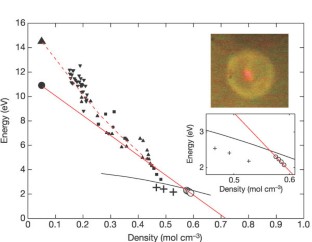 References
Wigner, E. & Huntington, H. B. On the possibility of a metallic modification of hydrogen. J. Chem. Phys. 3, 764–770 (1935).

Maksimov, E. G. & Shilov, Y. I. Hydrogen at high pressure. Phys. Uspekhi 42, 1121–1138 (1999).

Johnson, K. & Ashcroft, N. W. Structure and band gap closure in dense hydrogen. Nature 403, 632–635 (2000).

Stadele, M. & Martin, R. M. Metallization of molecular hydrogen: prediction from exact-exchange calculations. Phys. Rev. Lett. 84, 6070–6073 (2000).

Natoli, V., Martin, R. M. & Ceperley, D. Crystal structure of molecular hydrogen at high pressure. Phys. Rev. Lett. 74, 1601–1604 (1995).

Nagao, K., Nagara, H. & Matsubara, S. Structures of hydrogen at megabar pressures. Phys. Rev. B 56, 2295–2298 (1997).

Mao, H. K. & Hemley, R. J. Optical studies of hydrogen above 200 GPa: Evidence for metallization by band overlap. Science 244, 1462–1465 (1989).

Narayana, C., Luo, H., Oroloff, J. & Ruoff, A. L. Solid hydrogen at 342 GPa: no evidence for an alkali metal. Nature 393, 46–49 (1998).

Goncharov, A. F., Hemley, R. J., Mao, H. K. & Shu, J. New high pressure excitations in parahydrogen. Phys. Rev. Lett. 80, 101–104 (1998).

Goncharov, A., Gregoryanz, E., Hemley, R. & Mao, H. K. Proc. Natl Acad. Sci. USA 98, 14234–14237 (2001).

Chen, N., Sterer, E. & Silvera, I. F. Extended infrared studies of high pressure hydrogen. Phys. Rev. Lett. 76, 1663–1666 (1996).

Weir, S. J., Mitchell, A. C. & Nellis, W. J. Metallization of fluid molecular hydrogen at 140 GPa. Phys. Rev. Lett. 76, 1860–1863 (1996).

Collins, G. W. et al. Measurements of the equation of state of deuterium at the fluid insulator-metal transition. Science 281, 1178–1181 (1998).

Loubeyre, P. et al. X-ray diffraction and equation of state of hydrogen at megabar pressures. Nature 383, 702–704 (1996).

Mao, H. K., Xu, J. & Bell, P. M. Calibration of the ruby pressure gauge to 800 Kbar under quasihydrostatic conditions. J. Geophys. Res. B 91, 4673–4676 (1986).

Goncharov, L. F. et al. Invariant points and phase transitions in deuterium at megabar pressures. Phys. Rev. Lett. 75, 2514–2517 (1995).

Cardona, M. in Topics in Applied Physics (eds Cardona, M. & Guntherodt, G.) Vol. 50, 19–178 (Springer, New York, 1982).

Ruoff, A. L., Luo, H. & Vohra, Y. K. The closing diamond anvil optical window in multimegabar research. J. Appl. Phys. 69, 6413–6416 (1991).

Inoue, K., Kanzaki, H. & Suga, S. Fundamental spectra of solid hydrogen. Solid State Commun. 30, 627–629 (1979).

Van Straaten, J. & Silvera, I. F. Pressure dependence of the optical absorption edge of solid hydrogen in a diamond anvil cell. Phys. Rev. B 37, 6478–6481 (1988).

Hemley, R. J., Hanfland, M. & Mao, H. K. High pressure dielectric measurements of solid hydrogen to 170 GPa. Nature 350, 488–491 (1991).

Garcia, H. et al. Dielectric properties of solid molecular hydrogen at high pressure. Phys. Rev. B 45, 9809–9715 (1992).

Dash, W. C. & Newman, R. Intrinsic optical absorption in single crystal germanium and silicon at 77° K and 300° K. Phys. Rev. 99, 1151–1155 (1955).

Welber, B., Cardona, M., Kim, C. K. & Rodriguez, S. Dependence of the direct energy gap of GaAs on hydrostatic pressure. Phys. Rev. B 12, 5729–5738 (1975).
Acknowledgements
We thank J. Eggert for interesting discussions and suggestions.
Ethics declarations
Competing interests
The authors declare that they have no competing financial interests
About this article
Cite this article
Loubeyre, P., Occelli, F. & LeToullec, R. Optical studies of solid hydrogen to 320 GPa and evidence for black hydrogen. Nature 416, 613–617 (2002). https://doi.org/10.1038/416613a
Received:

Accepted:

Issue Date:

DOI: https://doi.org/10.1038/416613a
Comments
By submitting a comment you agree to abide by our Terms and Community Guidelines. If you find something abusive or that does not comply with our terms or guidelines please flag it as inappropriate.