A new weapon emerges in the evolutionary arms race between plants and herbivores.
Abstract
Blood-feeding arthropods secrete special salivary proteins that suppress the defensive reaction they induce in their hosts1,2. This is in contrast to herbivores, which are thought to be helpless victims of plant defences elicited by their oral secretions3,4. On the basis of the finding that caterpillar regurgitant can reduce the amount of toxic nicotine released by the tobacco plant Nicotiana tabacum5, we investigate here whether specific salivary components from the caterpillar Helicoverpa zea might be responsible for this suppression. We find that the enzyme glucose oxidase counteracts the production of nicotine induced by the caterpillar feeding on the plant.
This is a preview of subscription content
Access options
Subscribe to Journal
Get full journal access for 1 year
$199.00
only $3.90 per issue
All prices are NET prices.
VAT will be added later in the checkout.
Tax calculation will be finalised during checkout.
Rent or Buy article
Get time limited or full article access on ReadCube.
from$8.99
All prices are NET prices.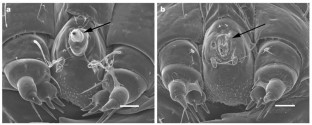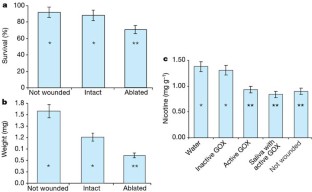 References
1

Felton, G. W. & Eichenseer, H. Induced Plant Defences Against Pathogens and Herbivores (Am. Phytopathol. Soc., St Paul, Minnesota, 1999).

2

Ribeiro, J. M. C. Regulatory Mechanisms in Insect Feeding (Chapman & Hall, New York, 1995).

3

Mattiacci, L., Dicke, M. & Posthumus, M. A. Proc. Natl Acad. Sci. USA 92, 2036–2040 (1995).

4

Alborn, H. T. et al. Science 276, 945–949 (1997).

5

Kahl, J. et al. Planta 210, 336–342 (2000).

6

Eichenseer, H., Mathews, M. C., Bi, J. L., Murphy, J. B. & Felton, G. W. Arch. Insect Biochem. Physiol. 42, 99–109 (1999).

7

Saunders, J. A. & Blume, D. E. J. Chromatogr. 205, 147–154 (1981).
About this article
Cite this article
Musser, R., Hum-Musser, S., Eichenseer, H. et al. Caterpillar saliva beats plant defences. Nature 416, 599–600 (2002). https://doi.org/10.1038/416599a
Comments
By submitting a comment you agree to abide by our Terms and Community Guidelines. If you find something abusive or that does not comply with our terms or guidelines please flag it as inappropriate.