Abstract
The DNA glycosylase pathway1, which requires the sequential action of two enzymes for the incision of DNA2, presents a serious problem for the efficient repair of oxidative DNA damage, because it generates genotoxic intermediates such as abasic sites and/or blocking 3′-end groups that must be eliminated by additional steps before DNA repair synthesis can be initiated. Besides the logistical problems, biological evidence hints at the existence of an alternative repair pathway. Mutants of Escherichia coli3 and mice (ref. 4 and M. Takao et al., personal communication) that are deficient in DNA glycosylases that remove oxidized bases are not sensitive to reactive oxygen species, and the E. coli triple mutant nei, nth, fpg is more radioresistant than the wild-type strain5. Here we show that Nfo-like endonucleases nick DNA on the 5′ side of various oxidatively damaged bases, generating 3′-hydroxyl and 5′-phosphate termini. Nfo-like endonucleases function next to each of the modified bases that we tested, including 5,6-dihydrothymine, 5,6-dihydrouracil, 5-hydroxyuracil and 2,6-diamino-4-hydroxy-5-N-methylformamidopyrimidine residues. The 3′-hydroxyl terminus provides the proper end for DNA repair synthesis; the dangling damaged nucleotide on the 5′ side is then a good substrate for human flap-structure endonuclease6 and for DNA polymerase I of E. coli.
Relevant articles
Open Access articles citing this article.
Ye Cai

,

Huifen Cao

…

Philipp Kapranov

Nature Communications Open Access 05 October 2022

Miyako Shiraishi

,

Sonoko Ishino

…

Yoshizumi Ishino

Scientific Reports Open Access 25 October 2018

Veslemøy Rolseth

,

Luisa Luna

…

Magnar Bjørås

Scientific Reports Open Access 29 June 2017
Access options
Subscribe to Journal
Get full journal access for 1 year
$199.00
only $3.90 per issue
All prices are NET prices.
VAT will be added later in the checkout.
Tax calculation will be finalised during checkout.
Buy article
Get time limited or full article access on ReadCube.
$32.00
All prices are NET prices.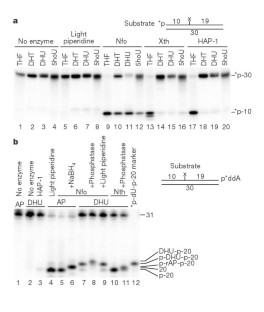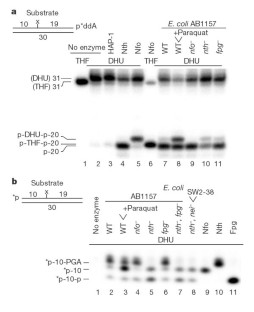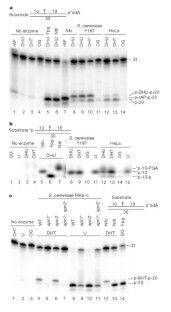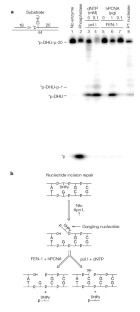 References
Lindahl, T. New class of enzymes acting on damaged DNA. Nature 259, 64–66 (1976).

Laval, J. Two enzymes are required for strand incision in repair of alkylated DNA. Nature 269, 829–832 (1977).

Laval, J., Jurado, J., Saparbaev, M. & Sidorkina, O. Antimutagenic role of base-excision repair enzymes upon free radical-induced DNA damage. Mutat. Res. 402, 93–102 (1998).

Klungland, A. et al. Accumulation of premutagenic DNA lesions in mice defective in removal of oxidative base damage. Proc. Natl Acad. Sci. USA 96, 13300–13305 (1999).

Blaisdell, J. O. & Wallace, S. S. Abortive base-excision repair of radiation induced clustered DNA lesions in Escherichia coli. Proc. Natl Acad. Sci. USA 98, 7426–7430 (2001).

Kim, K., Biade, S. & Matsumoto, Y. Involvement of flap endonuclease 1 in base excision DNA repair. J. Biol. Chem. 273, 8842–8848 (1998).

Cunningham, R. P., Saporito, S., Spitzer, S. G. & Weiss, B. Endonuclease IV (nfo) mutant of Escherichia coli. J. Bacteriol. 168, 1120–1127 (1986).

Rogers, S. G. & Weiss, B. Cloning of the exonuclease III gene of Escherichia coli. Gene 11, 187–195 (1980).

Demple, B., Herman, T. & Chen, D. S. Cloning and expression of APE, the cDNA encoding the major human apurinic endonuclease: definition of a family of DNA repair enzymes. Proc. Natl Acad. Sci. USA 88, 10450–10454 (1991).

Furlong, E. A., Jorgensen, T. J. & Henner, W. D. Production of dihydrothymidine stereoisomers in DNA by γ-irradiation. Biochemistry 25, 4344–4349 (1986).

Ramotar, D., Popoff, S. C. & Demple, B. Complementation of DNA repair-deficient Escherichia coli by the yeast Apn1 apurinic/apyrimidinic endonuclease gene. Mol. Microbiol. 5, 149–155 (1991).

Ide, H., et al. Alpha-deoxyadenosine, a major anoxic radiolysis product of adenine in DNA, is a substrate for Escherichia coli endonuclease IV. Biochemistry 33, 7842–7847 (1994).

Hang, B., Chenna, A., Fraenkel-Conrat, H. & Singer, B. An unusual mechanism for the major human apurinic/apyrimidinic (AP) endonuclease involving 5′ cleavage of DNA containing a benzene-derived exocyclic adduct in the absence of an AP site. Proc. Natl. Acad. Sci. USA 93, 13737–13741 (1996).

Hosfield, D. J., Guan, Y., Haas, B. J., Cunningham, R. P. & Tainer, J. A. Structure of the DNA repair enzyme endonuclease IV and its DNA complex: double-nucleotide flipping at abasic sites and three-metal-ion catalysis. Cell 98, 397–408 (1999).

McCullough, A. K., Dodson, M. L. & Lloyd, R. S. Initiation of base excision repair: glycosylase mechanisms and structures. Annu. Rev. Biochem. 68, 255–285 (1999).

Bailly, V. & Verly, W. G. The multiple activities of Escherichia coli endonuclease IV and the extreme lability of 5′-terminal base-free deoxyribose 5-phosphates. Biochem. J. 259, 761–768 (1989).

Chan, E. & Weiss, B. Endonuclease IV of Escherichia coli is induced by paraquat. Proc. Natl. Acad. Sci. USA 84, 3189–3193 (1987).

Gonzalez-Flecha, B. & Demple, B. Genetic responses to free radicals. Homeostasis and gene control. Ann. NY Acad. Sci. 899, 69–87 (2000).

Popoff, S. C., Spira, A. I., Johnson, A. W. & Demple, B. Yeast structural gene (APN1) for the major apurinic endonuclease: homology to Escherichia coli endonuclease IV. Proc. Natl Acad. Sci. USA 87, 4193–4197 (1990).

Petit, C. & Sancar, A. Nucleotide excision repair: from E. coli to man. Biochimie 81, 15–25 (1999).

Yasui, A. & McCready, S. J. Alternative repair pathways for UV-induced DNA damage. BioEssays 20, 291–297 (1998).

Reardon, J. T., Bessho, T., Kung, H. C., Bolton, P. H. & Sancar, A. In vitro repair of oxidative DNA damage by human nucleotide excision repair system: Possible explanation for neurodegeneration in Xeroderma pigmentosum patients. Proc. Natl Acad. Sci. USA 94, 9463–9468 (1997).

Wilson, D. M. III & Thompson, L. H. Life without DNA repair. Proc. Natl Acad. Sci. USA 94, 12754–12757 (1997).

Klungland, A. & Lindahl, T. Second pathway for completion of human DNA base excision-repair: reconstitution with purified proteins and requirement for DNase IV (FEN1). EMBO J. 16, 3341–3348 (1997).

Alleva, J. L., Zuo, S. J., Hurwitz, J., & Doetsch, P. W. In vitro reconstitution of the Schizosaccharomyces pombe alternative excision repair pathway. Biochemistry 39, 2659–2666 (2000).

Saparbaev, M. & Laval, J. 3,N4-ethenocytosine, a highly mutagenic adduct, is a primary substrate for Escherichia coli double-stranded uracil-DNA glycosylase and human mismatch-specific thymine-DNA glycosylase. Proc. Natl Acad. Sci. USA 95, 8508–8513 (1998).

Barzilay, G. et al. Identification of critical active-site residues in the multifunctional human DNA repair enzyme HAP1. Nature Struct. Biol. 2, 561–568 (1995).

Boiteux, S., O'Connor, T. R. & Laval, J. Formamidopyrimidine-DNA glycosylase of Escherichia coli: cloning and sequencing of the fpg structural gene and overproduction of the protein. EMBO J. 6, 3177–3183 (1987).

Maksimenko, A. V., Gottikh, M. B., Helin, V., Shabarova, Z. A. & Malvy, C. Physico-chemical and biological properties of antisense phosphodiester oligonucleotides with various secondary structures. Nucleos. Nucleot. 18, 2071–2091 (1999).
Acknowledgements
We thank J. Laval for stimulating discussions and financial support; G. Baldacci for human PCNA; C. V. Privezentzev for human HAP-1 and FEN-1; A. Maksimenko and C. Delaporte for human cells; D. Ramotar for yeast strains; and P. R. Strauss, A. Kuzminov and D. Zharkov for critically reading the manuscript. This work was supported by the European Community (M.K.S.), Association pour la Recherche sur le Cancer (J.L.), and fellowships from Centre français pour l'accueil et les échanges internationaux (EGIDE) to A.A.I.
Ethics declarations
Competing interests
The authors declare no competing financial interests.
Supplementary information
About this article
Cite this article
Ischenko, A., Saparbaev, M. Alternative nucleotide incision repair pathway for oxidative DNA damage. Nature 415, 183–187 (2002). https://doi.org/10.1038/415183a
Received:

Accepted:

Issue Date:

DOI: https://doi.org/10.1038/415183a
Comments
By submitting a comment you agree to abide by our Terms and Community Guidelines. If you find something abusive or that does not comply with our terms or guidelines please flag it as inappropriate.