Abstract
Magnetic flux penetrates isotropic type II superconductors in flux-quantized vortices, which arrange themselves into a lattice structure that is independent of the direction of the applied field1. In extremely anisotropic high-transition-temperature (high-Tc) superconductors, a lattice of stacks of circular 'pancake' vortices forms when a magnetic field is applied perpendicular to the copper oxide layers, while an orthogonal elongated lattice of elliptical Josephson vortices forms when the applied field is parallel to the layers2,3,4,5. Here we report that when a tilted magnetic field is applied to single crystals of Bi2Sr2CaCu2O8+δ, these lattices can interact to form a new state of vortex matter in which all stacks of pancake vortices intersect the Josephson vortices. The sublattice of Josephson vortices can therefore be used to manipulate the sublattice of pancake vortices. This result explains the suppression of irreversible magnetization by in-plane fields as seen in Bi2Sr2CaCu2O8+δ crystals, a hitherto mysterious observation6. The ability to manipulate sublattices could be important for flux-logic devices, where a 'bit' might be represented by a pancake vortex stack, and the problem of vortex positioning is overcome through sublattice interactions. This also enables the development of flux transducers and amplifiers, considerably broadening the scope for applications of anisotropic high-Tc superconductors.
Relevant articles
Open Access articles citing this article.
Alexandre Correa

,

Federico Mompeán

…

Carmen Munuera

Communications Physics Open Access 19 March 2019

P. J. Curran

,

H. A. Mohammed

…

T. Tamegai

Scientific Reports Open Access 19 July 2018

G. R. Berdiyorov

,

M. V. Milošević

…

S. Savel'ev

Scientific Reports Open Access 09 February 2018
Access options
Subscribe to this journal
Receive 51 print issues and online access
$199.00 per year
only $3.90 per issue
Rent or buy this article
Get just this article for as long as you need it
$39.95
Prices may be subject to local taxes which are calculated during checkout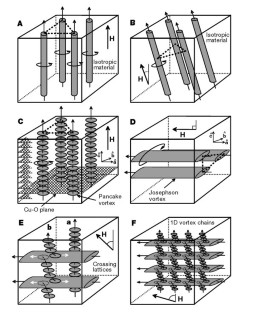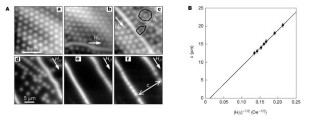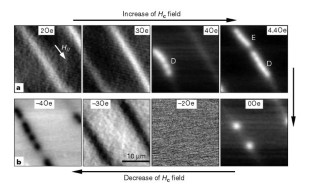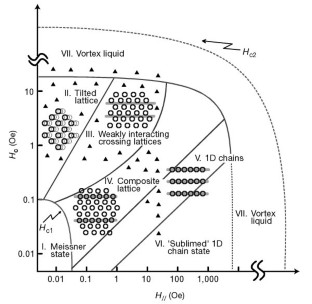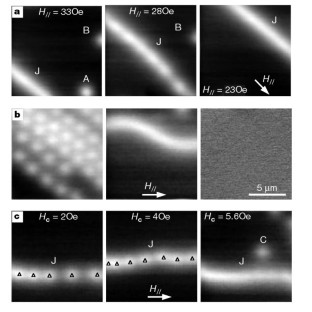 References
Kleiner, W. H., Roth, L. M. & Autler, S. H. Bulk solution of Ginzburg-Landau equations for type II superconductors: upper critical field region. Phys. Rev. A 133, 1226–1227 (1964).

Clem, J. R. Anisotropy and two-dimensional behaviour in the high-temperature superconductors. Supercond. Sci. Technol. 11, 909–914 (1998).

Bulaevski, L. N., Levdij, M. & Kogan, V. G. Vortices in layered superconductors with Josephson coupling. Phys. Rev. B 46, 366–380 (1992).

Huse, D. A. Magnetic-flux patterns on the surface of a type-II superconductor. Phys. Rev. B 46, 8621–8623 (1992).

Koshelev, A. E. Crossing lattices, vortex chains, and angular dependence of melting line in layered superconductors. Phys. Rev. Lett. 83, 187–190 (1999).

Farrell, D. E. et al. Magnetization jumps and irreversibility in Bi2Sr2CaCu2O8. Phys. Rev. B 53, 11807–11816 (1996).

Bolle, C. A. et al. Observation of a commensurate array of flux chains in tilted flux lattice in Bi-Sr-Ca-Cu-O single crystals. Phys. Rev. Lett. 66, 112–115 (1991).

Grigorieva, I. V., Steeds, J. W., Balakrishnan, G. & Paul, D. M. Vortex-chain state in Bi2Sr2CaCu2O8+δ—experimental evidence for coexistence of 2 vortex orientations. Phys. Rev. B 51, 3765–3771 (1995).

Oral, A., Bending, S. J. & Henini, M. Real-time scanning Hall probe microscopy. Appl. Phys. Lett. 69, 1324–1326 (1996).

Grier, D. G. et al. Translational and bond-orientational order in the vortex lattice of the high-T superconductor Bi2.1Sr1.9CaCu2O8+x. Phys. Rev. Lett. 66, 2270–2273 (1991).

Martinez, J. C. et al. Magnetic anisotropy of a Bi2Sr2CaCu2Ox single crystal. Phys. Rev. Lett. 69, 2276–2279 (1992).

Zeldov, E. et al. Thermodynamic observation of first-order vortex-lattice melting transition in Bi2Sr2CaCu2O8. Nature 375, 373–376 (1995).

Soibel, A. et al. Imaging the vortex-lattice melting process in the presence of disorder. Nature 406, 282–287 (2000).

Nelson, D. R. Vortex entanglement in high-Tc superconductors. Phys. Rev. Lett. 60, 1973–1976 (1988).

Avraham, N. et al. Inverse melting of a vortex lattice. Nature 411, 451–454 (2001).

Burlachkov, L. et al. Giant flux-creep through surface barriers and the irreversibility line in high temperature superconductors. Phys. Rev. B 50, 16770–16773 (1994).
Acknowledgements
We thank M.J.W. Dodgson for discussions. This work was supported in the UK by the EPSRC and the MOD, in the USA by MARTECH, Florida State University, and in Japan by the Ministry of Education, Science, Sports and Culture.
Ethics declarations
Competing interests
The authors declare no competing financial interests.
About this article
Cite this article
Grigorenko, A., Bending, S., Tamegai, T. et al. A one-dimensional chain state of vortex matter. Nature 414, 728–731 (2001). https://doi.org/10.1038/414728a
Received:

Accepted:

Issue Date:

DOI: https://doi.org/10.1038/414728a
Comments
By submitting a comment you agree to abide by our Terms and Community Guidelines. If you find something abusive or that does not comply with our terms or guidelines please flag it as inappropriate.