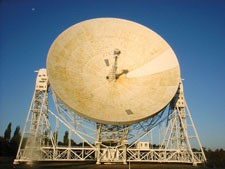 Faced with tough astronomy funding choices after deciding to join the European Southern Observatory (ESO), Britain has elected to retain its ageing Jodrell Bank telescopes and axe its commitment to several overseas observatories.
At a council meeting on 5 December, the Particle Physics and Astronomy Research Council (PPARC), which funds most of Britain's astronomy, agreed reductions of some £5 million (US$7.2 million) a year in its existing ground-based programmes to pay for its subscription to the Chile-based ESO project.
The cuts will affect observatories in Australia and Hawaii, as well as a cluster of optical telescopes at La Palma in the Canary Isles, where PPARC is pulling the plug on the Jacobus Kapteyn telescope and phasing out support for the Isaac Newton telescope.
But the biggest loser will be the Anglo-Australian observatory at Sidings Spring in southern Australia, for which funding will be phased out altogether by 2007.
"With a limited budget there will be inevitable reductions to certain facilities within the existing programme," says Ian Halliday, chief executive of PPARC.
The decision secures the immediate future of the MERLIN array of radio telescopes, including the 76-metre Lovell Telescope at Jodrell Bank in Cheshire, near Manchester. The network will now be refurbished with fibre-optic cable.
"The upgrade to MERLIN will ensure that our own national facility, centred around the Lovell telescope in the northwest, will continue to deliver world-class science," says Martin Rees, the Astronomer Royal.
It will also help to maintain the discipline's profile in Britain — the dish at Jodrell Bank is a national landmark, and is the astronomy programme's most powerful symbol.
Joining the ESO will give British astronomers access to the Very Large Telescope in Chile, as well as greater involvement in the Atacama Large Millimeter Array (ALMA), a network of 64 twelve-metre telescopes planned for construction there.
About this article
Cite this article
Adam, D. Jodrell Bank survives shake-up of UK astronomy. Nature 414, 678 (2001). https://doi.org/10.1038/414678b
Issue Date:

DOI: https://doi.org/10.1038/414678b