Abstract
Individual differences in traits such as impulsivity involve high reward sensitivity and are associated with risk for substance use disorders. The ventral striatum (VS) has been widely implicated in reward processing, and individual differences in its function are linked to these disorders. Dopamine (DA) plays a critical role in reward processing and is a potent neuromodulator of VS reactivity. Moreover, altered DA signaling has been associated with normal and pathological reward-related behaviors. Functional polymorphisms in DA-related genes represent an important source of variability in DA function that may subsequently impact VS reactivity and associated reward-related behaviors. Using an imaging genetics approach, we examined the modulatory effects of common, putatively functional DA-related polymorphisms on reward-related VS reactivity associated with self-reported impulsivity. Genetic variants associated with relatively increased striatal DA release (DRD2 −141C deletion) and availability (DAT1 9-repeat), as well as diminished inhibitory postsynaptic DA effects (DRD2 −141C deletion and DRD4 7-repeat), predicted 9–12% of the interindividual variability in reward-related VS reactivity. In contrast, genetic variation directly affecting DA signaling only in the prefrontal cortex (COMT Val158Met) was not associated with variability in VS reactivity. Our results highlight an important role for genetic polymorphisms affecting striatal DA neurotransmission in mediating interindividual differences in reward-related VS reactivity. They further suggest that altered VS reactivity may represent a key neurobiological pathway through which these polymorphisms contribute to variability in behavioral impulsivity and related risk for substance use disorders.
Your institute does not have access to this article
Relevant articles
Open Access articles citing this article.
Hendrik Theis

,

Catharina Probst

…

Thilo van Eimeren

npj Parkinson's Disease Open Access 08 December 2021

Philippe Pfeifer

,

Alexandra Sebastian

…

Oliver Tüscher

Brain Imaging and Behavior Open Access 17 August 2021
Access options
Subscribe to Journal
Get full journal access for 1 year
$119.00
only $9.92 per issue
All prices are NET prices.
VAT will be added later in the checkout.
Tax calculation will be finalised during checkout.
Buy article
Get time limited or full article access on ReadCube.
$32.00
All prices are NET prices.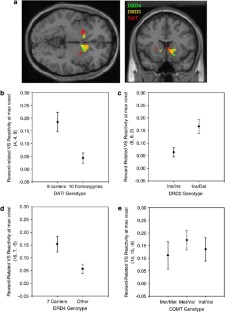 References
Manuck SB, Flory JD, Muldoon MF, Ferrell RE . A neurobiology of intertemporal choice. In: Loewenstein G, Read D, Baumeister RF (eds). Time and Decision: Economic and Psychological Perspectives on Intertemporal Choice. Sage: New York, 2003, pp 139–172.

Alessi SM, Petry NM . Pathological gambling severity is associated with impulsivity in a delay discounting procedure. Behav Processes 2003; 64: 345–354.

Bickel WK, Odum AL, Madden GJ . Impulsivity and cigarette smoking: delay discounting in current, never, and ex-smokers. Psychopharmacology (Berl) 1999; 146: 447–454.

Kirby KN, Petry NM, Bickel WK . Heroin addicts have higher discount rates for delayed rewards than non-drug-using controls. J Exp Psychol Gen 1999; 128: 78–87.

Madden GJ, Petry NM, Badger GJ, Bickel WK . Impulsive and self-control choices in opioid-dependent patients and non-drug-using control participants: drug and monetary rewards. Exp Clin Psychopharmacol 1997; 5: 256–262.

Berridge KC, Robinson TE . Parsing reward. Trends Neurosci 2003; 26: 507–513.

Hariri AR, Brown SM, Williamson DE, Flory JD, de Wit H, Manuck SB . Preference for immediate over delayed rewards is associated with magnitude of ventral striatal activity. J Neurosci 2006; 26: 13213–13217.

Knutson B, Rick S, Wimmer GE, Prelec D, Loewenstein G . Neural predictors of purchases. Neuron 2007; 53: 147–156.

Kalivas PW, Volkow ND . The neural basis of addiction: a pathology of motivation and choice. Am J Psychiatry 2005; 162: 1403–1413.

Cardinal RN, Winstanley CA, Robbins TW, Everitt BJ . Limbic corticostriatal systems and delayed reinforcement. Ann NY Acad Sci 2004; 1021: 33–50.

Kelley AE . Memory and addiction: shared neural circuitry and molecular mechanisms. Neuron 2004; 44: 161–179.

Depue RA, Luciana M, Arbisi P, Collins P, Leon A . Dopamine and the structure of personality: relation of agonist-induced dopamine activity to positive emotionality. J Pers Soc Psychol 1994; 67: 485–498.

Hyman SE, Malenka RC, Nestler EJ . Neural mechanisms of addiction: the role of reward-related learning and memory. Annu Rev Neurosci 2006; 29: 565–598.

Volkow ND, Fowler JS, Wang GJ . Imaging studies on the role of dopamine in cocaine reinforcement and addiction in humans. J Psychopharmacol 1999; 13: 337–345.

Hariri AR, Drabant EM, Weinberger DR . Imaging genetics: perspectives from studies of genetically driven variation in serotonin function and corticolimbic affective processing. Biol Psychiatry 2006; 59: 888–897.

Hariri AR, Weinberger DR . Imaging genomics. Br Med Bull 2003; 65: 259–270.

Bannon MJ, Michelhaugh SK, Wang J, Sacchetti P . The human dopamine transporter gene: gene organization, transcriptional regulation, and potential involvement in neuropsychiatric disorders. Eur Neuropsychopharmacol 2001; 11: 449–455.

Cheon KA, Ryu YH, Kim JW, Cho DY . The homozygosity for 10-repeat allele at dopamine transporter gene and dopamine transporter density in Korean children with attention deficit hyperactivity disorder: relating to treatment response to methylphenidate. Eur Neuropsychopharmacol 2005; 15: 95–101.

Heinz A, Goldman D, Jones DW, Palmour R, Hommer D, Gorey JG et al. Genotype influences in vivo dopamine transporter availability in human striatum. Neuropsychopharmacology 2000; 22: 133–139.

Mill J, Asherson P, Browes C, D'Souza U, Craig I . Expression of the dopamine transporter gene is regulated by the 3′ UTR VNTR: evidence from brain and lymphocytes using quantitative RT–PCR. Am J Med Genet 2002; 114: 975–979.

VanNess SH, Owens MJ, Kilts CD . The variable number of tandem repeats element in DAT1 regulates in vitro dopamine transporter density. BMC Genet 2005; 6: 55.

Arinami T, Gao M, Hamaguchi H, Toru M . A functional polymorphism in the promoter region of the dopamine D2 receptor gene is associated with schizophrenia. Hum Mol Genet 1997; 6: 577–582.

Asghari V, Sanyal S, Buchwaldt S, Paterson A, Jovanovic V, Van Tol HH . Modulation of intracellular cyclic AMP levels by different human dopamine D4 receptor variants. J Neurochem 1995; 65: 1157–1165.

Wang E, Ding YC, Flodman P, Kidd JR, Kidd KK, Grady DL et al. The genetic architecture of selection at the human dopamine receptor D4 (DRD4) gene locus. Am J Hum Genet 2004; 74: 931–944.

Egan MF, Goldberg TE, Kolachana BS, Callicott JH, Mazzanti CM, Straub RE et al. Effect of COMT Val108/158 Met genotype on frontal lobe function and risk for schizophrenia. Proc Natl Acad Sci USA 2001; 98: 6917–6922.

First MB, Spitzer RL, Gibbon M, Williams JBM . Structured Clinical Interview for DSM-IV Axis I Disorders, research version, non-patient edition. New York State Psychiatric Institute, Biometrics Research Department: New York, 1996.

Vandenbergh DJ, Persico AM, Hawkins AL, Griffin CA, Li X, Jabs EW et al. Human dopamine transporter gene (DAT1) maps to chromosome 5p15.3 and displays a VNTR. Genomics 1992; 14: 1104–1106.

Lichter JB, Barr CL, Kennedy JL, Van Tol HH, Kidd KK, Livak KJ . A hypervariable segment in the human dopamine receptor D4 (DRD4) gene. Hum Mol Genet 1993; 2: 767–773.

Gelernter J, Kranzler H, Cubells JF, Ichinose H, Nagatsu T . DRD2 allele frequencies and linkage disequilibria, including the −141CIns/Del promoter polymorphism, in European-American, African-American, and Japanese subjects. Genomics 1998; 51: 21–26.

Lachman HM, Papolos DF, Saito T, Yu YM, Szumlanski CL, Weinshilboum RM . Human catechol-O-methyltransferase pharmacogenetics: description of a functional polymorphism and its potential application to neuropsychiatric disorders. Pharmacogenetics 1996; 6: 243–250.

Barratt ES . Impulsiveness and aggression. In: Monahan J, Steadman HJ (eds). Violence and Mental Disorder: Developments in Risk Assessment. University of Chicago Press: Chicago, 1994, pp 61–79.

Patton JH, Stanford MS, Barratt ES . Factor structure of the Barratt impulsiveness scale. J Clin Psychol 1995; 51: 768–774.

Manuck SB, Flory JD, Ferrell RE, Mann JJ, Muldoon MF . A regulatory polymorphism of the monoamine oxidase-A gene may be associated with variability in aggression, impulsivity, and central nervous system serotonergic responsivity. Psychiatry Res 2000; 95: 9–23.

Manuck SB, Flory JD, McCaffery JM, Matthews KA, Mann JJ, Muldoon MF . Aggression, impulsivity, and central nervous system serotonergic responsivity in a nonpatient sample. Neuropsychopharmacology 1998; 19: 287–299.

Dawe S, Loxton NJ . The role of impulsivity in the development of substance use and eating disorders. Neurosci Biobehav Rev 2004; 28: 343–351.

Delgado MR, Nystrom LE, Fissell C, Noll DC, Fiez JA . Tracking the hemodynamic responses to reward and punishment in the striatum. J Neurophysiol 2000; 84: 3072–3077.

Delgado MR, Miller MM, Inati S, Phelps EA . An fMRI study of reward-related probability learning. Neuroimage 2005; 24: 862–873.

Haruno M, Kuroda T, Doya K, Toyama K, Kimura M, Samejima K et al. A neural correlate of reward-based behavioral learning in caudate nucleus: a functional magnetic resonance imaging study of a stochastic decision task. J Neurosci 2004; 24: 1660–1665.

Breiter HC, Rosen BR . Functional magnetic resonance imaging of brain reward circuitry in the human. Ann NY Acad Sci 1999; 877: 523–547.

Knutson B, Cooper JC . Functional magnetic resonance imaging of reward prediction. Curr Opin Neurol 2005; 18: 411–417.

Reeves S, Bench C, Howard R . Ageing and the nigrostriatal dopaminergic system. Int J Geriatr Psychiatry 2002; 17: 359–370.

Siessmeier T, Kienast T, Wrase J, Larsen JL, Braus DF, Smolka MN et al. Net influx of plasma 6-[18F]fluoro-l-DOPA (FDOPA) to the ventral striatum correlates with prefrontal processing of affective stimuli. Eur J Neurosci 2006; 24: 305–313.

Menon M, Jensen J, Vitcu I, Graff-Guerrero A, Crawley A, Smith MA et al. Temporal difference modeling of the blood-oxygen level dependent response during aversive conditioning in humans: effects of dopaminergic modulation. Biological Psychiatry 62: 765–772.

Hariri AR, Mattay VS, Tessitore A, Fera F, Smith WG, Weinberger DR . Dextroamphetamine modulates the response of the human amygdala. Neuropsychopharmacology 2002; 27: 1036–1040.

Tessitore A, Hariri AR, Fera F, Smith WG, Chase TN, Hyde TM et al. Dopamine modulates the response of the human amygdala: a study in Parkinson's disease. J Neurosci 2002; 22: 9099–9103.

Oswald LM, Wong DF, Zhou Y, Kumar A, Brasic J, Alexander M et al. Impulsivity and chronic stress are associated with amphetamine-induced striatal dopamine release. Neuroimage 2007; 36: 153–166.

Sesack SR, Hawrylak VA, Guido MA, Levey AI . Cellular and subcellular localization of the dopamine transporter in rat cortex. Adv Pharmacol 1998; 42: 171–174.

Martinez D, Gelernter J, Abi-Dargham A, van Dyck CH, Kegeles L, Innis RB et al. The variable number of tandem repeats polymorphism of the dopamine transporter gene is not associated with significant change in dopamine transporter phenotype in humans. Neuropsychopharmacology 2001; 24: 553–560.

Michelhaugh SK, Fiskerstrand C, Lovejoy E, Bannon MJ, Quinn JP . The dopamine transporter gene (SLC6A3) variable number of tandem repeats domain enhances transcription in dopamine neurons. J Neurochem 2001; 79: 1033–1038.

Mill J, Asherson P, Craig I, D'Souza UM . Transient expression analysis of allelic variants of a VNTR in the dopamine transporter gene (DAT1). BMC Genet 2005; 6: 3.

van Dyck CH, Malison RT, Jacobsen LK, Seibyl JP, Staley JK, Laruelle M et al. Increased dopamine transporter availability associated with the 9-repeat allele of the SLC6A3 gene. J Nucl Med 2005; 46: 745–751.

Schott BH, Seidenbecher CI, Fenker DB, Lauer CJ, Bunzeck N, Bernstein HG et al. The dopaminergic midbrain participates in human episodic memory formation: evidence from genetic imaging. J Neurosci 2006; 26: 1407–1417.

Schultz W . Dopamine neurons and their role in reward mechanisms. Curr Opin Neurobiol 1997; 7: 191–197.

Hahn J, Kullmann PH, Horn JP, Levitan ES . D2 autoreceptors chronically enhance dopamine neuron pacemaker activity. J Neurosci 2006; 26: 5240–5247.

Jomphe C, Tiberi M, Trudeau LE . Expression of D2 receptor isoforms in cultured neurons reveals equipotent autoreceptor function. Neuropharmacology 2006; 50: 595–605.

Cohen MX, Young J, Baek JM, Kessler C, Ranganath C . Individual differences in extraversion and dopamine genetics predict neural reward responses. Brain Res Cogn Brain Res 2005; 25: 851–861.

Pohjalainen T, Rinne JO, Nagren K, Lehikoinen P, Anttila K, Syvalahti EK et al. The A1 allele of the human D2 dopamine receptor gene predicts low D2 receptor availability in healthy volunteers. Mol Psychiatry 1998; 3: 256–260.

Sibley DR, Monsma Jr FJ, Shen Y . Molecular neurobiology of dopaminergic receptors. Int Rev Neurobiol 1993; 35: 391–415.

Jaber M, Robinson SW, Missale C, Caron MG . Dopamine receptors and brain function. Neuropharmacology 1996; 35: 1503–1519.

Missale C, Nash SR, Robinson SW, Jaber M, Caron MG . Dopamine receptors: from structure to function. Physiol Rev 1998; 78: 189–225.

Tarazi FI, Campbell A, Yeghiayan SK, Baldessarini RJ . Localization of dopamine receptor subtypes in corpus striatum and nucleus accumbens septi of rat brain: comparison of D1-, D2-, and D4-like receptors. Neuroscience 1998; 83: 169–176.

Dalley JW, Fryer TD, Brichard L, Robinson ESJ, Theobald DEH, Lääne K et al. Nucleus accumbens D2/3 receptors predict trait impulsivity and cocaine reinforcement. Science 2007; 315: 1267–1270.

Weinshilboum RM, Otterness DM, Szumlanski CL . Methylation pharmacogenetics: catechol-O-methyltransferase, thiopurine methyltransferase, and histamine N-methyltransferase. Annu Rev Pharmacol Toxicol 1999; 39: 19–52.

Akil M, Kolachana BS, Rothmond DA, Hyde TM, Weinberger DR, Kleinman JE . Catechol-O-methyltransferase genotype and dopamine regulation in the human brain. J Neurosci 2003; 23: 2008–2013.

Meyer-Lindenberg A, Kohn PD, Kolachana B, Kippenhan S, McInerney-Leo A, Nussbaum R et al. Midbrain dopamine and prefrontal function in humans: interaction and modulation by COMT genotype. Nat Neurosci 2005; 8: 594–596.

Goldberg TE, Weinberger DR . Genes and the parsing of cognitive processes. Trends Cogn Sci 2004; 8: 325–335.

Ebstein RP, Zohar AH, Benjamin J, Belmaker RH . An update on molecular genetic studies of human personality traits. Appl Bioinformatics 2002; 1: 57–68.

Hurd YL . Perspectives on current directions in the neurobiology of addiction disorders relevant to genetic risk factors. CNS Spectr 2006; 11: 855–862.

Kreek MJ, Nielsen DA, LaForge KS . Genes associated with addiction: alcoholism, opiate, and cocaine addiction. Neuromolecular Med 2004; 5: 85–108.

Kreek MJ, Nielsen DA, Butelman ER, LaForge KS . Genetic influences on impulsivity, risk taking, stress responsivity and vulnerability to drug abuse and addiction. Nat Neurosci 2005; 8: 1450–1457.

Caspi A, Sugden K, Moffitt TE, Taylor A, Craig IW, Harrington H et al. Influence of life stress on depression: moderation by a polymorphism in the 5-HTT gene. Science 2003; 301: 386–389.

Hariri AR, Mattay VS, Tessitore A, Kolachana B, Fera F, Goldman D et al. Serotonin transporter genetic variation and the response of the human amygdala. Science 2002; 297: 400–403.

Vanyukov MM, Kirisci L, Tarter RE, Simkevitz HF, Kirillova GP, Maher BS et al. Liability to substance use disorders: 2. A measurement approach. Neurosci Biobehav Rev 2003; 27: 517–526.

Vanyukov MM, Tarter RE, Kirisci L, Kirillova GP, Maher BS, Clark DB . Liability to substance use disorders: 1. Common mechanisms and manifestations. Neurosci Biobehav Rev 2003; 27: 507–515.

Oswald LM, Wong DF, McCaul M, Zhou Y, Kuwabara H, Choi L et al. Relationships among ventral striatal dopamine release, cortisol secretion, and subjective responses to amphetamine. Neuropsychopharmacology 2005; 30: 821–832.

Galvan A, Hare TA, Davidson M, Spicer J, Glover G, Casey BJ . The role of ventral frontostriatal circuitry in reward-based learning in humans. J Neurosci 2005; 25: 8650–8656.

Knutson B, Fong GW, Adams CM, Varner JL, Hommer D . Dissociation of reward anticipation and outcome with event-related fMRI. Neuroreport 2001; 12: 3683–3687.

Jonsson EG, Nothen MM, Grunhage F, Farde L, Nakashima Y, Propping P et al. Polymorphisms in the dopamine D2 receptor gene and their relationships to striatal dopamine receptor density of healthy volunteers. Mol Psychiatry 1999; 4: 290–296.

Pohjalainen T, Nagren K, Syvalahti EK, Hietala J . The dopamine D2 receptor 5′-flanking variant, −141C Ins/Del, is not associated with reduced dopamine D2 receptor density in vivo. Pharmacogenetics 1999; 9: 505–509.
Acknowledgements
This work was supported by NIH grants PO1 HL040962 to SBM, K01 MH072837 to ARH, K01 MH074769 to EEF as well as NARSAD Young Investigator Awards to ARH and EEF.
About this article
Cite this article
Forbes, E., Brown, S., Kimak, M. et al. Genetic variation in components of dopamine neurotransmission impacts ventral striatal reactivity associated with impulsivity. Mol Psychiatry 14, 60–70 (2009). https://doi.org/10.1038/sj.mp.4002086
Received:

Revised:

Accepted:

Published:

Issue Date:

DOI: https://doi.org/10.1038/sj.mp.4002086
Keywords
dopamine

impulsivity

ventral striatum; fMRI

genetic polymorphisms

reward