Abstract
Formation and extinction of aversive memories in the mammalian brain are insufficiently understood at the cellular and molecular levels. Using the novel metabotropic glutamate receptor 7 (mGluR7) agonist AMN082, we demonstrate that mGluR7 activation facilitates the extinction of aversive memories in two different amygdala-dependent tasks. Conversely, mGluR7 knockdown using short interfering RNA attenuated the extinction of learned aversion. mGluR7 activation also blocked the acquisition of Pavlovian fear learning and its electrophysiological correlate long-term potentiation in the amygdala. The finding that mGluR7 critically regulates extinction, in addition to acquisition of aversive memories, demonstrates that this receptor may be relevant for the manifestation and treatment of anxiety disorders.
Relevant articles
Open Access articles citing this article.
Subin Park

,

Sun-Woo Jung

…

Hyo-Won Kim

Behavioral and Brain Functions Open Access 07 January 2013
Access options
Subscribe to Journal
Get full journal access for 1 year
$119.00
only $9.92 per issue
All prices are NET prices.
VAT will be added later in the checkout.
Tax calculation will be finalised during checkout.
Buy article
Get time limited or full article access on ReadCube.
$32.00
All prices are NET prices.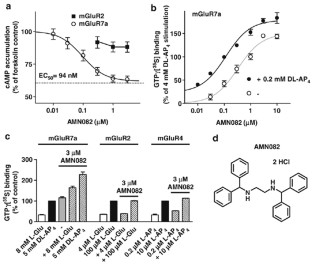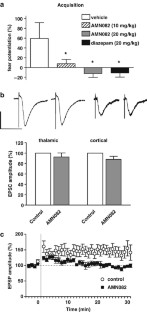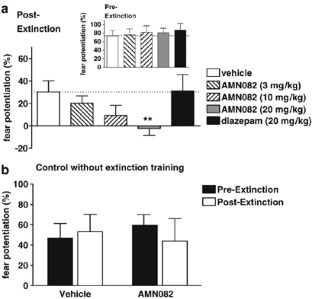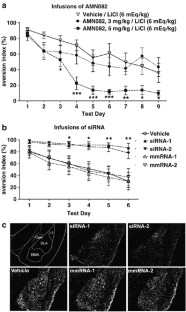 Accession codes
Accessions
GenBank/EMBL/DDBJ
References
Cryan JF, Holmes A . The ascent of mouse: advances in modelling human depression and anxiety. Nat Rev Drug Discov 2005; 4: 775–790.

Swanson CJ, Bures M, Johnson MP, Linden AM, Monn JA, Schoepp DD . Metabotropic glutamate receptors as novel targets for anxiety and stress disorders. Nat Rev Drug Discov 2005; 4: 131–144.

Walker DL, Davis M . The role of amygdala glutamate receptors in fear learning, fear-potentiated startle, and extinction. Pharmacol Biochem Behav 2002; 71: 379–392.

Conn PJ, Pin JP . Pharmacology and functions of metabotropic glutamate receptors. Annu Rev Pharmacol Toxicol 1997; 37: 205–237.

Ressler KJ, Rothbaum BO, Tannenbaum L, Anderson P, Graap K, Zimand E et al. Cognitive enhancers as adjuncts to psychotherapy: use of D-cycloserine in phobic individuals to facilitate extinction of fear. Arch Gen Psychiatry 2004; 61: 1136–1144.

Hofmann SG, Meuret AE, Smits JA, Simon NM, Pollack MH, Eisenmenger K et al. Augmentation of exposure therapy with D-cycloserine for social anxiety disorder. Arch Gen Psychiatry 2006; 63: 298–304.

Marks IM, Swinson RP, Basoglu M, Kuch K, Noshirvani H, O'Sullivan G et al. Alprazolam and exposure alone and combined in panic disorder with agoraphobia. A controlled study in London and Toronto. Br J Psychiatry 1993; 162: 776–787.

Flor PJ, van der Putten H, Ruegg D, Lukic S, Leonhardt T, Bence M et al. A novel splice variant of a metabotropic glutamate receptor, human mGluR7b. Neuropharmacology 1997; 36: 153–159.

Kinoshita A, Shigemoto R, Ohishi H, van der Putten H, Mizuno N . Immunohistochemical localization of metabotropic glutamate receptors, mGluR7a and mGluR7b, in the central nervous system of the adult rat and mouse: a light and electron microscopic study. J Comp Neurol 1998; 393: 332–352.

Cryan JF, Kelly PH, Neijt HC, Sansig G, Flor PJ, van der Putten H . Antidepressant and anxiolytic-like effects in mice lacking the group III metabotropic glutamate receptor mGluR7. Eur J Neurosci 2003; 17: 2409–2417.

Callaerts-Vegh Z, Beckers T, Ball SM, Baeyens F, Callaerts PF, Cryan JF et al. Concomitant deficits in working memory and fear extinction are functionally dissociated from reduced anxiety in metabotropic glutamate receptor 7-deficient mice. J Neurosci 2006; 26: 6573–6582.

Masugi M, Yokoi M, Shigemoto R, Muguruma K, Watanabe Y, Sansig G et al. Metabotropic glutamate receptor subtype 7 ablation causes deficit in fear response and conditioned taste aversion. J Neurosci 1999; 19: 955–963.

Mitsukawa K, Yamamoto R, Ofner S, Nozulak J, Pescott O, Lukic S et al. A selective metabotropic glutamate receptor 7 agonist: activation of receptor signaling via an allosteric site modulates stress parameters in vivo. Proc Natl Acad Sci USA 2005; 102: 18712–18717.

Phelps EA, LeDoux JE . Contributions of the amygdala to emotion processing: from animal models to human behavior. Neuron 2005; 48: 175–187.

Thakker DR, Natt F, Husken D, van der Putten H, Maier R, Hoyer D et al. siRNA-mediated knockdown of the serotonin transporter in the adult mouse brain. Mol Psychiatry 2005; 10: 782–789.

Thakker DR, Natt F, Husken D, Maier R, Muller M, van der Putten H et al. Neurochemical and behavioral consequences of widespread gene knockdown in the adult mouse brain by using nonviral RNA interference. Proc Natl Acad Sci USA 2004; 101: 17270–17275.

Tanabe Y, Masu M, Ishii T, Shigemoto R, Nakanishi S . A family of metabotropic glutamate receptors. Neuron 1992; 8: 169–179.

Okamoto N, Hori S, Akazawa C, Hayashi Y, Shigemoto R, Mizuno N et al. Molecular characterization of a new metabotropic glutamate receptor mGluR7 coupled to inhibitory cyclic AMP signal transduction. J Biol Chem 1994; 269: 1231–1236.

Maj M, Bruno V, Dragic Z, Yamamoto R, Battaglia G, Inderbitzin W et al. PHCCC, a positive allosteric modulator of mGluR4: characterization, mechanism of action, and neuroprotection. Neuropharmacology 2003; 45: 895–906.

Flor PJ, Lukic S, Ruegg D, Leonhardt T, Knopfel T, Kuhn R . Molecular cloning, functional expression and pharmacological characterization of the human metabotropic glutamate receptor type 4. Neuropharmacology 1995; 34: 149–155.

Davis M . The role of the amygdala in fear-potentiated startle: implications for animal models of anxiety. Trends Pharmacol Sci 1992; 13: 35–41.

Fendt M, Schmid S . Metabotropic glutamate receptors are involved in amygdaloid plasticity. Eur J Neurosci 2002; 15: 1535–1541.

Schmid S, Fendt M . Effects of the mGluR8 agonist (S)-3,4-DCPG in the lateral amygdala on acquisition/expression of fear-potentiated startle, synaptic transmission, and plasticity. Neuropharmacology 2006; 50: 154–164.

Schulz B, Fendt M, Gasparini F, Lingenhohl K, Kuhn R, Koch M . The metabotropic glutamate receptor antagonist 2-methyl-6-(phenylethynyl)-pyridine (MPEP) blocks fear conditioning in rats. Neuropharmacology 2001; 41: 1–7.

Rogan MT, Staubli UV, LeDoux JE . Fear conditioning induces associative long-term potentiation in the amygdala. Nature 1997; 390: 604–607.

Maren S . Synaptic mechanisms of associative memory in the amygdala. Neuron 2005; 47: 783–786.

Bouton ME, Kenney FA, Rosengard C . State-dependent fear extinction with two benzodiazepine tranquilizers. Behav Neurosci 1990; 104: 44–55.

Kikusui T, Takeuchi Y, Mori Y . Pharmacological manipulations of the extinction process of fear-induced ultrasonic vocalization in rats. J Vet Med Sci 2001; 63: 591–595.

Walker DL, Ressler KJ, Lu KT, Davis M . Facilitation of conditioned fear extinction by systemic administration or intra-amygdala infusions of D-cycloserine as assessed with fear-potentiated startle in rats. J Neurosci 2002; 22: 2343–2351.

Bahar A, Samuel A, Hazvi S, Dudai Y . The amygdalar circuit that acquires taste aversion memory differs from the circuit that extinguishes it. Eur J Neurosci 2003; 17: 1527–1530.

Welzl H, D'Adamo P, Lipp HP . Conditioned taste aversion as a learning and memory paradigm. Behav Brain Res 2001; 125: 205–213.

Cubero I, Thiele TE, Bernstein IL . Insular cortex lesions and taste aversion learning: effects of conditioning method and timing of lesion. Brain Res 1999; 839: 323–330.

Paulus MP, Stein MB . An insular view of anxiety. Biol Psychiatry 2006; 60: 383–387.

Guitton MJ, Dudai Y . Anxiety-like state associates with taste to produce conditioned taste aversion. Biol Psychiatry 2004; 56: 901–904.

Bermudez-Rattoni F, Ramirez-Lugo L, Gutierrez R, Miranda MI . Molecular signals into the insular cortex and amygdala during aversive gustatory memory formation. Cell Mol Neurobiol 2004; 24: 25–36.

Jacobson LH, Kelly PH, Bettler B, Kaupmann K, Cryan JF . GABA(B(1)) receptor isoforms differentially mediate the acquisition and extinction of aversive taste memories. J Neurosci 2006; 26: 8800–8803.

Thakker DR, Hoyer D, Cryan JF . Interfering with the brain: use of RNA interference for understanding the pathophysiology of psychiatric and neurological disorders. Pharmacol Ther 2006; 109: 413–438.

Sansig G, Bushell TJ, Clarke VR, Rozov A, Burnashev N, Portet C et al. Increased seizure susceptibility in mice lacking metabotropic glutamate receptor 7. J Neurosci 2001; 21: 8734–8745.

Mitsukawa K, Mombereau C, Lotscher E, Uzunov DP, van der Putten H, Flor PJ et al. Metabotropic glutamate receptor subtype 7 ablation causes dysregulation of the HPA axis and increases hippocampal BDNF protein levels: implications for stress-related psychiatric disorders. Neuropsychopharmacology 2006; 31: 1112–1122.

Huesken D, Lange J, Mickanin C, Weiler J, Asselbergs F, Warner J et al. Design of a genome-wide siRNA library using an artificial neural network. Nat Biotechnol 2005; 23: 995–1001.

Paxinos G, Franklin KBJ . The Mouse Brain in Stereotaxic Coordinates. Academic Press: London, 2001.

Bischoff S, Barhanin J, Bettler B, Mulle C, Heinemann S . Spatial distribution of kainate receptor subunit mRNA in the mouse basal ganglia and ventral mesencephalon. J Comp Neurol 1997; 379: 541–562.

Davis M . The role of the amygdala in fear-potentiated startle: implications for animal models of anxiety. Trends Pharmacol Sci 1992; 13: 35–41.

Fendt M, Fanselow MS . The neuroanatomical and neurochemical basis of conditioned fear. Neurosci Biobehav Rev 1999; 23: 743–760.

Escobar ML, Alcocer I, Chao V . The NMDA receptor antagonist CPP impairs conditioned taste aversion and insular cortex long-term potentiation in vivo. Brain Res 1998; 812: 246–251.

Myers KM, Davis M . Behavioral and neural analysis of extinction. Neuron 2002; 36: 567–584.

Barad M . Fear extinction in rodents: basic insight to clinical promise. Curr Opin Neurobiol 2005; 15: 710–715.

Akirav I . NMDA partial agonist reverses blocking of extinction of aversive memory by GABA(A) agonist in the amygdala. Neuropsychopharmacology 2007; 32: 542–550.

Mickley GA, Kenmuir CL, Yocom AM, Wellman JA, Biada JM . A role for prefrontal cortex in the extinction of a conditioned taste aversion. Brain Res 2005; 1051: 176–182.

Quirk GJ, Garcia R, Gonzalez-Lima F . Prefrontal mechanisms in extinction of conditioned fear. Biol Psychiatry 2006; 60: 337–343.

Sotres-Bayon F, Cain CK, LeDoux JE . Brain mechanisms of fear extinction: historical perspectives on the contribution of prefrontal cortex. Biol Psychiatry 2006; 60: 329–336.

Pelkey KA, Lavezzari G, Racca C, Roche KW, McBain CJ . mGluR7 is a metaplastic switch controlling bidirectional plasticity of feedforward inhibition. Neuron 2005; 46: 89–102.

Pelkey KA, Yuan X, Lavezzari G, Roche KW, McBain CJ . mGluR7 undergoes rapid internalization in response to activation by the allosteric agonist AMN082. Neuropharmacology 52: 108–117.

Makoff A, Pilling C, Harrington K, Emson P . Human metabotropic glutamate receptor type 7: molecular cloning and mRNA distribution in the CNS. Brain Res Mol Brain Res 1996; 40: 165–170.

Cammarota M, Bevilaqua LRM, Rossato JI, Ramirez M, Medina JH, Izquierdo I et al. Relationship between short- and long-term memory and short- and long-term extinction. Neurobiol Learn Mem 2005; 84: 25–32.

Myers KM, Davis M . Mechanisms of fear extinction. Mol Psychiatry 2007; 12: 120–150.
Acknowledgements
We acknowledge Professor P Herrling and Dr G Bilbe for giving continuous support and for critical, very helpful discussions. We are deeply grateful to Professor S Nakanishi (Kyoto University, Japan) for providing CHO cell lines stably expressing rat mGluR2 and rat mGluR7a. We thank Drs HR Olpe, CR Pryce and A Lüthi for critically reading the manuscript. Also, we thank H Bürki, S Leonhard, D Fehlmann, E Müller and S Lukic for their expert technical help.
About this article
Cite this article
Fendt, M., Schmid, S., Thakker, D. et al. mGluR7 facilitates extinction of aversive memories and controls amygdala plasticity. Mol Psychiatry 13, 970–979 (2008). https://doi.org/10.1038/sj.mp.4002073
Received:

Revised:

Accepted:

Published:

Issue Date:

DOI: https://doi.org/10.1038/sj.mp.4002073
Keywords
anxiety

fear learning

glutamate

metabotropic glutamate receptors