Abstract
The acute neural effects of progesterone are mediated by its neuroactive metabolites allopregnanolone and pregnanolone. These neurosteroids potentiate the inhibitory actions of γ-aminobutyric acid (GABA). Progesterone is known to produce anxiolytic effects in animals, but recent animal studies suggest that pregnanolone increases anxiety after a period of low allopregnanolone concentration. This effect is potentially mediated by the amygdala and related to the negative mood symptoms in humans that are observed during increased allopregnanolone levels. Therefore, we investigated with functional magnetic resonance imaging (MRI) whether a single progesterone administration to healthy young women in their follicular phase modulates the amygdala response to salient, biologically relevant stimuli. The progesterone administration increased the plasma concentrations of progesterone and allopregnanolone to levels that are reached during the luteal phase and early pregnancy. The imaging results show that progesterone selectively increased amygdala reactivity. Furthermore, functional connectivity analyses indicate that progesterone modulated functional coupling of the amygdala with distant brain regions. These results reveal a neural mechanism by which progesterone may mediate adverse effects on anxiety and mood.
Relevant articles
Open Access articles citing this article.
Esmeralda Hidalgo-Lopez

,

Peter Zeidman

…

Belinda Pletzer

Communications Biology Open Access 10 August 2021

Tammo Viering

,

Jilly Naaijen

…

Pieter J. Hoekstra

European Child & Adolescent Psychiatry Open Access 13 June 2021

Howard J. Li

,

Allison Goff

…

David Goldman

Molecular Psychiatry Open Access 25 May 2021
Access options
Subscribe to Journal
Get full journal access for 1 year
$119.00
only $9.92 per issue
All prices are NET prices.
VAT will be added later in the checkout.
Tax calculation will be finalised during checkout.
Buy article
Get time limited or full article access on ReadCube.
$32.00
All prices are NET prices.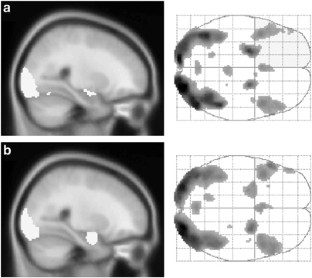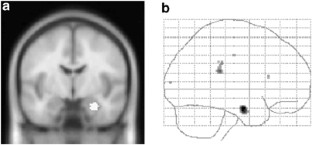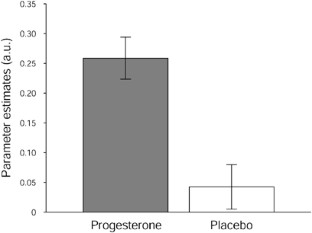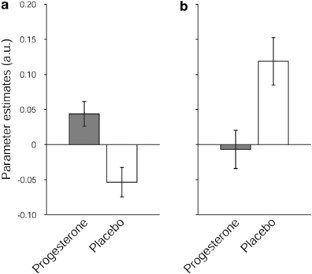 References
Steiner M, Dunn E, Born L . Hormones and mood: from menarche to menopause and beyond. J Affect Disord 2003; 74: 67–83.

Kimura D . Sex and Cognition. The MIT Press: Cambridge, 1999.

Sharp K, Brindle PM, Brown MW, Turner GM . Memory loss during pregnancy. Br J Obstet Gynaecol 1993; 100: 209–215.

Keenan PA, Yaldoo DT, Stress ME, Fuerst DR, Ginsburg KA . Explicit memory in pregnant women. Am J Obstet Gynecol 1998; 179: 731–737.

Buckwalter JG, Stanczyk FZ, McCleary CA, Bluestein BW, Buckwalter DK, Rankin KP et al. Pregnancy, the postpartum, and steroid hormones: effects on cognition and mood. Psychoneuroendocrinology 1999; 24: 69–84.

Bennett HA, Einarson A, Taddio A, Koren G, Einarson TR . Prevalence of depression during pregnancy: systematic review. Obstet Gynecol 2004; 103: 698–709.

Bäckström T, Sanders D, Leask R, Davidson D, Warner P, Bancroft J . Mood, sexuality, hormones, and the menstrual cycle. II. Hormone levels and their relationship to the premenstrual syndrome. Psychosom Med 1983; 45: 503–507.

Rubinow DR, Hoban MC, Grover GN, Galloway DS, Roy-Byrne P, Andersen R et al. Changes in plasma hormones across the menstrual cycle in patients with menstrually related mood disorder and in control subjects. Am J Obstet Gynecol 1988; 158: 5–11.

Schmidt PJ, Nieman LK, Danaceau MA, Adams LF, Rubinow DR . Differential behavioral effects of gonadal steroids in women with and in those without premenstrual syndrome. N Engl J Med 1998; 338: 209–216.

Rubinow DR, Schmidt PJ . Gonadal steroid regulation of mood: the lessons of premenstrual syndrome. Front Neuroendocrinol 2006; 27: 210–216.

Bitran D, Shiekh M, Mcleod M . Anxiolytic effect of progesterone is mediated by the neurosteroid allopregnanolone at brain Gaba(a) receptors. J Neuroendocrinol 1995; 7: 171–177.

Smith SS, Gong QH, Hsu FC, Markowitz RS, ffrench-Mullen JM, Li X . GABA(A) receptor alpha4 subunit suppression prevents withdrawal properties of an endogenous steroid. Nature 1998; 392: 926–930.

Reddy DS, O'Malley BW, Rogawski MA . Anxiolytic activity of progesterone in progesterone receptor knockout mice. Neuropharmacology 2005; 48: 14–24.

Majewska MD, Harrison NL, Schwartz RD, Barker JL, Paul SM . Steroid hormone metabolites are barbiturate-like modulators of the GABA receptor. Science 1986; 232: 1004–1007.

Akwa Y, Purdy RH, Koob GF, Britton KT . The amygdala mediates the anxiolytic-like effect of the neurosteroid allopregnanolone in rat. Behav Brain Res 1999; 106: 119–125.

Paul SM, Purdy RH . Neuroactive steroids. FASEB J 1992; 6: 2311–2322.

Zhu D, Wang MD, Bäckström T, Wahlström G . Evaluation and comparison of the pharmacokinetic and pharmacodynamic properties of allopregnanolone and pregnanolone at induction of anaesthesia in the male rat. Br J Anaesth 2001; 86: 403–412.

Smith SS, Ruderman Y, Frye C, Homanics G, Yuan M . Steroid withdrawal in the mouse results in anxiogenic effects of 3alpha,5beta-THP: a possible model of premenstrual dysphoric disorder. Psychopharmacology (Berl) 2006; 186: 323–333.

Wang M, Seippel L, Purdy RH, Backstrom T . Relationship between symptom severity and steroid variation in women with premenstrual syndrome: study on serum pregnenolone, pregnenolone sulfate, 5 alpha-pregnane-3,20-dione and 3 alpha-hydroxy-5 alpha-pregnan-20-one. J Clin Endocrinol Metab 1996; 81: 1076–1082.

Davis M, Whalen PJ . The amygdala: vigilance and emotion. Mol Psychiatry 2001; 6: 13–34.

Phillips ML, Drevets WC, Rauch SL, Lane R . Neurobiology of emotion perception I: the neural basis of normal emotion perception. Biol Psychiatry 2003; 54: 504–514.

de Lignieres B, Dennerstein L, Backstrom T . Influence of route of administration on progesterone metabolism. Maturitas 1995; 21: 251–257.

Sheehan DV, Lecrubier Y, Sheehan KH, Amorim P, Janavs J, Weiller E et al. The mini-international neuropsychiatric interview (M.I.N.I.): the development and validation of a structured diagnostic psychiatric interview for DSM-IV and ICD-10. J Clin Psychiatry 1998; 59(Suppl 20): 22–33.

Bond A, Lader M . The use of analogue scales in rating subjective feelings. Br J Med Psychol 1974; 47: 211–218.

Spielberger CD, Gorsuch RL, Lushene RE . STAI Manual for the State Trait Anxiety Inventory. Consulting Psychologists Press: Palo Alto, 1970.

Hariri AR, Mattay VS, Tessitore A, Fera F, Smith WG, Weinberger DR . Dextroamphetamine modulates the response of the human amygdala. Neuropsychopharmacology 2002; 27: 1036–1040.

Paulus MP, Feinstein JS, Castillo G, Simmons AN, Stein MB . Dose-dependent decrease of activation in bilateral amygdala and insula by lorazepam during emotion processing. Arch Gen Psychiatry 2005; 62: 282–288.

Friston KJ, Holmes AP, Worsley KJ, Poline JB, Frith CD, Frackowiak RSJ . Statistical parametric maps in functional imaging: a general linear approach. Hum Brain Mapp 1995; 2: 189–210.

Friston KJ, Penny W, Phillips C, Kiebel S, Hinton G, Ashburner J . Classical and Bayesian inference in neuroimaging: theory. Neuroimage 2002; 16: 465–483.

Friston KJ, Buechel C, Fink GR, Morris J, Rolls E, Dolan RJ . Psychophysiological and modulatory interactions in neuroimaging. Neuroimage 1997; 6: 218–229.

Worsley KJ, Marrett S, Neelin P, Vandal AC, Friston KJ, Evans AC . A unified statistical approach for determining significant signals in images of cerebral activation. Hum Brain Mapp 1996; 4: 58–73.

Maldjian JA, Laurienti PJ, Kraft RA, Burdette JH . An automated method for neuroanatomic and cytoarchitectonic atlas-based interrogation of fMRI data sets. Neuroimage 2003; 19: 1233–1239.

Kanwisher N, McDermott J, Chun MM . The fusiform face area: a module in human extrastriate cortex specialized for face perception. J Neurosci 1997; 17: 4302–4311.

Brett M, Anton J, Valbregue R, Poline J . Region of interest analysis using an SPM toolbox (abstract). 8th International Conference on Functional Mapping of the Human Brain, 2–6 June 2002; Sendai, Japan, 2002, p 497.

Andréen L, Sundström-Poromaa I, Bixo M, Andersson A, Nyberg S, Bäckström T . Relationship between allopregnanolone and negative mood in postmenopausal women taking sequential hormone replacement therapy with vaginal progesterone. Psychoneuroendocrinology 2005; 30: 212–224.

Parizek A, Hill M, Kancheva R, Havlikova H, Kancheva L, Cindr J et al. Neuroactive pregnanolone isomers during pregnancy. J Clin Endocrinol Metab 2005; 90: 395–403.

Paoletti AM, Romagnino S, Contu R, Orru MM, Marotto MF, Zedda P et al. Observational study on the stability of the psychological status during normal pregnancy and increased blood levels of neuroactive steroids with GABA-A receptor agonist activity. Psychoneuroendocrinology 2006; 31: 485–492.

Phelps EA, LeDoux JE . Contributions of the amygdala to emotion processing: from animal models to human behavior. Neuron 2005; 48: 175–187.

Rauch SL, Shin LM, Wright CI . Neuroimaging studies of amygdala function in anxiety disorders. Ann N Y Acad Sci 2003; 985: 389–410.

Drevets WC . Neuroimaging abnormalities in the amygdala in mood disorders. Ann N Y Acad Sci 2003; 985: 420–444.

Tsao DY, Freiwald WA, Tootell RB, Livingstone MS . A cortical region consisting entirely of face-selective cells. Science 2006; 311: 670–674.

Amaral DG, Behniea H, Kelly JL . Topographic organization of projections from the amygdala to the visual cortex in the macaque monkey. Neuroscience 2003; 118: 1099–1120.

Vuilleumier P, Richardson MP, Armony JL, Driver J, Dolan RJ . Distant influences of amygdala lesion on visual cortical activation during emotional face processing. Nat Neurosci 2004; 7: 1271–1278.

Hariri AR, Mattay VS, Tessitore A, Fera F, Weinberger DR . Neocortical modulation of the amygdala response to fearful stimuli. Biol Psychiatry 2003; 53: 494–501.

Ochsner KN, Gross JJ . The cognitive control of emotion. Trends Cogn Sci 2005; 9: 242–249.

Pezawas L, Meyer-Lindenberg A, Drabant EM, Verchinski BA, Munoz KE, Kolachana BS et al. 5-HTTLPR polymorphism impacts human cingulate-amygdala interactions: a genetic susceptibility mechanism for depression. Nat Neurosci 2005; 8: 828–834.

Bäckström T, Andersson A, Andree L, Birzniece V, Bixo M, Bjorn I et al. Pathogenesis in menstrual cycle-linked CNS disorders. Ann N Y Acad Sci 2003; 1007: 42–53.

Miczek KA, Fish EW, De Bold JF . Neurosteroids, GABAA receptors, and escalated aggressive behavior. Horm Behav 2003; 44: 242–257.

N-Wihlbäck AC, Sundström-Poromaa I, Bäckström T . Action by and sensitivity to neuroactive steroids in menstrual cycle related CNS disorders. Psychopharmacology (Berl) 2006; 186: 388–401.

Fish EW, Faccidomo S, DeBold JF, Miczek KA . Alcohol, allopregnanolone and aggression in mice. Psychopharmacology (Berl) 2001; 153: 473–483.

Andréen L, Sundström-Poromaa I, Bixo M, Nyberg S, Bäckström T . Allopregnanolone concentration and mood-a bimodal association in postmenopausal women treated with oral progesterone. Psychopharmacology (Berl) 2006; 187: 209–221.

Freeman EW, Frye CA, Rickels K, Martin PA, Smith SS . Allopregnanolone levels and symptom improvement in severe premenstrual syndrome. J Clin Psychopharmacol 2002; 22: 516–520.

Timby E, Balgard M, Nyberg S, Spigset O, Andersson A, Porankiewicz-Asplund J et al. Pharmacokinetic and behavioral effects of allopregnanolone in healthy women. Psychopharmacology (Berl) 2006; 186: 414–424.

Sundström I, Andersson A, Nyberg S, Ashbrook D, Purdy RH, Bäckström T . Patients with premenstrual syndrome have a different sensitivity to a neuroactive steroid during the menstrual cycle compared to control subjects. Neuroendocrinology 1998; 67: 126–138.

Hammarbäck S, Damber JE, Bäckström T . Relationship between symptom severity and hormone changes in women with premenstrual syndrome. J Clin Endocrinol Metab 1989; 68: 125–130.

Björn I, Sundström-Poromaa I, Bixo M, Nyberg S, Bäckström G, Bäckström T . Increase of estrogen dose deteriorates mood during progestin phase in sequential hormonal therapy. J Clin Endocrinol Metab 2003; 88: 2026–2030.

Marowsky A, Yanagawa Y, Obata K, Vogt KE . A specialized subclass of interneurons mediates dopaminergic facilitation of amygdala function. Neuron 2005; 48: 1025–1037.

Belelli D, Herd MB, Mitchell EA, Peden DR, Vardy AW, Gentet L et al. Neuroactive steroids and inhibitory neurotransmission: mechanisms of action and physiological relevance. Neuroscience 2006; 138: 821–829.

Shen H, Gong QH, Aoki C, Yuan M, Ruderman Y, Dattilo M et al. Reversal of neurosteroid effects at alpha4beta2delta GABA(A) receptors triggers anxiety at puberty. Nat Neurosci 2007; 10: 469–477.

Price JL . Comparative aspects of amygdala connectivity. Ann N Y Acad Sci 2003; 985: 50–58.

Phillips ML, Drevets WC, Rauch SL, Lane R . Neurobiology of emotion perception II: implications for major psychiatric disorders. Biol Psychiatry 2003; 54: 515–528.

Fernández G, Weis S, Stoffel-Wagner B, Tendolkar I, Reuber M, Beyenburg S et al. Menstrual cycle-dependent neural plasticity in the adult human brain is hormone, task, and region specific. J Neurosci 2003; 23: 3790–3795.

Goldstein JM, Jerram M, Poldrack R, Ahern T, Kennedy DN, Seidman LJ et al. Hormonal cycle modulates arousal circuitry in women using functional magnetic resonance imaging. J Neurosci 2005; 25: 9309–9316.

Protopopescu X, Pan H, Altemus M, Tuescher O, Polanecsky M, McEwen B et al. Orbitofrontal cortex activity related to emotional processing changes across the menstrual cycle. Proc Natl Acad Sci USA 2005; 102: 16060–16065.

Amin Z, Epperson CN, Constable RT, Canli T . Effects of estrogen variation on neural correlates of emotional response inhibition. Neuroimage 2006; 32: 457–464.

Adolphs R . How do we know the minds of others? Domain-specificity, simulation, and enactive social cognition. Brain Res 2006; 1079: 25–35.

Herman JP, Ostrander MM, Mueller NK, Figueiredo H . Limbic system mechanisms of stress regulation: hypothalamo-pituitary-adrenocortical axis. Prog Neuropsychopharmacol Biol Psychiatry 2005; 29: 1201–1213.

Penton-Voak IS, Perrett DI, Castles DL, Kobayashi T, Burt DM, Murray LK et al. Menstrual cycle alters face preference. Nature 1999; 399: 741–742.

Jones BC, Little AC, Boothroyd L, Debruine LM, Feinberg DR, Smith MJ et al. Commitment to relationships and preferences for femininity and apparent health in faces are strongest on days of the menstrual cycle when progesterone level is high. Horm Behav 2005; 48: 283–290.

Kirschbaum C, Kudielka BM, Gaab J, Schommer NC, Hellhammer DH . Impact of gender, menstrual cycle phase, and oral contraceptives on the activity of the hypothalamus-pituitary-adrenal axis. Psychosom Med 1999; 61: 154–162.

Roca CA, Schmidt PJ, Altemus M, Deuster P, Danaceau MA, Putnam K et al. Differential menstrual cycle regulation of hypothalamic-pituitary-adrenal axis in women with premenstrual syndrome and controls. J Clin Endocrinol Metab 2003; 88: 3057–3063.
Acknowledgements
This work was supported by an internal grant from the Radboud University Nijmegen Medical Center, an EU structural fund objective 1 program, and the Swedish Research Council project 11198.
About this article
Cite this article
van Wingen, G., van Broekhoven, F., Verkes, R. et al. Progesterone selectively increases amygdala reactivity in women. Mol Psychiatry 13, 325–333 (2008). https://doi.org/10.1038/sj.mp.4002030
Received:

Revised:

Accepted:

Published:

Issue Date:

DOI: https://doi.org/10.1038/sj.mp.4002030
Keywords
fMRI

progesterone

allopregnanolone

amygdala

emotion

disinhibition