Abstract
Anhedonia, the reduced capacity to gain pleasure from pleasurable experiences, is a key symptom of major depression and schizophrenia. Reduced hedonic capacity can also be measured as an enduring trait in non-clinical subjects. Such altered hedonic capacity is likely the result of a basic neuropsychophysiological dysfunction and a vulnerability marker that potentially precedes and contributes to the liability of developing psychiatric disorders. The characterization of the structural and functional neural correlates of trait anhedonia in non-clinical individuals may provide new insights for the early detection of such psychiatric diseases. Twenty-nine non-clinical subjects were scanned at the Montreal Neurological Institute. Trait anhedonia was measured using the Chapman Revised Physical Anhedonia Scale. Semi-automated and automated structural MRI segmentation techniques were used to explore structural correlates of trait anhedonia. Seventeen of the 29 subjects also underwent a functional imaging task where responses to the viewing of affective stimuli were examined to identify the functional correlates of trait anhedonia. Trait anhedonia was inversely related to anterior caudate volume, but positively related to ventromedial prefrontal cortex activity during the processing of positive information. These findings may reflect a specific kind of vulnerability for the development of psychiatric affective disorders and suggest that trait anhedonia may be linked to a volumetric reduction in the basal ganglia and to a prefrontal functional abnormality during hedonic processing.
Relevant articles
Open Access articles citing this article.
J. Scott Steele

,

Michele Bertocci

…

Mary L. Phillips

Molecular Psychiatry Open Access 25 January 2021

Joey Ward

,

Laura M. Lyall

…

Daniel J. Smith

Translational Psychiatry Open Access 04 December 2019

Guia Guffanti

,

Poornima Kumar

…

Diego A. Pizzagalli

Translational Psychiatry Open Access 19 September 2019
Access options
Subscribe to this journal
Receive 12 print issues and online access
$259.00 per year
only $21.58 per issue
Rent or buy this article
Get just this article for as long as you need it
$39.95
Prices may be subject to local taxes which are calculated during checkout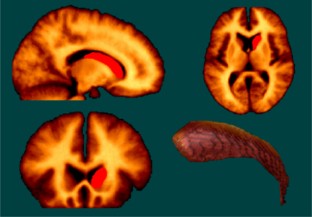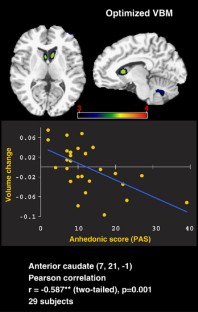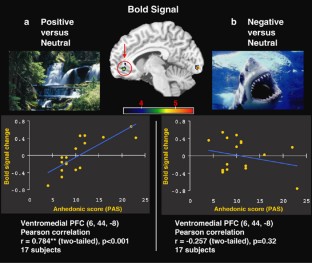 References
Leboyer M, Bellivier F, Nosten-Bertrand M, Jouvent R, Pauls D, Mallet J . Psychiatric genetics: search for phenotypes. Trends Neurosci 1998; 21: 102–105.

Blanchard JJ, Horan WP, Brown SA . Diagnostic differences in social anhedonia: a longitudinal study of schizophrenia and major depressive disorder. J Abnorm Psychol 2001; 110: 363–371.

Herbener ES, Harrow M, Hill SK . Change in the relationship between anhedonia and functional deficits over a 20-year period in individuals with schizophrenia. Schizophr Res 2005; 75: 97–105.

Collins L, Blanchard J, Biondo K . Behavioral signs of schizoidia and schizotypy in social anhedonics. Schizophr Res 2005; 78: 309–322.

Dubal S, Jouvent R . Time-on-task effect in trait anhedonia. Eur Psychiatry 2004; 19: 285–291.

Franken IH, Rassin E, Muris P . The assessment of anhedonia in clinical and non-clinical populations: further validation of the Snaith-Hamilton Pleasure Scale (SHAPS). J Affect Disord 2007; 99: 83–89.

Gooding D, Tallent K, Matts C . Clinical status of at-risk individuals 5 years later: further validation of the psychometric high-risk strategy. J Abnorm Psychol 2005; 114: 170–175.

Meehl P . Hedonic capacity: some conjectures. Bull Menninger Clinic 1975; 39: 295–307.

Hasler G, Drevets WC, Manji HK, Charney DS . Discovering endophenotypes for major depression. Neuropsychopharmacology 2004; 29: 1765–1781.

Pizzagalli DA, Jahn AL, O'Shea JP . Toward an objective characterization of an anhedonic phenotype: a signal-detection approach. Biol Psychiatry 2005; 57: 319–327.

Knutson B, Adams CM, Fong GW, Hommer D . Anticipation of increasing monetary reward selectively recruits nucleus accumbens. J Neurosci 2001; 21: RC159.

O'Doherty J, Kringelbach ML, Rolls ET, Hornak J, Andrews C . Abstract reward and punishment representations in the human orbitofrontal cortex. Nat Neurosci 2001; 4: 95–102.

Blood AJ, Zatorre RJ . Intensely pleasurable responses to music correlate with activity in brain regions implicated in reward and emotion. Proc Natl Acad Sci USA 2001; 98: 11818–11823.

Lane RD, Reiman EM, Ahern GL, Schwartz GE, Davidson RJ . Neuroanatomical correlates of happiness, sadness, and disgust. Am J Psychiatry 1997; 154: 926–933.

Lane RD, Reiman EM, Bradley MM, Lang PJ, Ahern GL, Davidson RJ et al. Neuroanatomical correlates of pleasant and unpleasant emotion. Neuropsychologia 1997; 35: 1437–1444.

Senior C . Beauty in the brain of the beholder. Neuron 2003; 38: 525–528.

Epstein J, Pan H, Kocsis JH, Yang Y, Butler T, Chusid J et al. Lack of ventral striatal response to positive stimuli in depressed versus normal subjects. Am J Psychiatry 2006; 163: 1784–1790.

Tremblay LK, Naranjo CA, Graham SJ, Herrmann N, Mayberg HS, Hevenor S et al. Functional neuroanatomical substrates of altered reward processing in major depressive disorder revealed by a dopaminergic probe. Arch Gen Psychiatry 2005; 2: 1228–1236.

Crespo-Facorro B, Paradiso S, Andreasen NC, O'Leary DS, Watkins GL, Ponto LL et al. Neural mechanisms of anhedonia in schizophrenia: a PET study of response to unpleasant and pleasant odors. JAMA 2005; 58: 843–853.

Keedwell PA, Andrew C, Williams SC, Brammer MJ, Phillips ML . The neural correlates of anhedonia in major depressive disorder. Biol Psychiatry 2005; 58: 843–853.

Mitterschiffthaler MT, Kumari V, Malhi GS, Brown RG, Giampietro VP, Brammer MJ et al. Neural response to pleasant stimuli in anhedonia: an fMRI study. Neuroreport 2003; 14: 177–182.

Chapman L, Chapman J, Kwapil T, Eckblad M, Zinser M . Putatively psychosis-prone subjects 10 years later. J Abnorm Psychol 1994; 103: 171–183.

Mason O, Startup M, Halpin S, Schall U, Conrad A, Carr V . Risk factors for transition to first episode psychosis among individuals with 'at-risk mental states'. Schizophr Res 2004; 71: 227–237.

Loas G . Vulnerability to depression: a model centered on anhedonia. J Affect Disord 1996; 41: 39–53.

Schrader GD . Does anhedonia correlate with depression severity in chronic depression? Compr Psychiatry 1997; 38: 260–263.

Schurhoff F, Szoke A, Bellivier F, Turcas C, Villemur M, Tignol J et al. Anhedonia in schizophrenia: a distinct familial subtype? Schizophr Res 2003; 61: 59–66.

Rush AJ, Weissenburger JE . Melancholic symptom features and DSM-IV. Am J Psychiatry 1994; 151: 489–498.

Chapman L, Chapman J, Raulin M . Scales for physical and social anhedonia. J Abnorm Psychol 1976; 85: 374–382.

Horan WP, Kring AM, Blanchard JJ . Anhedonia in schizophrenia: a review of assessment strategies. Schiz Bull 2006; 32: 259–273.

Camisa KM, Bockbrader MA, Lysaker P, Rae LL, Brenner CA, O'Donnell BF . Personality traits in schizophrenia and related personality disorders. Psychiatry Res 2005; 133: 23–33.

Kontaxakis VP, Kollias CT, Havaki-Kontaxaki BJ, Margariti MM, Stamouli SS, Petridou E et al. Physical anhedonia in the acute phase of schizophrenia. Ann Gen Psychiatry [electronic resource] 2006; 5: 1.

Lang PJ, Bradley MM, Cuthbert BN . International Affective Picture System (IAPS): Technical Manual and Affective Ratings. NIMH Center for the Study of Emotion and Attention: Gainesville, FL, 1995.

Geday J, Gjedde A, Boldsen A, Kupers R . Emotional valence modulates activity in the posterior fusiform gyrus and inferior medial prefrontal cortex in social perception. NeuroImage 2003; 18: 675–684.

Ashburner J, Friston K . Voxel-based morphometry -- the methods. NeuroImage 2000; 11 (Part 1): 805–821.

Corbo V, Clement M, Armony J, Pruessner J, Brunet A . Size versus shape differences: contrasting voxel-based and volumetric analyses of the anterior cingulate cortex in individuals with acute posttraumatic stress disorder. Biol Psychiatry 2005; 58: 119–124.

Sled J, Zijdenbos A, Evans A . A nonparametric method for automatic correction of intensity nonuniformity in MRI data. IEEE Trans Med Imag 1998; 17: 87–97.

Collins D, Neelin P, Peters T, Evans A . Automatic 3D intersubject registration of MR volumetric data in standardized Talairach space. J Comput Assist Tomogr 1994; 18: 192–205.

Ashburner J, Friston K . Multimodal image coregistration and partitioning--a unified framework. NeuroImage 1997; 6: 209–217.

Talairach J, Tournoux P . Co-Planar Stereotaxic Atlas of the Human Brain. Thieme: New York, 1988.

Haruno M, Kuroda T, Doya K, Toyama K, Kimura M, Samejima K et al. A neural correlate of reward-based behavioral learning in caudate nucleus: a functional magnetic resonance imaging study of a stochastic decision task. J Neurosci 2004; 24: 1660–1665.

Koob G . Hedonic valence, dopamine and motivation. Mol Psychiatry 1996; 1: 186–189.

Ono T, Nishijo H, Nishino H . Functional role of the limbic system and basal ganglia in motivated behaviors. J Neurol 2000; 247 (Suppl 5): V23–32.

Heinz A, Schmidt LG, Reischies FM . Anhedonia in schizophrenic, depressed, or alcohol-dependent patients--neurobiological correlates. Pharmacopsychiatry 1994; 27 (Suppl 1): 7–10.

Isella V, Iurlaro S, Piolti R, Ferrarese C, Frattola L, Appollonio I et al. Physical anhedonia in Parkinson's disease. J Neurol Neurosurg Psychiatry 2003; 74: 1308–1311.

Markou A, Koob GF . Postcocaine anhedonia. An animal model of cocaine withdrawal. Neuropsychopharmacology 1991; 4: 17–26.

Willner P, Hale AS, Argyropoulos S . Dopaminergic mechanism of antidepressant action in depressed patients. J Affect Disord 2005; 86: 37–45.

Cummings JL . Frontal-subcortical circuits and human behavior. Arch Neurol 1993; 50: 873–880.

Mega MS, Cummings JL . Frontal-subcortical circuits and neuropsychiatric disorders. J Neuropsychiatry Clin Neurosci 1994; 6: 358–370.

Tisch S, Silberstein P, Limousin-Dowsey P, Jahanshani M . The basal ganglia: anatomy, physiology, and pharmacology. Psychiat Clin N Am 2004; 27: 757–799.

Phan KL, Wager T, Taylor SF, Liberzon I . Functional neuroanatomy of emotion: a meta-analysis of emotion activation studies in PET and fMRI. NeuroImage 2002; 16: 331–348.

Houk J, Davis J, Beiser D . Models of Information Processing in the Basal Ganglia. Cambridge (MA), 1995.

Wager TD, Phan KL, Liberzon I, Taylor SF . Valence, gender, and lateralization of functional brain anatomy in emotion: a meta-analysis of findings from neuroimaging. NeuroImage 2003; 19: 513–531.

Amodio D, Frith C . Meeting of minds: the medial frontal cortex and social cognition. Nat Rev Neurosci 2006; 7: 268–277.

Reiman EM, Lane RD, Ahern GL, Schwartz GE, Davidson RJ, Friston KJ et al. Neuroanatomical correlates of externally and internally generated human emotion. Am J Psychiatry 1997; 154: 918–925.

Davidson RJ, Sutton SK . Affective neuroscience: the emergence of a discipline. Curr Opin Neurobiol 1995; 5: 217–224.

Drevets WC, Videen TO, Price JL, Preskorn SH, Carmichael ST, Raichle ME . A functional anatomical study of unipolar depression. J Neurosci 1992; 12: 3628–3641.

Lanius RA, Williamson PC, Boksman K, Densmore M, Gupta M, Neufeld RW et al. Brain activation during script-driven imagery induced dissociative responses in PTSD: a functional magnetic resonance imaging investigation. Biol Psychiatry 2002; 52: 305–311.

Lanius RA, Williamson PC, Densmore M, Boksman K, Gupta MA, Neufeld RW et al. Neural correlates of traumatic memories in posttraumatic stress disorder: a functional MRI investigation. Am J Psychiatry 2001; 158: 1920–1922.

Lang P, Greenwald M, Bradley M, Hamm A . Looking at pictures: affective, facial, visceral, and behavioral reactions. Psychophysiology 1993; 30: 261–273.

Mathews JR, Barch DM . Episodic memory for emotional and non-emotional words in individuals with anhedonia. Psychiatry Res 2006; 143: 121–133.

Damasio AR, Grabowski TJ, Bechara A, Damasio H, Ponto LL, Parvizi J et al. Subcortical and cortical brain activity during the feeling of self-generated emotions. Nat Neurosci 2000; 3: 1049–1056.

Lanius RA, Williamson PC, Bluhm RL, Densmore M, Boksman K, Neufeld RW et al. Functional connectivity of dissociative responses in posttraumatic stress disorder: a functional magnetic resonance imaging investigation. Biol Psychiatry 2005; 57: 873–884.

Davidson RJ, Pizzagalli D, Nitschke JB, Putnam K . Depression: perspectives from affective neuroscience. Annu Rev Psychol 2002; 53: 545–574.

Pizzagalli DA, Oakes TR, Fox AS, Chung MK, Larson CL, Abercrombie HC et al. Functional but not structural subgenual prefrontal cortex abnormalities in melancholia. Mol Psychiatry 2004; 9: 325, 393–405.

Hariri AR, Weinberger DR . Imaging genomics. Br Med Bull 2003; 65: 259–270.
Acknowledgements
This work was supported by the Natural Sciences and Engineering Research Council of Canada (grant #238617), the Canadian Institutes of Health Research (grant #53280) and by a scholarship to POH from the Fond de la Recherche en Santé du Québec (FRSQ). We thank J Edwards, H Sutton, S Partridge, Dr J Armony and Dr A Malla for helpful suggestions and Dr S Dubal for providing some stimuli.
About this article
Cite this article
Harvey, PO., Pruessner, J., Czechowska, Y. et al. Individual differences in trait anhedonia: a structural and functional magnetic resonance imaging study in non-clinical subjects. Mol Psychiatry 12, 767–775 (2007). https://doi.org/10.1038/sj.mp.4002021
Received:

Revised:

Accepted:

Published:

Issue Date:

DOI: https://doi.org/10.1038/sj.mp.4002021
Keywords
fMRI

voxel-based morphometry

hedonic capacity

major depression

schizophrenia

anhedonia