Abstract
Little is known about neural mechanisms underlying human personality and temperament, despite their considerable importance as highly heritable risk mediators for somatic and psychiatric disorders. To identify these circuits, we used a combined genetic and imaging approach focused on Monoamine Oxidase A (MAOA), encoding a key enzyme for monoamine metabolism previously associated with temperament and antisocial behavior. Male carriers of a low-expressing genetic variant exhibited dysregulated amygdala activation and increased functional coupling with ventromedial prefrontal cortex (vmPFC). Stronger coupling predicted increased harm avoidance and decreased reward dependence scores, suggesting that this circuitry mediates a part of the association of MAOA with these traits. We utilized path analysis to parse the effective connectivity within this system, and provide evidence that vmPFC regulates amygdala indirectly by influencing rostral cingulate cortex function. Our data implicate a neural circuit for variation in human personality under genetic control, provide an anatomically consistent mechanism for vmPFC–amygdala interactions underlying this variation, and suggest a role for vmPFC as a superordinate regulatory area for emotional arousal and social behavior.
Relevant articles
Open Access articles citing this article.
Mikhail Votinov

,

Lisa Wagels

…

Ute Habel

Scientific Reports Open Access 11 February 2020

Dhana Wolf

,

Martin Klasen

…

Klaus Mathiak

Brain Structure and Function Open Access 08 June 2018

Clare C Landefeld

,

Colin A Hodgkinson

…

David Goldman

Translational Psychiatry Open Access 27 March 2018
Access options
Subscribe to Journal
Get full journal access for 1 year
$119.00
only $9.92 per issue
All prices are NET prices.
VAT will be added later in the checkout.
Tax calculation will be finalised during checkout.
Buy article
Get time limited or full article access on ReadCube.
$32.00
All prices are NET prices.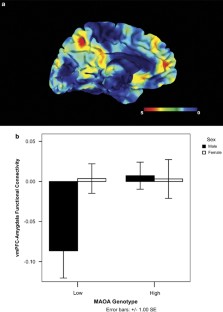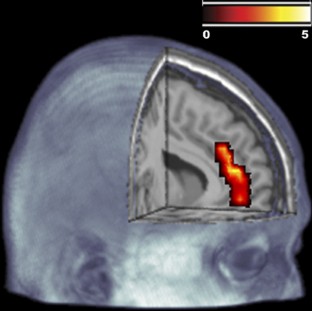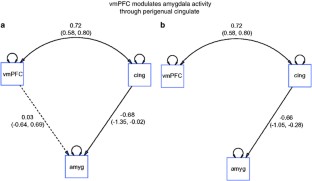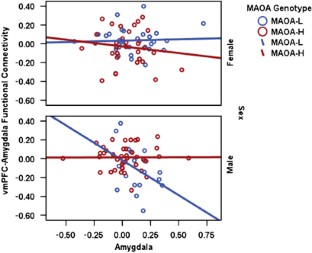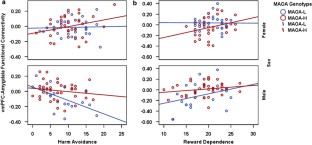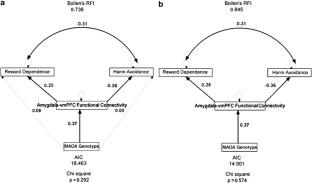 References
Maunder RG, Hunter JJ . Attachment and psychosomatic medicine: developmental contributions to stress and disease. Psychosom Med 2001; 63: 556–567.

Smith TW, Glazer K, Ruiz JM, Gallo LC . Hostility, anger, aggressiveness, and coronary heart disease: an interpersonal perspective on personality, emotion, and health. J Pers 2004; 72: 1217–1270.

Ono Y, Ando J, Onada N, Yoshimura K, Momose T, Hirano M et al. Dimensions of temperament as vulnerability factors in depression. Molecular Psychiatry 2002; 7: 948–953.

DeLongis A, Holtzman S . Coping in context: the role of stress, social support, and personality in coping. J Pers 2005; 73: 1633–1656.

Cloninger CR, Svrakic DM, Przybeck TR . A psychobiological model of temperament and character. Arch Gen Psychiatry 1993; 50: 975–990.

Ebstein RP . The molecular genetic architecture of human personality: beyond self-report questionnaires. Mol Psychiatry 2006; 11: 427–445.

Canli T . Functional brain mapping of extraversion and neuroticism: learning from individual differences in emotion processing. J Pers 2004; 72: 1105–1132.

Canli T, Amin Z . Neuroimaging of emotion and personality: scientific evidence and ethical considerations. Brain Cogn 2002; 50: 414–431.

Hamann S, Canli T . Individual differences in emotion processing. Curr Opin Neurobiol 2004; 14: 1–6.

Bouchard Jr TJ, Lykken DT, McGue M, Segal NL, Tellegen A . Sources of human psychological differences: the Minnesota Study of Twins Reared Apart. Science 1990; 250: 223–228.

Bouchard TJ, Loehlin J . Genes, evolution and personality. Behav Genet 2001; 31: 243–273.

Munafo M, Clark T, Moore L, Payne E, Walton R, Flint J . Genetic polymorphisms and personality in healthy adults: a systematic review and meta-analysis. Mol Psychiatry 2003; 8: 471–484.

Hariri AR, Weinberger DR . Imaging genomics. Br Med Bull 2003; 65: 259–270.

Meyer-Lindenberg A, Weinberger DR . Intermediate phenotypes and genetic mechanisms of psychiatric disorders. Nat Rev Neurosci 2006; 7: 818–827.

Shih JC, Grimsby J, Chen K, Zhu QS . Structure and promoter organization of the human monoamine oxidase A and B genes. J Psychiatry Neurosci 1993; 18: 25–32.

Shih JC, Chen K, Ridd MJ . Monoamine oxidase: from genes to behavior. Annu Rev Neurosci 1999; 22: 197–217.

Cases O, Seif I, Grimsby J, Gaspar P, Chen K, Pournin S et al. Aggressive behavior and altered amounts of brain serotonin and norepinephrine in mice lacking MAOA. Science 1995; 268: 1763–1766.

Sabol SZ, Hu S, Hamer D . A functional polymorphism in the monoamine oxidase A gene promoter. Hum Genet 1998; 103: 273–279.

Kim-Cohen J, Caspi A, Taylor A, Williams B, Newcombe R, Craig IW et al. MAOA, maltreatment, and gene–environment interaction predicting children's mental health: new evidence and a meta-analysis. Mol Psychiatry 2006; 11: 903–913.

Haberstick BC, Lessem JM, Hopfer CJ, Smolen A, Ehringer MA, Timberlake D et al. Monoamine oxidase A (MAOA) and antisocial behaviors in the presence of childhood and adolescent maltreatment. Am J Med Genet B Neuropsychiatr Genet 2005; 135: 59–64.

Huizinga D, Haberstick BC, Smolen A, Menard S, Young SE, Corley RP et al. Childhood maltreatment, subsequent antisocial behavior, and the role of monoamine oxidase A genotype. Biol Psychiatry 2006; 60: 677–683.

Fan J, Fossella J, Sommer T, Wu Y, Posner MI . Mapping the genetic variation of executive attention onto brain activity. Proc Natl Acad Sci USA 2003; 100: 7406–7411.

Fossella J, Sommer T, Fan J, Wu Y, Swanson JM, Pfaff DW et al. Assessing the molecular genetics of attention networks. BMC Neurosci 2002; 3: 14.

Passamonti L, Fera F, Magariello A, Cerasa A, Gioia MC, Muglia M et al. Monoamine oxidase-a genetic variations influence brain activity associated with inhibitory control: new insight into the neural correlates of impulsivity. Biol Psychiatry 2006; 59: 334–340.

Meyer-Lindenberg A, Buckholtz JW, Kolachana B, Hariri AR, Pezawas L, Blasi G et al. Neural mechanisms of genetic risk for impulsivity and violence in humans. Proc Natl Acad Sci USA 2006; 103: 6269–6274.

Heinz A, Braus DF, Smolka MN, Wrase J, Puls I, Hermann D et al. Amygdala-prefrontal coupling depends on a genetic variation of the serotonin transporter. Nat Neurosci 2005; 8: 20–21.

Pezawas L, Meyer-Lindenberg A, Drabant EM, Verchinski BA, Munoz KE, Kolachana BS et al. 5-HTTLPR polymorphism impacts human cingulate-amygdala interactions: a genetic susceptibility mechanism for depression. Nat Neurosci 2005; 8: 828–834.

Amodio DM, Frith CD . Meeting of minds: the medial frontal cortex and social cognition. Nat Rev Neurosci 2006; 7: 268–277.

Egan MF, Goldberg TE, Kolachana BS, Callicott JH, Mazzanti CM, Straub RE et al. Effect of COMT Val108/158 Met genotype on frontal lobe function and risk for schizophrenia. Proc Natl Acad Sci USA 2001; 98: 6917–6922.

Pritchard JK, Rosenberg NA . Use of unlinked genetic markers to detect population stratification in association studies. Am J hum genet 1999; 65: 220–228.

Caspi A, McClay J, Moffitt TE, Mill J, Martin J, Craig IW et al. Role of genotype in the cycle of violence in maltreated children. Science 2002; 297: 851–854.

Foley DL, Eaves LJ, Wormley B, Silberg JL, Maes HH, Kuhn J et al. Childhood adversity, monoamine oxidase a genotype, and risk for conduct disorder. Arch Gen Psychiatry 2004; 61: 738–744.

Nilsson KW, Sjoberg RL, Damberg M, Leppert J, Ohrvik J, Alm PO et al. Role of monoamine oxidase a genotype and psychosocial factors in male adolescent criminal activity. Biol Psychiatry 2006; 59: 121–127.

Hariri AR, Tessitore A, Mattay VS, Fera F, Weinberger DR . The amygdala response to emotional stimuli: a comparison of faces and scenes. Neuroimage 2002; 17: 317–323.

Meyer-Lindenberg A, Poline JB, Kohn PD, Holt JL, Egan MF, Weinberger DR et al. Evidence for abnormal cortical functional connectivity during working memory in schizophrenia. Am J Psychiatry 2001; 158: 1809–1817.

Amaral DG, Price JL . Amygdalo-cortical projections in the monkey (Macaca fascicularis). J Comp Neurol 1984; 230: 465–496.

Carmichael ST, Price JL . Limbic connections of the orbital and medial prefrontal cortex in macaque monkeys. J Comp Neurol 1995; 363: 615–641.

Ongur D, Price JL . The organization of networks within the orbital and medial prefrontal cortex of rats, monkeys and humans. Cereb Cortex 2000; 10: 206–219.

Rosenkranz JA, Grace AA . Dopamine attenuates prefrontal cortical suppression of sensory inputs to the basolateral amygdala of rats. J Neurosci 2001; 21: 4090–4103.

Sotres-Bayon F, Cain CK, Ledoux JE . Brain mechanisms of fear extinction: historical perspectives on the contribution of prefrontal cortex. Biol Psychiatry 2006; 60: 329–336.

Carmichael ST, Price JL . Connectional networks within the orbital and medial prefrontal cortex of macaque monkeys. J Comp Neurol 1996; 371: 179–207.

Meyer-Lindenberg A, Kohn P, Mervis CB, Kippenhan JS, Olsen RK, Morris CA et al. Neural basis of genetically determined visuospatial construction deficit in Williams syndrome. Neuron 2004; 43: 623–631.

Bullmore E, Horwitz B, Honey G, Brammer M, Williams S, Sharma T . How good is good enough in path analysis of fMRI data? Neuroimage 2000; 11: 289–301.

Kruggel F, Pelegrini-Issac M, Benali H . Estimating the effective degrees of freedom in univariate multiple regression analysis. Med Image Anal 2002; 6: 63–75.

Ghashghaei HT, Barbas H . Pathways for emotion: interactions of prefrontal and anterior temporal pathways in the amygdala of the rhesus monkey. Neuroscience 2002; 115: 1261–1279.

Davidson RJ . Well-being and affective style: neural substrates and biobehavioural correlates. Philos Trans R Soc Lond B Biol Sci 2004; 359: 1395–1411.

Urry HL, van Reekum CM, Johnstone T, Kalin NH, Thurow ME, Schaefer HS et al. Amygdala and ventromedial prefrontal cortex are inversely coupled during regulation of negative affect and predict the diurnal pattern of cortisol secretion among older adults. J Neurosci 2006; 26: 4415–4425.

Zald DH, Mattson DL, Pardo JV . Brain activity in ventromedial prefrontal cortex correlates with individual differences in negative affect. Proc Natl Acad Sci USA 2002; 99: 2450–2454.

Moffitt TE, Caspi A, Rutter M, Silva P . Sex Differences in Antisocial Behavior: Conduct Disorder, Delinquency, and Violence in the Dunedin longitudinal study. Cambridge University Press: New York, 2001.

Heekeren HR, Wartenburger I, Schmidt H, Schwintowski HP, Villringer A . An fMRI study of simple ethical decision-making. Neuroreport 2003; 14: 1215–1219.

Moll J, Zahn R, de Oliveira-Souza R, Krueger F, Grafman J . Opinion: the neural basis of human moral cognition. Nat Rev Neurosci 2005; 6: 799–809.

Harenski CL, Hamann S . Neural correlates of regulating negative emotions related to moral violations. Neuroimage 2006; 30: 313–324.

Ochsner KN, Gross JJ . The cognitive control of emotion. Trends Cogn Sci 2005; 9: 242–249.

Winstanley CA, Theobald DE, Dalley JW, Cardinal RN, Robbins TW . Double dissociation between serotonergic and dopaminergic modulation of medial prefrontal and orbitofrontal cortex during a test of impulsive choice. Cereb Cortex 2006; 16: 106–114.

Clark L, Manes F . Social and emotional decision-making following frontal lobe injury. Neurocase 2004; 10: 398–403.

Anderson SW, Bechara A, Damasio H, Tranel D, Damasio AR . Impairment of social and moral behavior related to early damage in human prefrontal cortex. Nat Neurosci 1999; 2: 1032–1037.

Bechara A, Damasio H, Tranel D, Anderson SW . Dissociation of working memory from decision making within the human prefrontal cortex. J Neurosci 1998; 18: 428–437.

Stefanacci L, Amaral DG . Some observations on cortical inputs to the macaque monkey amygdala: an anterograde tracing study. J Comp Neurol 2002; 451: 301–323.

Maren S, Quirk GJ . Neuronal signalling of fear memory. Nat Rev Neurosci 2004; 5: 844–852.

Keightley ML, Seminowicz DA, Bagby RM, Costa PT, Fossati P, Mayberg HS . Personality influences limbic-cortical interactions during sad mood induction. Neuroimage 2003; 20: 2031–2039.

Most SB, Chun MM, Johnson MR, Kiehl KA . Attentional modulation of the amygdala varies with personality. Neuroimage 2006; 31: 934–944.

Mayberg HS, Liotti M, Brannan SK, McGinnis S, Mahurin RK, Jerabek PA et al. Reciprocal limbic-cortical function and negative mood: converging PET findings in depression and normal sadness. Am J Psychiatry 1999; 156: 675–682.

Anand A, Li Y, Wang Y, Wu J, Gao S, Bukhari L et al. Activity and connectivity of brain mood regulating circuit in depression: a functional magnetic resonance study. Biol Psychiatry 2005; 57: 1079–1088.

Cloninger CR . A systematic method for clinical description and classification of personality variants. A proposal. Arch gen psychiatry 1987; 44: 573–588.

Drabant EM, Hariri AR, Meyer-Lindenberg A, Munoz KE, Mattay VS, Kolachana BS et al. Catechol O-methyltransferase val158met genotype and neural mechanisms related to affective arousal and regulation. Arch Gen Psychiatry 2006; 63: 1396–1406.

Huang YY, Cate SP, Battistuzzi C, Oquendo MA, Brent D, Mann JJ . An association between a functional polymorphism in the monoamine oxidase a gene promoter, impulsive traits and early abuse experiences. Neuropsychopharmacology 2004; 29: 1498–1505.

MacLusky NJ, Naftolin F, Goldman-Rakic PS . Estrogen formation and binding in the cerebral cortex of the developing rhesus monkey. Proc Natl Acad Sci USA 1986; 83: 513–516.

Gundlah C, Lu NZ, Bethea CL . Ovarian steroid regulation of monoamine oxidase-A and -B mRNAs in the macaque dorsal raphe and hypothalamic nuclei. Psychopharmacology (Berl) 2002; 160: 271–282.

Gross C, Hen R . The developmental origins of anxiety. Nature reviews 2004; 5: 545–552.
Acknowledgements
This work was supported by the NIMH/IRP.
Supplementary information
About this article
Cite this article
Buckholtz, J., Callicott, J., Kolachana, B. et al. Genetic variation in MAOA modulates ventromedial prefrontal circuitry mediating individual differences in human personality. Mol Psychiatry 13, 313–324 (2008). https://doi.org/10.1038/sj.mp.4002020
Received:

Revised:

Accepted:

Published:

Issue Date:

DOI: https://doi.org/10.1038/sj.mp.4002020
Keywords
fMRI

antisocial

functional connectivity

effective connectivity

amygdala

cingulate

emotion regulation