Abstract
Alcoholism is a relatively common, chronic, disabling and often treatment-resistant disorder. Evidence from twin and adoption studies indicates a substantial genetic influence, with heritability estimates of 50–60%. We conducted a genome scan in the Irish Affected Sib Pair Study of Alcohol Dependence (IASPSAD). Most probands were ascertained through alcoholism treatment settings and were severely affected. Probands, affected siblings and parents were evaluated by structured interview. A 4 cM genome scan was conducted using 474 families of which most (96%) were comprised by affected sib pairs. Nonparametric and quantitative linkage analyses were conducted using DSM-IV alcohol dependence (AD) and number of DSM-IV AD symptoms (ADSX). Quantitative results indicate strong linkage for number of AD criteria to a broad region of chromosome 4, ranging from 4q22 to 4q32 (peak multipoint LOD=4.59, P=2.1 × 10−6, at D4S1611). Follow-up analyses suggest that the linkage may be due to variation in the symptoms of tolerance and out of control drinking. There was evidence of weak linkage (LODs of 1.0–2.0) to several other regions, including 1q44, 13q31, and 22q11 for AD along with 2q37, 9q21, 9q34 and 18p11 for ADSX. The location of the chromosome 4 peak is consistent with results from prior linkage studies and includes the alcohol dehydrogenase gene cluster. The results of this study suggest the importance of genetic variation in chromosome 4 in the etiology and severity of alcoholism in Caucasian populations.
Relevant articles
Open Access articles citing this article.
Camelia C. Minică

,

Conor V. Dolan

…

Jacqueline M. Vink

Behavior Genetics Open Access 19 May 2015

Tatiana V. Morozova

,

Trudy F. C. Mackay

&

Robert R. H. Anholt

Molecular Genetics and Genomics Open Access 07 January 2014
Access options
Subscribe to Journal
Get full journal access for 1 year
$119.00
only $9.92 per issue
All prices are NET prices.
VAT will be added later in the checkout.
Tax calculation will be finalised during checkout.
Buy article
Get time limited or full article access on ReadCube.
$32.00
All prices are NET prices.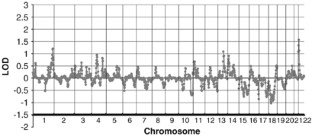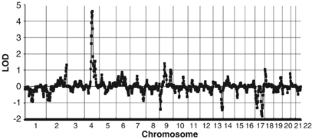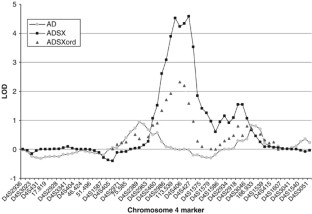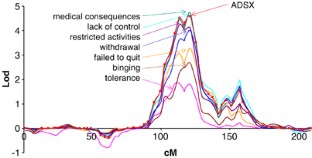 References
Grant B . Prevalence and correlates of alcohol use and DSM-IV alcohol dependence in the United States: results of the National Longitudinal Alcohol Epidemiologic Survey. J Stud Alcohol 1997; 58: 464–473.

Prescott CA . The genetic epidemiology of alcoholism: sex differences and future directions. In: Agarwal DP, Seitz HK (eds). Alcohol in Health and Disease. Marcel Dekker: New York, NY, 2001, pp 125–149.

Long J, Knowler WC, Hanson RL, Robin RW, Urbanek M, Moore E et al. Evidence for genetic linkage to alcohol dependence on chromosomes 4 and 11 from an autosome-wide scan in an American Indian population. Am J Med Genet (Neuropsychiat Genet) 1998; 81B: 216–221.

Ehlers CL, Gilder DA, Wall TL, Phillips E, Feiler H, Wilhelmsen KC . Genomic screen for loci associated with alcohol dependence in Mission Indians. Am J Med Genet (Neuropsychiatr Genet) 2004; 129B: 110–115.

Reich T, Edenberg HJ, Goate A, William JT, Rice JP, Van Eerdewegh P et al. Genome-wide search for genes affecting risk for alcohol dependence. Am J Med Genet (Neuropsychiatr Genet) 1998; 81B: 206–215.

Foroud T, Edenberg HJ, Goate A, Rice J, Flury L, Koller DL et al. Alcoholism susceptibility loci: confirmation studies in a replicate sample and further mapping. Alcohol Clin Exp Res 2000; 24: 933–945.

Hill SY, Shen S, Zezza N, Hoffman EK, Perlin M, Allan W . A genome wide search for alcoholism susceptibility genes. Am J Med Genet (Neuropsychiatr Genet) 2004; 128B: 102–113.

Bergen AW, Yang XR, Bai Y, Beerman MB, Goldstein AM, Goldin LR, Framingham Heart Study. Genomic regions linked to alcohol consumption in the Framingham Heart Study. BMC Genet 2003; 4 (Suppl 1): S101.

Wilhelmsen KC, Schuckit M, Smith TL, Lee JV, Segall SK, Feller HS et al. The search for genes related to a low-level response to alcohol determined by alcohol challenges. Alcohol Clin Exp Res 2003; 27: 1041–1047.

Zucker RA, Gomberg ES . Etiology of alcoholism reconsidered: the case for a biopsychosocial process. Am Psychologist 1986; 41: 783–793.

American Psychiatric Association. Diagnostic and Statistical Manual of Mental Disorders, 4th edn. American Psychiatric Association: Washington, DC, 1994.

Prescott CA, Aggen SH, Kendler KS . Sex differences in the sources of genetic liability to alcohol abuse and dependence in a population-based sample of U. S twins Alcohol Clin Exp Res 1999; 23: 1136–1140.

Bennett LA, Janca A, Grant BF, Sartorius N . Boundaries between normal and pathological drinking: a cross-cultural comparison. Alcohol Health Res World 1993; 17: 190–195.

Conniffe D, McCoy D . Alcohol use in Ireland: Some economic and social implications. ERSI: Dublinm, Ireland, 1993.

Walsh D, Walsh B . Drowning the shamrock: Alcohol and drink in Ireland in the post-war period. In: Single E, Morgan P, deLint J (eds). Alcohol, Society and the State. Vol. 2. The Social History of Control Policy in Seven Countries, A Report of the International Study of International Control Experiences, in collaboration with the World Health Organization Regional Office for Europe Addiction Research Foundation: Toronto, Canada, 1981, pp 103–126.

Strategic Task Force on Alcohol. Second Report, September 2004. Department of Health and Children: Dublin, 2004.

Kendler KS, MacLean CJ, Ma Y, O'Neill FA, Walsh D, Straub RE . Marker-to-marker linkage disequilibrium on chromosomes 5q, 6p, and 8p in Irish high-density schizophrenia pedigrees. Am J Med Genet 1999; 88: 29–33.

Relethford JH . Genetic structure and population history of Ireland: a comparison of blood group and anthropometric analyses. Ann Hum Biol 1983; 10: 321–334.

Sunderland E, Tills D, Bouloux C, Doyl J . Genetic studies in Ireland. In: Roberts DF (ed). Genetic Variation in Britain XII. Taylor and Francis Ltd: London, 1973 pp 141–170.

Prescott CA, Sullivan PF, Myers JM, Patterson DG, Devitt M, Halberstadt LJ et al. The Irish affected sib pair study of alcohol dependence. Study methodology and validation of diagnosis by interview and family history. Alcohol Clin Exp Res 2005; 29: 417–429.

Bucholz KK, Cadoret RJ, Cloninger CR, Dinwiddie SH, Hesselbrock VM, Nurnberger Jr JI et al. A new, semi-structured psychiatric interview for use in genetic linkage studies: a report on the reliability of the SSAGA. J Stud Alcohol 1994; 55: 149–158.

Spitzer RL, Williams JBW . Structured Clinical Interview for DSM-III-R (SCID). Biometrics Research Department. New York State Psychiatric Institute: New York, 1985.

Wigginton JE, Abecasis GR . PEDSTATS: descriptive statistics, graphics and quality assessment for gene mapping data. Bioinformatics 2005; 21: 3445–3447.

Abecasis GR, Cherny SS, Cookson WO, Cardon LR . GRR: graphical representation of relationship errors. Bioinformatics 2001; 17: 742–743.

Abecasis GR, Cherny SS, Cookson WO, Cardon LR . Merlin-rapid analysis of dense genetic maps using sparse gene flow trees. Nat Genet 2002; 30: 97–101.

Neale MC, Boker S, Xie G, Maes H . Mx: Statistical Modeling. 6th ed. Virginia Commonwealth University, Department of Psychiatry: Richmond, VA, 2004.

Lander E, Kruglyak L . Genetic dissection of complex traits: guidelines for interpreting and reporting linkage results. Nat Genet 1995; 11: 241–247.

Saccone NL, Kwon JM, Corbett J, Goate A, Rochberg N, Edenberg HJ et al. A genome screen of maximum number of drinks as an alcoholism phenotype. Am J Med Genet (Neuropsychiatr Genet) 2000; 96B: 632–637.

Corbett J, Saccone NL, Foroud T, Goate A, Edenberg H, Nurnberger J et al. A sex-adjusted and age-adjusted genome scan for nested alcohol dependence diagnoses. Psychiat Genet 2005; 15: 25–30.

Williams JT, Begleiter H, Porjesz B, Edenberg HJ, Foroud T, Reich T et al. Joint multipoint linkage analysis of multivariate qualitative and quantitative traits. II. Alcoholism and event-related potentials. Am J Hum Genet 1999; 65: 1148–1160.

Dick DM, Nurnberger Jr J, Edenberg HJ, Goate A, Crowe R, Rice J et al. Suggestive linkage on chromosome 1 for a quantitative alcohol-related phenotype. Alcohol Clin Exp Res 2002; 10: 1453–1460.

Uhl GR, Liu OR, Naiman D . Substance abuse vulnerability loci: converging genome scanning data. Trends Genet 2002; 18: 420–425.

Guerrini I, Cook CC, Kest W, Devitgh A, McQuillin A, Curtis D et al. Genetic linkage analysis supports the presence of two susceptibility loci for alcoholism and heavy drinking on chromosome 1p22.1–11.2 and 1q21.3–24.2. BMC Genet 2005; 6: 11–18.

Osby U, Bransome M, Schumacher J, Liljenberg J, Brandt L, Nothen M et al. A genetic linkage study of alcohol addiction in a Swedish affected sibpair sample. Am J Med Genet (Neuropsychiat Genet) 2002; 114B: 781–782.

Ehlers CL, Wilhelmsen KC . Genomic scan for alcohol craving in Mission Indians. Psychiatr Genet 2005; 15: 71–75.

Schuckit MA, Edenberg HJ, Kalmijn J, Flury L, Smith TL, Reich T et al. A genome-wide search for genes that relate to a low level of response to alcohol. Alcohol Clin Exp Res 2001; 25: 323–329.

Roberts SB, MacLean CJ, Neale MC, Eaves LJ, Kendler KS . Replication of linkage studies of complex traits: an examination of variation in location estimates. Am J Hum Genet 1999; 65: 876–884.

Lee S-L, Hoog J-O, Yin S-J . Functionality of allelic variations in human alcohol dehydrogenase gene family: assessment of a functional window for protection against alcoholism. Pharmacogenetics 2004; 14: 725–732.

Agarwal DP, Goedde HW . Pharmacogenetics of alcohol metabolism and alcoholism. Pharmacogenetics 1992; 2: 48–62.

Crabb DW, Matsumoto M, Chang D, You M . Overview of the role of alcohol dehydrogenase and aldehyde dehydrogenase and their variants in the genesis of alcohol-related pathology. Proc Nutri Soc 2004; 63: 49–63.

Shen Y-C, Fan J-H, Edenberg HJ, Li T-K, Cui Y-H, Wang Y-F et al. Polymorphism of ADH and ALDH genes among four ethnic groups in China and effects upon the risk for alcoholism. Alcohol Clin Exp Res 1997; 21: 1271–1277.

Mulligan CJ, Robin RW, Osier MV, Sambuughin N, Goldfarb LG, Kittles RA et al. Allelic variation at alcohol metabolism genes (ADH1B, ADH1C, ALDH2) and alcohol dependence in an American Indian population. Hum Genet 2003; 113: 325–336.

Osier MV, Pakstis AJ, Soodyall H, Comas D, Goldman D, Odunsi A et al. A global perspective on genetic variation at the ADH genes reveals unusual patterns of linkage disequilibrium and diversity. Am J Hum Genet 2002; 71: 84–99.

Yin S-J, Agarwal DP . Functional polymorphisms of alcohol and aldehyde dehydrogenases. In: Agarwal DP, Seitz HK (eds). Alcohol in Health and Disease. Marcel Dekker: New York, NY, 2001, pp 1–26.
Acknowledgements
We are grateful to the study participants and their families for their time and effort. We thank Aine Finnerty, Phil Gavigan, Craig Barton, John Cosgrove, Michael Crossan, Sara Dineen, Claire Killeen, Deirdre King, Siobhan McHugh, Amanda Mullan, Eileen Murphy, Brian O'Malley and Bernie Purcell for their roles in data collection and Ruth Barrington, Ros Moran and Carol Cronin for administrative support. F Anthony O'Neill of Queens University, Belfast NI, the Northern Ireland Blood Transfusion Service and the Irish Gardai provided assistance in obtaining control blood samples. John Myers assisted with data analysis, Indrani Ray and Cheryl Smith assisted with database management, Brandon Wormley assisted with genotyping, and Stacey Garnett, Jill Opalesky and Rebecca Ortiz provided administrative assistance at VCU. This work was funded by US National Institutes of Health grant R01-AA-11408 with administrative support from the Irish Health Research Board.
About this article
Cite this article
Prescott, C., Sullivan, P., Kuo, PH. et al. Genomewide linkage study in the Irish affected sib pair study of alcohol dependence: evidence for a susceptibility region for symptoms of alcohol dependence on chromosome 4. Mol Psychiatry 11, 603–611 (2006). https://doi.org/10.1038/sj.mp.4001811
Received:

Revised:

Accepted:

Published:

Issue Date:

DOI: https://doi.org/10.1038/sj.mp.4001811
Keywords
alcoholism

binge drinking

tolerance

family study

molecular genetics

genes