Abstract
We conducted a 9-cM genome scan in a large bipolar pedigree sample from the National Institute of Mental Health genetics initiative (1060 individuals from 154 multiplex families). We performed parametric and nonparametric analyses using both standard diagnostic models and comorbid conditions thought to identify phenotypic subtypes: psychosis, suicidal behavior, and panic disorder. Our strongest linkage signals (genome-wide significance) were observed on chromosomes 10q25, 10p12, 16q24, 16p13, and 16p12 using standard diagnostic models, and on 6q25 (suicidal behavior), 7q21 (panic disorder) and 16p12 (psychosis) using phenotypic subtypes. Several other regions were suggestive of linkage, including 1p13 (psychosis), 1p21 (psychosis), 1q44, 2q24 (suicidal behavior), 2p25 (psychosis), 4p16 (psychosis, suicidal behavior), 5p15, 6p25 (psychosis), 8p22 (psychosis), 8q24, 10q21, 10q25 (suicidal behavior), 10p11 (psychosis), 13q32 and 19p13 (psychosis). Over half the implicated regions were identified using phenotypic subtypes. Several regions – 1p, 1q, 6q, 8p, 13q and 16p – have been previously reported to be linked to bipolar disorder. Our results suggest that dissection of the disease phenotype can enrich the harvest of linkage signals and expedite the search for susceptibility genes. This is the first large-scale linkage scan of bipolar disorder to analyze simultaneously bipolar disorder, psychosis, suicidal behavior, and panic disorder.
Relevant articles
Open Access articles citing this article.
Lan Guo

,

Wanxin Wang

…

Ciyong Lu

BMC Psychiatry Open Access 09 November 2021

Jordi Requena Osete

,

Ibrahim A. Akkouh

…

Srdjan Djurovic

Molecular Psychiatry Open Access 01 June 2021

Wenjun Hao

,

Meng Yu

…

Yuyan Zhu

Scientific Reports Open Access 23 March 2020
Access options
Subscribe to this journal
Receive 12 print issues and online access
$259.00 per year
only $21.58 per issue
Rent or buy this article
Prices vary by article type
from$1.95
to$39.95
Prices may be subject to local taxes which are calculated during checkout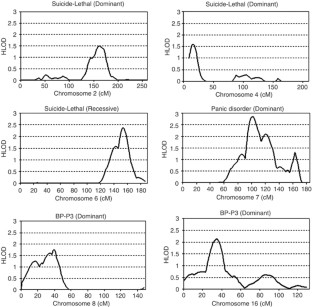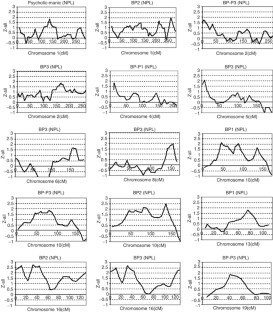 References
Taylor L, Faraone SV, Tsuang MT . Family, twin, and adoption studies of bipolar disease. Curr Psychiatry Rep 2002; 4: 130–133.

Baron M . Manic-depression genes and the new millennium: poised for discovery. Mol Psychiatry 2002; 7: 342–358.

Segurado R, Detera-Wadleigh SD, Levinson DF, Lewis CM, Gill M, Nurnberger Jr JI et al. Genome scan meta-analysis of schizophrenia and bipolar disorder, part III: bipolar disorder. Am J Hum Genet 2003; 73: 49–62.

Dick DM, Foroud T, Flury L, Bowman ES, Miller MJ, Rau ML et al. Genomewide linkage analyses of bipolar disorder: a new sample of 250 pedigrees from the National Institute of Mental Health Genetics Initiative. Am J Hum Genet 2003; 73: 107–114.

Nurnberger Jr JI, Blehar MC, Kaufmann CA, York-Cooler C, Simpson SG, Harkavy-Friedman J et al. Diagnostic interview for genetic studies: rationale, unique features, and training. Arch Gen Psychiatry 1994; 51: 849–859.

Park N, Juo SH, Cheng R, Liu J, Loth JE, Lilliston B et al. Linkage analysis of psychosis in bipolar pedigrees suggests novel putative loci for bipolar disorder and shared susceptibility with schizophrenia. Mol Psychiatry 2004; 9: 1091–1099.

O'Connell JR, Weeks DE . Pedcheck: a program for identification of genotyping incompatibilities in linkage analysis. Am J Hum Genet 1998; 63: 259–266.

Cottingham Jr RW, Idury RM, Schaffer AA . Faster sequential genetic linkage computations. Am J Hum Genet 1993; 53: 252–263.

Kruglyak L, Lander ES . Complete multipoint sib-pair analysis of qualitative and quantitative traits. Am J Hum Genet 1995; 57: 439–454.

Kruglyak L, Daly MJ, Reeve-Daly MP, Lander E . Parametric and nonparametric linkage analysis: a unified approach. Am J Hum Genet 1996; 58: 1347–1363.

Terwilliger JD, Ott J . Handbook of Human Genetic Linkage. Johns Hopkins University Press: Baltimore, 1994, pp 245–250.

Lander E, Kruglyak L . Genetic dissection of complex traits: guidelines for interpreting and reporting linkage results. Nature Genet 1995; 11: 241–247.

Risch N, Giuffra L . Model misspecification and multipoint linkage analysis. Hum Hered 1992; 42: 77–92.

Lewis CM, Levinson DF, Wise LH, DeLisi LE, Straub RE, Hovatta L et al. Genome scan meta-analysis of schizophrenia and bipolar disorder, part II: schizophrenia. Am J Hum Genet 2003; 73: 34–48.

Maziade M, Roy M-A, Changon YC, Cliché D, Fournier J-P, Montgrain N et al. Shared and specific susceptibility loci for schizophrenia and bipolar disorder: a dense genome scan in Eastern Quebec families. Mol Psychiatry 2004 Advance online publication, November 9.

Badner JA, Gershon ES . Meta-analysis of whole-genome linkage scans of bipolar disorder and schizophrenia. Mol Psychiatry 2002; 7: 405–411.

Craddock N, Jones I . Genetics of bipolar disorder. J Med Genet 1999; 36: 585–594.

Potash JB, Zandi PP, Willour VL, Lan T-H, Huo Y, Avramopoulos D et al. Suggestive linkage to chromosomal regions 13q31 and22q12 in families with bipolar disorder. Am J Psychiatry 2003; 160: 680–686.

Berrettini WH . Are schizophrenia and bipolar disorder related? A review of family and molecular studies. Biol Psychiatry 2000; 48: 531–538.

Baron M . Genetics of schizophrenia and the new millennium: progress and pitfalls. Am J Hum Genet 2001; 68: 299–312.

Green EK, Raybould R, Macgregor S, Gordon-Smith K, Heron J, Grozeva D et al. Operation of the schizophrenia susceptibility gene, Neuregulin 1 (NRG1), across traditional diagnostic boundaries to increase risk for bipolar disorder. Arch Gen Psychiatry 2005; 62: 642–648.

Schumacher J, Jamra RA, Freudenberg J, Becker T, Ohlraun S, Otte ACJ et al. Examination of G72 and d-amino-acid oxidase as genetic risk factors for schizophrenia and bipolar affective disorder. Mol Psychiatry 2004; 9: 203–207.

Zubenko GS, Maher BS, Hughes HB, Zubenko WN, Stiffler JS, Marazita ML . Genome-wide linkage survey for genetic loci that affect the risk of suicide attempts in families with recurrent, early-onset, major depression. Am J Med Genet 2004; 129B: 47–54.

Anduelova M, Benkelfat C, Turecki G . A systematic review of association studies investigating genes coding for serotonin receptors and the serotonin transporter: suicidal behavior. Mol Psychiatry 2003; 8: 646–653.

Baldessarini RJ, Hennen J . Genetics of suicide: an overview. Harv Rev Psychiatry 2004; 12: 1–13.

Hamilton SP, Fyer AJ, Durner M, Heiman GA, de Leon AB, Hodge SE et al. Further genetic evidence for a panic disorder syndrome mapping to chromosome 13q. Proc Natl Acad Sci USA 2003; 100: 2550–2555.

Smoller JW, Acierno Jr JS, Rosenbaum JF, Biederman J, Pollack MH, Meminger S et al. Targeted genome screen of panic disorder and anxiety disorder proneness using homology to murine QTL regions. Am J Med Genet 2001; 105: 195–206.

Craddock N, O'Donovan MC, Owen MJ . The genetics of schizophrenia and bipolar disorder: dissecting psychosis. J Med Genet 2005; 42: 193–204.

Liu J, Juo SH, Dewan A, Grunn A, Tong X, Brito M et al. Evidence for a putative bipolar disorder locus on 2p13–16 and other potential loci on 4q31, 7q34, 8q13, 9q31,10q21–24, 13q32, 14q21 and 17q11–12. Mol Psychiatry 2003; 8: 333–342.

Roberts SB, MacLean CJ, Neale MC, Eaves LJ, Kendler KS . Replication of linkage studies in complex traits: an examination of variation in location estimates. Am J Hum Genet 1999; 65: 876–884.

Suarez BK, Hampe CL, Van Eerdewegh P . Problems of replicating linkage claims in psychiatry. In: Gershon ES, Cloninger CR (eds). Genetic Approaches to Mental Disorders. American Psychiatric Press: Washington, DC, 1994.
Acknowledgements
We are grateful to the patients and family members for their cooperation and support. We thank the treatment facilities and other organizations that expedited the recruitment of the study population. This work was supported by NIMH grant MH59602 (to MB) and by funds from the Columbia Genome Center and New York State Office of Mental Health. Genotyping services were provided by the Center for Inherited Disease Research (CIDR). CIDR is funded through a federal contract from the National Institutes of Health to Johns Hopkins University (contract N01-HG-65403).
About this article
Cite this article
Cheng, R., Juo, S., Loth, J. et al. Genome-wide linkage scan in a large bipolar disorder sample from the National Institute of Mental Health genetics initiative suggests putative loci for bipolar disorder, psychosis, suicide, and panic disorder. Mol Psychiatry 11, 252–260 (2006). https://doi.org/10.1038/sj.mp.4001778
Received:

Revised:

Accepted:

Published:

Issue Date:

DOI: https://doi.org/10.1038/sj.mp.4001778
Keywords
susceptibility loci

bipolar disorder

psychosis

suicide

panic disorder