Abstract
Although phencyclidine and ketamine are used to model a hypoglutamate theory of schizophrenia, their selectivity for NMDA receptors has been questioned. To determine the affinities of phencyclidine, ketamine, dizocilpine and LSD for the functional high-affinity state of the dopamine D2 receptor, D2High, their dissociation constants (Ki) were obtained on [3H]domperidone binding to human cloned dopamine D2 receptors. Phencyclidine had a high affinity for D2High with a Ki of 2.7 nM, in contrast to its low affinity for the NMDA receptor, with a Ki of 313 nM, as labeled by [3H]dizocilpine on rat striatal tissue. Ketamine also had a high affinity for D2High with a Ki of 55 nM, an affinity higher than its 3100 nM Ki for the NMDA sites. Dizocilpine had a Ki of 0.3 nM at D2High, but a Kd of 1.8 nM at the NMDA receptor. LSD had a Ki of 2 nM at D2High. Because the psychotomimetics had higher potency at D2High than at the NMDA site, the psychotomimetic action of these drugs must have a major contribution from D2 agonism. Because these drugs have a combined action on both dopamine receptors and NMDA receptors, these drugs, when given in vivo, test a combined hyperdopamine and hypoglutamate theory of psychosis.
Your institute does not have access to this article
Relevant articles
Open Access articles citing this article.
Michelle Kokkinou

,

Elaine E. Irvine

…

Oliver D. Howes

Molecular Psychiatry Open Access 07 May 2020

Haiyue Lin

,

Jae Gon Kim

…

Young Min Bae

Experimental & Molecular Medicine Open Access 27 April 2018

M Kokkinou

,

A H Ashok

&

O D Howes

Molecular Psychiatry Open Access 03 October 2017
Access options
Subscribe to Journal
Get full journal access for 1 year
$119.00
only $9.92 per issue
All prices are NET prices.
VAT will be added later in the checkout.
Tax calculation will be finalised during checkout.
Buy article
Get time limited or full article access on ReadCube.
$32.00
All prices are NET prices.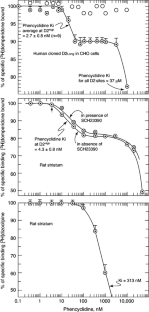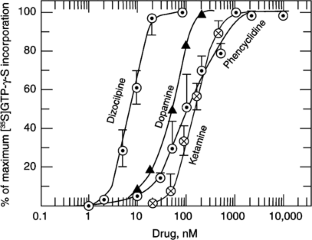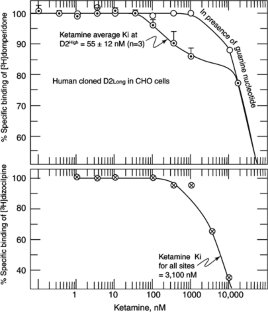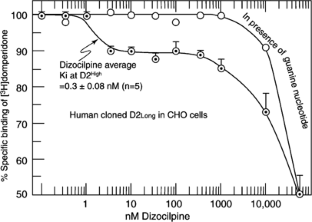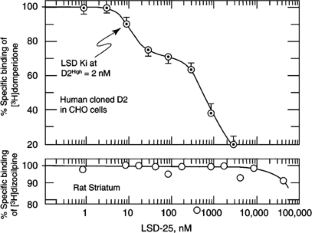 References
Van Rossum JM . The significance of dopamine-receptor blockade for the action of neuroleptic drugs. In: Brill H, Cole J, Deniker P, Hippius H, Bradley PB (eds). Neuropsychopharmacology, Proceedings of the 5th Collegium Internationale Neuropsychopharmacologicum. Excerpta Medica Foundation: Amsterdam, 1967, pp 321–329.

Seeman P . Dopamine receptors and the dopamine hypothesis of schizophrenia. Synapse 1987; 1: 133–152.

Tamminga CA, Holcom HH, Gao X-M, Lahti AC . Glutamate pharmacology and the treatment of schizophrenia: current status and future directions. Int Clin Psychopharmacol 1995; 10 (Suppl 3): 29–37.

Jentsch JD, Roth RH . The neuropsychopharmacology of phencyclidine: from NMDA receptor hypofunction to the dopamine hypothesis of schizophrenia. Neuropsychopharmacology 1999; 20: 201–225.

Goff DC, Coyle JT . The emerging role of glutamate in the pathophysiology and treatment of schizophrenia. Am J Psychiat 2001; 158: 1367–1377.

Lozovsky D, Saller CF, Bayorh MA, Chiueh CC, Rice KC, Burke Jr TR et al. Effects of phencyclidine on rat prolactin, dopamine receptor and locomotor activity. Life Sci 1983; 32: 2725–2731.

Mele A, Wozniak KM, Hall FS, Pert A . The role of striatal dopaminergic mechanisms in rotational behavior induced by phencyclidine and phencyclidine-like drugs. Psychopharmacology (Berl) 1998; 135: 107–118.

Kapur S, Seeman P . NMDA receptor antagonists ketamine and PCP have direct effects on the dopamine D2 and serotonin 5-HT2 receptors—implications for models of schizophrenia. Mol Psychiat 2002; 7: 837–844.

Seeman P . Comment on 'Diverse psychotomimetics act through a common signaling pathway'. Science 2004; 305: 180.

Seeman P, Tallerico T . Link between dopamine D1 and D2 receptors in rat and human striatal tissues. Synapse 2003; 47: 250–254.

Seeman P, Niznik HB, Guan HC, Booth G, Ulpian C . Link between D1 and D2 dopamine receptors is reduced in schizophrenia and Huntington diseased brain. Proc Natl Acad Sci USA 1989; 86: 10156–10160.

Seeman P, Sunahara RK, Niznik HB . Receptor–receptor link in membranes revealed by ligand competition: example for dopamine D1 and D2 receptors. Synapse 1994; 17: 62–64.

George SR, Watanabe M, Di Paolo T, Falardeau P, Labrie F, Seeman P . The functional state of the dopamine receptor in the anterior pituitary is in the high-affinity form. Endocrinology 1985; 117: 690–697.

Lee FJ, Xue S, Pei L, Vukusic B, Chery N, Wang Y et al. Dual regulation of NMDA receptor functions by direct protein–protein interactions with the dopamine D1 receptor. Cell 2002; 111: 219–230.

Pei L, Lee FJ, Moszczynska A, Vukusic B, Liu F . Regulation of dopamine D1 receptor function by physical interaction with the NMDA receptors. J Neurosci 2004; 24: 1149–1158.

Salter MW . D1 and NMDA receptors hook up: expanding on an emerging theme. Trends Neurosci 2003; 26: 235–237.

Seeman P, Tallerico T, Ko F . Dopamine displaces [3H]domperidone from high-affinity sites of the dopamine D2 receptor, but not [3H]raclopride or [3H]spiperone in isotonic medium. Implications for human positron emission tomography. Synapse 2003; 49: 209–215.

Liu IS, George SR, Seeman P . The human dopamine D2(Longer) receptor has a high-affinity state and inhibits adenylyl cyclase. Mol Brain Res 2000; 77: 281–284.

Seeman P, Ulpian C, Wreggett, KA, Wells J . Dopamine receptor parameters detected by 3H-spiperone depend on tissue concentration: analysis and examples. J Neurochem 1984; 43: 221–235.

Seeman P, Watanabe M, Grigoriadis D, Tedesco JL, George SR, Svensson U et al. Dopamine D2 receptor binding sites for agonists. A tetrahedral model. Mol Pharmacol 1985; 28: 391–399.

Grigoriadis D, Seeman P . Complete conversion of brain D2dopamine receptors from the high- to the low-affinity state for dopamine agonists, using sodium ions and guanine nucleotide. J Neurochem 1985; 44: 1925–1935.

Svenningsen P, Nomikos GG, Greengard P . Response to comment on 'Diverse psychotomimetics act through a common signaling pathway'. Science 2004; 305: 180.

Giacomelli S, Pamery M, Romanelli R, Cheng CY, Silvestrini B . Lysergic acid diethylamide (LSD) is a partial agonist of D2 dopaminergic receptors and it potentiates dopamine-mediated prolactin secretion in lactotrophs in vitro. Life Sci 1998; 63: 215–222.

Meltzer HY, Fessler RG, Simonovic M, Doherty J, Fang VS . Lysergic acid diethylamide: evidence for stimulation of pituitary dopamine receptors. Psychopharmacology (Berl) 1977; 54: 39–44.

Meltzer HY, Simonovic M, Gudelsky GA . Phencyclidine-induced inhibition of rat prolactin secretion: increased portal blood dopamine. Eur J Pharmacol 1985; 110: 143–146.

Pampillo M, Theas S, Duvilanski B, Seilicovich A, Lasaga M . Effect of ionotropic and metabotropic glutamate agonists and D-aspartate on prolactin release from anterior pituitary cells. Exp Clin Endocrinol Diabetes 2002; 110: 138–144.

Login IS . Direct stimulation of pituitary release by glutamate. Life Sci 1990; 47: 2269–2275.

Giannini AJ, Eighan MS, Loiselle RH, Giannini MC . Comparison of haloperidol and chlorpromazine in the treatment of phencyclidine psychosis. J Clin Pharmacol 1984; 24: 202–204.

Giannini AJ, Nageotte C, Loiselle RH, Malone DA, Price WA . Comparison of chlorpromazine, haloperidol and pimozide in the treatment of phencyclidine psychosis: DA-2 receptor specificity. J Toxicol Clin Toxicol 1984–85; 22: 573–579.

Giannini AJ, Underwood NA, Condon M . Acute ketamine intoxication treated by haloperidol: a preliminary study. Am J Ther 2000; 7: 389–391.

Krystal JH, D'Souza DC, Karper LP, Bennett A, Abi-Dargham A, Abi-Saab D et al. Interactive effects of subanesthetic ketamine and haloperidol in healthy humans. Psychopharmacology (Berl) 1999; 145: 193–204.

Javitt DC, Zukin SR . Recent advances in the phencyclidine model of schizophrenia. Am J Psychiat 1991; 148: 1301–1308.

Murray F, Kennedy J, Hutson PH, Elliot J, Huscroft I, Mohnen K et al. Modulation of [3H]MK-801 binding to NMDA receptors in vivo and in vitro. Eur J Pharmacol 2000; 137: 263–270.

Grimwood S, Le Bourdelles BL, Atack JR, Barton C, Cockett W, Cook SM et al. Generation and characterization of stable cell lines expressing recombinant human N-methyl-D-aspartate receptor subtypes. J Neurochem 1996; 66: 2239–2247.

Seeman P . Atypical antipsychotics: mechanism of action. Can J Psychiat 2002; 47: 27–38.

Ögren SO, Goldstein M . Phencyclidine- and dizocilpine-induced hyperlocomotion are differentially mediated. Neuropsychopharmacology 1994; 11: 167–177.

Reynolds IJ, Miller RJ . Tricyclic antidepressants block N-methyl-D-aspartate receptors: similarities to the action of zinc. Br J Pharmacol 1988; 95: 95–102.

Köhler C, Hall H, gren S-O, Gawell L . Specific in vitro and in vivo binding of 3H-raclopride. Biochem Pharmacol 1985; 34: 2251–2259.

Hall H, Sällemark M, Jerning E . Effects of remoxipride and some related new substituted salicylamides on rat brain receptors. Acta pharmacol toxicol 1986; 58: 61–70.
Acknowledgements
We thank Dr H-C Guan for excellent technical assistance. Françoise Ko was supported by the University of Toronto Adel Sedra Scholarship and an Ontario Graduate Studentship. This research was supported by the Ontario Mental Health Foundation (Regular and Special Initiatives grants), NARSAD (the National Alliance for Research on Schizophrenia and Depression, to PS and FL), the CIHR (Canadian Institutes of Health Research, to FL and PS), the CPRF (Canadian Psychiatric Research Foundation, to FL and PS), NIDA (the National Institute on Drug Abuse), the SMRI (Stanley Medical Research Institute, to PS) and by donations from Dr Karolina Jus and the Medland and O'Rorke families.
About this article
Cite this article
Seeman, P., Ko, F. & Tallerico, T. Dopamine receptor contribution to the action of PCP, LSD and ketamine psychotomimetics. Mol Psychiatry 10, 877–883 (2005). https://doi.org/10.1038/sj.mp.4001682
Received:

Revised:

Accepted:

Published:

Issue Date:

DOI: https://doi.org/10.1038/sj.mp.4001682
Keywords
dopamine receptor

phencyclidine

domperidone

ketamine

NMDA receptors

psychotomimetics