Abstract
Central serotonin (5-hydroxytryptamine, 5-HT) function has a role in a range of genetically influenced psychiatric diagnoses and behaviors. Several human 5-HT receptor polymorphisms are 'candidate alleles', altering in vitro function, and potentially affecting behavior and drug response. The 5-HT2A His452Tyr polymorphism alters signal transduction, and has been associated with diminished efficacy of clozapine in schizophrenia. Another 5-HT2A receptor polymorphism consists of the silent thymidine-cytosine substitution (102T>C), which has been controversially associated with schizophrenia. We investigated the role of His452Tyr and the 102T>C in behavior and in vivo intermediate biochemical phenotypes. Intracellular 5-HT-induced Ca2+ release by platelets and fenfluramine-induced prolactin release by pituitary were evaluated in 27 psychiatrically interviewed subjects (including both impulsive patients and controls) stratified by His452Tyr genotype and also genotyped for a second 5-HT2A polymorphism, 102T>C. Subjects with increased measures of impulsivity showed decreased postreceptor 5-HT function, as indicated by reduced 5-HT-induced Ca2+ release, but no alteration in net 5-HT function, as measured by fenfluramine response. No significant effects of either polymorphism were associated with altered 5-HT-induced calcium response or fenfluramine-stimulated prolactin release. One available Tyr452/Tyr452 homozygote had diminished Ca2+ release and one of the highest levels of fenfluramine response. Although not statistically significant, the effect of the T102C, but not the His452Tyr, genotype on prolactin level change over time was associated with a medium to large strength of association (treatment magnitude of T2=0.10), suggesting that further study is warranted.
Access options
Subscribe to this journal
Receive 12 print issues and online access
$259.00 per year
only $21.58 per issue
Rent or buy this article
Prices vary by article type
from$1.95
to$39.95
Prices may be subject to local taxes which are calculated during checkout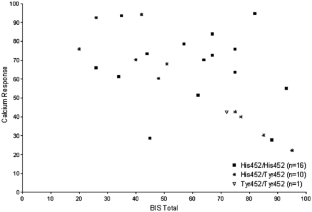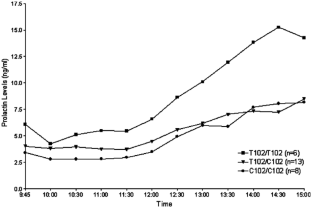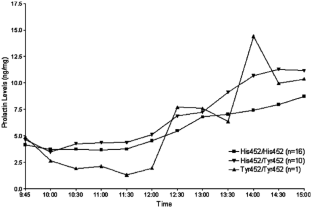 References
Stein DJ, Hollander E, Liebowitz MR . Neurobiology of impulsivity and the impulse control disorders. J Neuropsychiatry 1993; 5: 9–17.

Brown GL, Linnoila MI . CSF serotonin metabolite (5-HIAA) studies in depression, impulsivity, and violence. J Clin Psychiatry 1990; 51(Suppl): 31–41, discussion 42–43.

Radel M, Goldman D . Pharmacogenetics of alcohol response and alcoholism: the interplay of genes and environmental factors in thresholds for alcoholism. Drug Metab Dispos 2001; 29(Part 2): 489–494.

Lappalainen J, Long JC, Eggert M, Ozaki N, Robin RW, Brown GL et al. Linkage of antisocial alcoholism to the serotonin 5-HT1B receptor gene in 2 populations. Arch Gen Psychiatry 1998; 55: 989–994.

Nielsen DA, Virkkunen M, Lappalainen J, Eggert M, Brown GL, Long JC et al. A tryptophan hydroxylase gene marker for suicidality and alcoholism. Arch Gen Psychiatry 1998; 55: 593–602.

Lesch KP, Bengel D, Heils A, Sabol SZ, Greenberg BD, Petri S . Association of anxiety-related traits with a polymorphism in the serotonin transporter gene regulatory region. Science 1996; 274: 1527–1531.

Marazziti D, Conti L . Aggression, hyperactivity and platelet imipramine binding. Acta Psychiatr Scand 1991; 84: 209–211.

Williams J, Spurlock G, McGuffin P, Mallet J, Nothen MM, Gill M . Association between schizophrenia and T102C polymorphism of the 5-hydroxytryptamine type 2a-receptor gene. European Multicentre Association Study of Schizophrenia (EMASS) Group. Lancet 1996; 47: 1294–1296.

Hawi Z, Myakishev MV, Straub RE, A ON, Kendler KS, Walsh D et al. No association or linkage between the 5-HT2a/T102C polymorphism and schizophrenia in Irish families. Am J Med Genet 1997; 74: 370–373.

Joober R, Benkelfat C, Brisebois K, Toulouse A, Turecki G, Lal S et al. T102C polymorphism in the 5HT2A gene and schizophrenia: relation to phenotype and drug response variability [see comments]. J Psychiatry Neurosci 1999; 24: 141–146.

Ozaki N, Manji H, Lubierman V, Lu SJ, Lappalainen J, Rosenthal NE et al. A naturally occurring amino acid substitution of the human serotonin 5-HT2A receptor influences amplitude and timing of intracellular calcium mobilization. J Neurochem 1997; 68: 2186–2193.

Birkett JT, Arranz MJ, Munro J, Osborn, Kerwin RW, Collier DA . Association analysis of the 5-HT5A gene in depression, psychosis and antipsychotic response. Neuroreport 2000; 11: 2017–2020.

Coccaro EF . Impulsive aggression and central serotonergic system function in humans: an example of a dimensional brain–behavior relationship. Int Clin Psychopharmacol 1992; 7: 3–12.

Heinz A, Jones DW, Mazzanti C, Goldman D, Ragan P, Hommer D et al. A relationship between serotonin transporter genotype and in-vivo protein expression and alcohol neurotoxicity. Biol Psychiatry 2000; 47: 643–649.

Little KY, McLaughlin DP, Zhang L, Livermore CS, Dalack GW, McFinton PR et al. Cocaine, ethanol, and genotype effects on human midbrain serotonin transporter binding sites and mRNA levels. Am J Psychiatry 1998; 155: 207–213.

Wolfel R, Graefe KH . Evidence for various tryptamines and related compounds acting as substrates of the platelet 5-hydroxytryptamine transporter. Naunyn–Schmiedeberg's Arch Pharmacol 1992; 45: 129–136.

Gobbi M, Frittoli E, Uslenghi A, Mennini T . Evidence of an exocytotic-like release of [3H]5-hydroxytryptamine induced by D-fenfluramine in rat hippocampal synaptosomes. Eur J Pharmacol 1993; 238: 9–17.

Coccaro EF, Kavoussi RJ, Hauger RL, Cooper TB, Ferris CF . Cerebrospinal fluid vasopressin levels: correlates with aggression and serotonin function in personality-disordered subjects. Arch Gen Psychiatry 1998; 55: 708–714.

O'Keane V, Moloney E, O'Neill H, O'Connor A, Smith C, Dinan TG . Blunted prolactin responses to D-fenfluramine in sociopathy. Evidence for subsensitivity of central serotonergic function. Br J Psychiatry 1992; 160: 643–646.

Southwick SM, Paige S, Morgan CA, Bremner JD, Krystal JH, Charney DS . Neurotransmitter alterations in PTSD: catecholamines and serotonin. Semin Clin Neuropsychiatry 1999; 4: 242–248.

Netter P, Hennig J, Rohrmann S . Psychobiological differences between the aggression anti-psychoticism dimension. Pharmacopsychiatry 1999; 32: 5–12.

Manuck SB, Flory JD, McCaffery JM, Matthews KA, Mann JJ, Muldoon MF . Aggression, impulsivity, and central nervous system serotonergic responsivity in a non-patient sample. Neuropsychopharmacology 1998; 19: 287–299.

Lesch KP, Wolozin BL, Murphy DL, Reiderer P . Primary structure of the human platelet serotonin uptake site: identity with the brain serotonin transporter. J Neurochem 1993; 60: 2319–2322.

Cook EH, Flecther KE, Wainwright M, Marks N, Yan Sy, Leventhal BL . Primary structure of the human platelet serotonin 5-HT2A receptor: identify with frontal cortex serotonin 5-HT2A receptor. J Neurochem 1994; 63: 465–469.

McBride PA, Brown RP, DeMeo M, Keilp J, Mieczkowski T, Mann JJ . The relationship of platelet 5HT2 receptor indices to major depressive disorder, personality traits, and suicidal behavior. Biol Psychiatry 1994; 35: 295–308.

Holmsen H . Significance of testing platelet functions in vitro. Eur J Clin Invest 1994; 24(Suppl 1): 3–8.

Reist C, Vu R, Fujimoto K . Seritonin-stimulated calcium release is decreased in platelets from high impulsivity patients. Int J Neuropsychopharmacol 2000; 3: 315–320.

Mazzanti CM, Lappalainen J, Long JC, Bengel D, Naukkarinen H, Eggert M . Role of the serotonin t transporter promoter polymorphism in anxiety-related traits. Arch Gen Psychiatry 1991; 55: 936–940.

Coccaro EF, Kavoussi RJ, Sheline YI, Lish JD, Csernansky JG . Impulsive aggression in personality disorder correlates with tritiated paroxetine binding in the platelet. Arch Gen Psychiatry 1996; 53: 531–536.

Coccaro EF, Kavoussi RJ, Sheline YI, Berman ME, Csernansky JG . Impulsive aggression in personality disorder correlates with platelet 5-HT2A receptor binding. Neuropsychopharmacology 1997; 16: 211–216.

Arranz MJ, Munro J, Birkett J, Bolonna A, Mancama D, Sodhi M et al. Pharmacogenetic prediction of clozapine response [letter]. Lancet 2000; 355: 1615–1616.

Kerwin R, Owen M . Genetics of novel therapeutic targets in schizophernia. Br J Psychiatry Suppl 1998; 38: 1–4.

Brewerton T . Seasonal variation of serotonin function in humans: research and clinical implications. Ann Clin Psychiatry 1989; 1: 152–164.

Mikuni M, Kagaya A, Takahashi K, Meltzer HY . Serotonin but not norepinephrine-induced calcium mobilization of platelets is enhanced in affective disorders. Psychopharmacology (Berl) 1992; 106: 311–314.

Grynkiewicz G, Poenie M, Tsien RY . A new generation of Ca2+ indicators with greatly improved fluorescence properties. J Biol Chem 1985; 260: 3440–3450.

Krebs HA, Cheng LK, Wright GJ . Determination of fenfluramine and norfenfluramine in plasma using a nitrogen-sensitive detector. J Chromatogr 1984; 310: 412–417.

Schuckit MA, Mazzanti C, Smith TL, Ahmed U, Radel M, Iwata N et al. Selective genotyping for the role of 5-HT2A, 5-HT2C, and GABAα 6 receptors and the serotonin transporter in the level of response to alcohol: a pilot study. Biol Psychiatry 1999; 45: 647–651.

Ozaki N, Rosenthal NE, Personen U, Lappalainen J, Feldman-Naim S, Schwartz PJ et al. Two naturally occurring amino acid substitutions of the 5HT2Areceptor: similar prevalence in patients with seasonal affective disorder and controls. Biol Psychiatry 1996; 40: 1267–1272.

Cohen J . Statistical Power Analysis for the Behavioral Sciences, 2nd edn Erlbaum: Hillsdale, NJ, 1988; 284–288.

Coccaro EF, Siever LJ, Klar HM, Maurer G, Cochrane K, Cooper TB et al. Serotonergic studies in patients with affective and personality disorders. Correlates with suicidal and impulsive aggressive behavior published erratum appears in Arch Gen Psychiatry 1990; 47(2): 124. Arch Gen Psychiatry 1989; 46: 587–599.

Linnoila M, Virkkunen M, George T, Eckardt M, Higley JD, Nielsen D et al. Serotonin, violent behavior and alcohol. EXS 1994; 71: 155–163.

Virkkunen M, Rawlings R, Tokola R, Poland RE, Guidotti A, Nemeroff C et al. CSF biochemistries, glucose metabolism, and diurnal activity rhythms in alcoholic, violent offenders, fire setters, and healthy volunteers. Arch Gen Psychiatry 1994; 51: 20–27.
Acknowledgements
This work was supported by VA Medical Research Service, NARSAD, VISN 22 Mental Illness Research, Education, and Clinical Center (MIRECC).
About this article
Cite this article
Reist, C., Mazzanti, C., Vu, R. et al. Inter-relationships of intermediate phenotypes for serotonin function, impulsivity, and a 5-HT2A candidate allele: His452Tyr. Mol Psychiatry 9, 871–878 (2004). https://doi.org/10.1038/sj.mp.4001495
Received:

Revised:

Accepted:

Published:

Issue Date:

DOI: https://doi.org/10.1038/sj.mp.4001495
Keywords