Abstract
Manic-depressive (bipolar) illness is a serious psychiatric disorder with a strong genetic predisposition. The disorder is likely to be multifactorial and etiologically complex, and the causes of genetic susceptibility have been difficult to unveil. Lithium therapy is a widely used pharmacological treatment of manic-depressive illness, which both stabilizes the ongoing episodes and prevents relapses. A putative target of lithium treatment has been the inhibition of the myo-inositol monophosphatase (IMPase) enzyme, which dephosphorylates myo-inositol monophosphate in the phosphatidylinositol signaling system. Two genes encoding human IMPases have so far been isolated, namely myo-inositol monophosphatase 1 (IMPA1) on chromosome 8q21.13–21.3 and myo-inositol monophosphatase 2 (IMPA2) on chromosome 18p11.2. In the present study, we have scanned for DNA variants in the human IMPA1 and IMPA2 genes in a pilot sample of Norwegian manic-depressive patients, followed by examination of selected polymorphisms and haplotypes in a family-based bipolar sample of Palestinian Arab proband–parent trios. Intriguingly, two frequent single-nucleotide polymorphisms (−461C>T and −207T>C) in the IMPA2 promoter sequence and their corresponding haplotypes showed transmission disequilibrium in the Palestinian Arab trios. No association was found between the IMPA1 polymorphisms and bipolar disorder, neither with respect to disease susceptibility nor with variation in lithium treatment response. The association between manic-depressive illness and IMPA2 variants supports several reports on the linkage of bipolar disorder to chromosome 18p11.2, and sustains the possible role of IMPA2 as a susceptibility gene in bipolar disorder.
Relevant articles
Open Access articles citing this article.
R. Sarviaho

,

O. Hakosalo

…

H. Lohi

Translational Psychiatry Open Access 17 January 2019

David Stacey

,

K. Oliver Schubert

…

Bernhard T. Baune

Translational Psychiatry Open Access 05 September 2018

Translational Psychiatry Open Access 06 December 2016
Access options
Subscribe to this journal
Receive 12 print issues and online access
$259.00 per year
only $21.58 per issue
Rent or buy this article
Prices vary by article type
from$1.95
to$39.95
Prices may be subject to local taxes which are calculated during checkout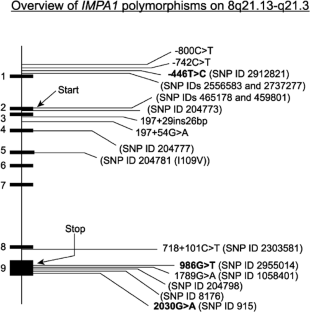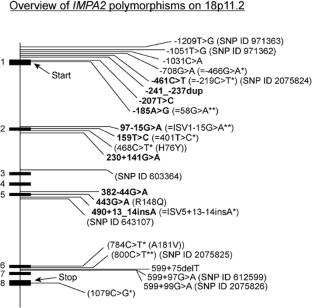 References
Berrettini WH . Molecular linkage studies of bipolar disorders. Bipolar Disord 2001; 3: 276–283.

Baron M . Manic-depression genes and the new millennium: poised for discovery. Mol Psychiatry 2002; 7: 342–358.

Manji HK, McNamara R, Chen G, Lenox RH . Signalling pathways in the brain: cellular transduction of mood stabilisation in the treatment of manic-depressive illness. Aust N Z J Psychiatry 1999; 33: S65–83.

Jope RS . Anti-bipolar therapy: mechanism of action of lithium. Mol Psychiatry 1999; 4: 117–128.

Phiel CJ, Klein PS . Molecular targets of lithium action. Annu Rev Pharmacol Toxicol 2001; 41: 789–813.

Allison JH, Blisner ME, Holland WH, Hipps PP, Sherman WR . Increased brain myo-inositol 1-phosphate in lithium-treated rats. Biochem Biophys Res Commun 1976; 71: 664–670.

Hallcher LM, Sherman WR . The effects of lithium ion and other agents on the activity of myo-inositol-1-phosphatase from bovine brain. J Biol Chem 1980; 255: 10896–10901.

Inhorn RC, Majerus PW . Properties of inositol polyphosphate 1-phosphatase. J Biol Chem 1988; 263: 14559–14565.

Gee NS, Ragan CI, Watling KJ, Aspley S, Jackson RG, Reid GG et al. The purification and properties of myo-inositol monophosphatase from bovine brain. Biochem J 1988; 249: 883–889.

Berridge MJ, Downes CP, Hanley MR . Lithium amplifies agonist-dependent phosphatidylinositol responses in brain and salivary glands. Biochem J 1982; 206: 587–595.

Berridge MJ, Downes CP, Hanley MR . Neural and developmental actions of lithium: a unifying hypothesis. Cell 1989; 59: 411–419.

Sjøholt G, Molven A, Løvlie R, Wilcox A, Sikela JM, Steen VM . Genomic structure and chromosomal localization of a human myo-inositol monophosphatase gene (IMPA). Genomics 1997; 42: 113–122.

Yoshikawa T, Turner G, Esterling LE, Sanders AR, Detera-Wadleigh SD . A novel human myo-inositol monophosphatase gene, IMP. 18p, maps to a susceptibility region for bipolar disorder. Mol Psychiatry 1997; 2: 393–397.

Berrettini WH, Ferraro TN, Goldin LR, Weeks DE, Detera-Wadleigh S, Nurnberger JIJ et al. Chromosome 18 DNA markers and manic-depressive illness: evidence for a susceptibility gene. Proc Natl Acad Sci USA 1994; 91: 5918–5921.

Stine OC, Xu J, Koskela R, McMahon FJ, Gschwend M, Friddle C et al. Evidence for linkage of bipolar disorder to chromosome 18 with a parent-of-origin effect. Am J Hum Genet 1995; 57: 1384–1394.

Detera-Wadleigh SD, Badner JA, Berrettini WH, Yoshikawa T, Goldin LR, Turner G et al. A high-density genome scan detects evidence for a bipolar-disorder susceptibility locus on 13q32 and other potential loci on 1q32 and 18p11.2. Proc Natl Acad Sci USA 1999; 96: 5604–5609.

Schwab SG, Hallmayer J, Lerer B, Albus M, Borrmann M, Honig S et al. Support for a chromosome 18p locus conferring susceptibility to functional psychoses in families with schizophrenia, by association and linkage analysis. Am J Hum Genet 1998; 63: 1139–1152.

Nothen MM, Cichon S, Rohleder H, Hemmer S, Franzek E, Fritze J et al. Evaluation of linkage of bipolar affective disorder to chromosome 18 in a sample of 57 German families. Mol Psychiatry 1999; 4: 76–84.

Bennett P, Segurado R, Jones I, Bort S, McCandless F, Lambert D et al. The Wellcome trust UK–Irish bipolar affective disorder sibling-pair genome screen: first stage report. Mol Psychiatry 2002; 7: 189–200.

Yoshikawa T, Kikuchi M, Saito K, Watanabe A, Yamada K, Shibuya H et al. Evidence for association of the myo-inositol monophosphatase 2 (IMPA2) gene with schizophrenia in Japanese samples. Mol Psychiatry 2001; 6: 202–210.

Shamir A, Ebstein RP, Nemanov L, Zohar A, Belmaker RH, Agam G . Inositol monophosphatase in immortalized lymphoblastoid cell lines indicates susceptibility to bipolar disorder and response to lithium therapy. Mol Psychiatry 1998; 3: 481–482.

Nemanov L, Ebstein RP, Belmaker RH, Osher Y, Agam G . Effect of bipolar disorder on lymphocyte inositol monophosphatase mRNA levels. Int J Neuropsychopharmcol 1999; 2: 25–29.

Yoon IS, Li PP, Siu KP, Kennedy JL, Cooke RG, Parikh SV et al. Altered IMPA2 gene expression and calcium homeostasis in bipolar disorder. Mol Psychiatry 2001; 6: 678–683.

Moore GJ, Bebchuk JM, Parrish JK, Faulk MW, Arfken CL, Strahl-Bevacqua J et al. Temporal dissociation between lithium-induced changes in frontal lobe myo-inositol and clinical response in manic-depressive illness. Am J Psychiatry 1999; 156: 1902–1908.

Yildiz A, Demopulos CM, Moore CM, Renshaw PF, Sachs GS . Effect of lithium on phosphoinositide metabolism in human brain: a proton decoupled (31)P magnetic resonance spectroscopy study. Biol Psychiatry 2001; 50: 3–7.

Williams RS, Cheng L, Mudge AW, Harwood AJ . A common mechanism of action for three mood-stabilizing drugs. Nature 2002; 417: 292–295.

Steen VM, Gulbrandsen AK, Eiken HG, Berle JØ . Lack of genetic variation in the coding region of the myo-inositol monophosphatase gene in lithium-treated patients with manic depressive illness. Pharmacogenetics 1996; 6: 113–116.

Sjøholt G, Gulbrandsen AK, Løvlie R, Berle JØ, Molven A, Steen VM . A human myo-inositol monophosphatase gene (IMPA2) localized in a putative susceptibility region for bipolar disorder on chromosome 18p11.2: genomic structure and polymorphism screening in manic-depressive patients. Mol Psychiatry 2000; 5: 172–180.

Yoshikawa T, Padigaru M, Karkera JD, Sharma M, Berrettini WH, Esterling LE et al. Genomic structure and novel variants of myo-inositol monophosphatase 2 (IMPA2). Mol Psychiatry 2000; 5: 165–171.

Zhao JH, Sham PC . Faster haplotype frequency estimation using unrelated subjects. Hum Hered 2002; 53: 36–41.

Spielman RS, McGinnis RE, Ewens WJ . Transmission test for linkage disequilibrium: the insulin gene region and insulin-dependent diabetes mellitus (IDDM). Am J Hum Genet 1993; 52: 306–516.

Clayton D, Jones H . Transmission/disequilibrium tests for extended marker haplotypes. Am J Hum Genet 1999; 65: 1161–1169.

Straub RE, Jiang Y, MacLean CJ, Ma Y, Webb BT, Myakishev MV et al. Genetic variation in the 6p22.3 gene DTNBP1, the human ortholog of the mouse dysbinding gene, is associated with schizophrenia. Am J Hum Genet 2002; 71: 337–348.

Antonarakis SE . Recommendations for a nomenclature system for human gene mutations. Nomenclature Working Group. Hum Mutat 1998; 11: 1–3.

den Dunnen JT, Antonarakis SE . Nomenclature for the description of human sequence variations. Hum Genet 2001; 109: 121–124.

Garner C, Slatkin M . On selecting markers for association studies: Patterns of linkage disequilibrium between two and three diallelic loci. Genet Epidemiol 2003; 24: 57–67.

Diehl RE, Whiting P, Potter J, Gee N, Ragan CI, Linemeyer D et al. Cloning and expression of bovine brain inositol monophosphatase. J Biol Chem 1990; 265: 5946–5949.

Shimon H, Agam G, Belmaker RH, Hyde TM, Kleinman JE . Reduced frontal cortex inositol levels in postmortem brain of suicide victims and patients with bipolar disorder. Am J Psychiatry 1997; 154: 1148–1150.

Belmaker RH, Shapiro J, Vainer E, Nemanov L, Ebstein RP, Agam G . Reduced inositol content in lymphocyte-derived cell lines from bipolar patients. Bipolar Disord 2002; 4: 67–69.

Lubrich B, van Calker D . Inhibition of the high affinity myo-inositol transport system: a common mechanism of action of antibipolar drugs? Neuropsychopharmacology 1999; 21: 519–529.

Lubrich B, Spleiss O, Gebicke-Haerter PJ, van Calker D . Differential expression, activity and regulation of the sodium/myo-inositol cotransporter in astrocyte cultures from different regions of the rat brain. Neuropharmacology 2000; 39: 680–690.

Wolfson M, Bersudsky Y, Zinger E, Simkin M, Belmaker RH, Hertz L . Chronic treatment of human astrocytoma cells with lithium, carbamazepine or valproic acid decreases inositol uptake at high inositol concentrations but increases it at low inositol concentrations. Brain Res 2000; 855: 158–161.

Wilson S, Warr N, Taylor DL, Watts FZ . The role of Schizosaccharomyces pombe Rad32, the Mre11 homologue, and other DNA damage response proteins in non-homologous end joining and telomere length maintenance. Nucleic Acids Res 1999; 27: 2655–2661.

Reyes GD, Esterling LE, Corona W, Ferraren D, Rollins DY, Padigaru M et al. Map of candidate genes and STSs on 18p112, a bipolar disorder and schizophrenia susceptibility region. Mol Psychiatry 2002; 7: 337–339.
Acknowledgements
We would like to thank the anonymous reviewers for very valuable comments on this manuscript. We also thank Anne-Karin Gulbrandsen for assisting in the genotyping of the DNA polymorphisms. This work was supported by Dr Einar Martens' Research Fund and the Research Council of Norway (Mental Health Programme).
About this article
Cite this article
Sjøholt, G., Ebstein, R., Lie, R. et al. Examination of IMPA1 and IMPA2 genes in manic-depressive patients: association between IMPA2 promoter polymorphisms and bipolar disorder. Mol Psychiatry 9, 621–629 (2004). https://doi.org/10.1038/sj.mp.4001460
Received:

Revised:

Accepted:

Published:

Issue Date:

DOI: https://doi.org/10.1038/sj.mp.4001460
Keywords
inositol monophosphatase

chromosome 18p11.2

transmission disequilibrium

SNP haplotypes

TDT

proband–parent trios