Abstract
We performed the oligonucleotide microarray analysis in bipolar disorder, major depression, schizophrenia, and control subjects using postmortem prefrontal cortices provided by the Stanley Foundation Brain Collection. By comparing the gene expression profiles of similar but distinctive mental disorders, we explored the uniqueness of bipolar disorder and its similarity to other mental disorders at the molecular level. Notably, most of the altered gene expressions in each disease were not shared by one another, suggesting the molecular distinctiveness of these mental disorders. We found a tendency of downregulation of the genes encoding receptor, channels or transporters, and upregulation of the genes encoding stress response proteins or molecular chaperons in bipolar disorder. Altered expressions in bipolar disorder shared by other mental disorders mainly consisted of upregulation of the genes encoding proteins for transcription or translation. The genes identified in this study would be useful for the understanding of the pathophysiology of bipolar disorder, as well as the common pathophysiological background in major mental disorders at the molecular level. In addition, we found the altered expression of LIM and HSPF1 both in the brains and lymphoblastoid cells in bipolar disorder. These genes may have pathophysiological importance and would be novel candidate genes for bipolar disorder.
Relevant articles
Open Access articles citing this article.
Xinru Kong

,

Chuang Wang

…

Xianghua Qi

Scientific Reports Open Access 13 March 2023

Clemens Falker-Gieske

,

Jörn Bennewitz

&

Jens Tetens

neurogenetics Open Access 30 November 2022

Scientific Reports Open Access 07 January 2022
Access options
Subscribe to this journal
Receive 12 print issues and online access
$259.00 per year
only $21.58 per issue
Rent or buy this article
Get just this article for as long as you need it
$39.95
Prices may be subject to local taxes which are calculated during checkout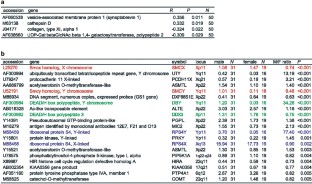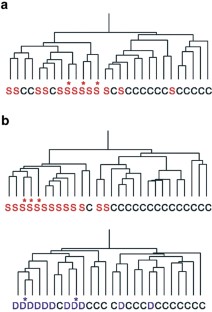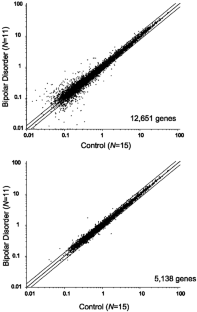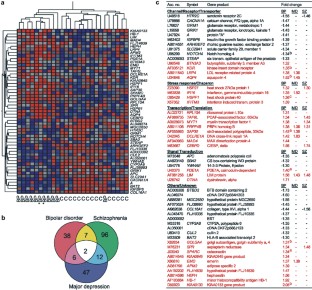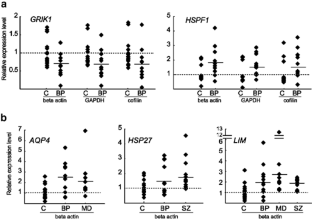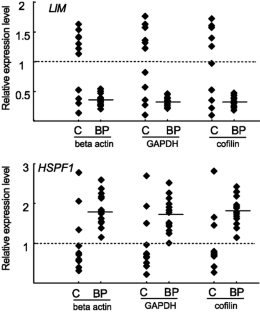 References
Gershon ES, Cloninger CR (eds.). Genetic Approaches to Mental Disorders. American Psychiatric Press: Washington, DC, 1994 p 376.

Potter WZ, Rudorfer MV, Manji H . The pharmacologic treatment of depression. N Engl J Med 1991; 325: 633–642.

Lenox RH, Hahn CG . Overview of the mechanism of action of lithium in the brain: fifty-year update. J Clin Psychiatry 2000; 61S9: 5–15.

Mirnics K, Middleton FA, Lewis DA, Levitt P . Analysis of complex brain disorders with gene expression microarrays: schizophrenia as a disease of the synapse. Trends Neurosci 2001; 24: 479–486.

Mirnics K, Middleton FA, Marquez A, Lewis DA, Levitt P . Molecular characterization of schizophrenia viewed by microarray analysis of gene expression in prefrontal cortex. Neuron 2000; 28: 53–67.

Hakak Y, Walker JR, Li C, Wong WH, Davis KL, Buxbaum JD et al. Genome-wide expression analysis reveals dysregulation of myelination-related genes in chronic schizophrenia. Proc Natl Acad Sci USA 2001; 98: 4746–4751.

Kuromitsu J, Yokoi A, Kawai T, Nagasu T, Aizawa T, Haga S et al. Reduced neuropeptide Y mRNA levels in the frontal cortex of people with schizophrenia and bipolar disorder. Gene Expr Patterns 2001; 1: 17–21.

Mimmack ML, Ryan M, Baba H, Navarro-Ruiz J, Iritani S, Faull RL et al. Gene expression analysis in schizophrenia: reproducible up-regulation of several members of the apolipoprotein L family located in a high-susceptibility locus for schizophrenia on chromosome 22. Proc Natl Acad Sci USA 2002; 99: 4680–4685.

Bezchlibnyk YB, Wang JF, McQueen GM, Young LT . Gene expression differences in bipolar disorder revealed by cDNA array analysis of post-mortem frontal cortex. J Neurochem 2001; 79: 826–834.

Berrettini WH . Are schizophrenic and bipolar disorders related? A review of family and molecular studies. Biol Psychiatry 2000; 48: 531–538.

American Psychiatric Association. Diagnostic and Statistical Manual of Mental Disorders, 4th edn. American Psychiatric Association: Washington, DC, 1994.

Torrey EF, Webster M, Knable M, Johnston N, Yolken RH . The Stanley foundation brain collection and neuropathology consortium. Schizophr Res 2000; 44: 151–155.

Kato T, Ishiwata M, Nagai T . Mitochondrial calcium response in human transformed lymphoblastoid cells. Life Sci 2002; 71: 581–590.

Lee CK, Weindruch R, Prolla TA . Gene-expression profile of the ageing brain in mice. Nat Genet 2000; 25: 294–297.

Lahn BT, Pearson NM, Jegalian K . The human Y chromosome, in the light of evolution. Nat Rev Genet 2001; 2: 207–216.

Kim S, Nollen EA, Kitagawa K, Bindokas VP, Morimoto RI . Polyglutamine protein aggregates are dynamic. Nat Cell Biol 2002; 4: 826–831.

Benn SC, Perrelet D, Kato AC, Scholz J, Decosterd I, Mannion RJ et al. Hsp27 upregulation and phosphorylation is required for injured sensory and motor neuron survival. Neuron 2002; 36: 45–56.

Manji HK, Chen G . PKC, MAP kinases and the bcl-2 family of proteins as long-term targets for mood stabilizers. Mol Psychiatry 2002; 7S1: S46–S56.

Tsai G, Coyle JT . Glutamatergic mechanisms in schizophrenia. Annu Rev Pharmacol Toxicol 2002; 42: 165–179.

Belsham B . Glutamate and its role in psychiatric illness. Hum Psychopharmacol 2001; 16: 139–146.

Shibata H, Joo A, Fujii Y, Tani A, Makino C, Hirata N et al. Association study of polymorphisms in the GluR5 kainate receptor gene (GRIK1) with schizophrenia. Psychiatr Genet 2001; 11: 139–144.

Sklar P, Gabriel SB, McInnis MG, Bennett P, Lim YM, Tsan G et al. Family-based association study of 76 candidate genes in bipolar disorder: BDNF is a potential risk locus. Brain-derived neutrophic factor. Mol Psychiatry 2002; 7: 579–593.

Segman RH, Ebstein RP, Heresco-Levy U, Gorfine M, Avnon M, Gur E et al. Schizophrenia, chronic hospitalization and the 5-HT2C receptor gene. Psychiatr Genet 1997; 7: 75–78.

Lerer B, Macciardi F, Segman RH, Adolfsson R, Blackwood D, Blairy S et al. Variability of 5-HT2C receptor cys23ser polymorphism among European populations and vulnerability to affective disorder. Mol Psychiatry 2001; 6: 579–585.

Wei J, Hemmings GP . The NOTCH4 locus is associated with susceptibility to schizophrenia. Nat Genet 2000; 25: 376–377.

McGinnis RE, Fox H, Yates P, Cameron LA, Barnes MR, Gray IC et al. Failure to confirm NOTCH4 association with schizophrenia in a large population-based sample from Scotland. Nat Genet 2001; 28: 128–129.

Sklar P, Schwab SG, Williams NM, Daly M, Schaffner S, Maier W et al. Association analysis of NOTCH4 loci in schizophrenia using family and population-based controls. Nat Genet 2001; 28: 126–128.

Swift-Scanlan T, Lan TH, Fallin MD, Coughlin JM, Potash JB, DePaulo JR et al. Genetic analysis of the (CTG)n NOTCH4 polymorphism in 65 multiplex bipolar pedigrees. Psychiatr Genet 2002; 12: 43–47.

Straub RE, Jiang Y, MacLean CJ, Ma Y, Webb BT, Myakishev MV et al. Genetic variation in the 6p22.3 gene DTNBP1, the human ortholog of the mouse dysbindin gene, is associated with schizophrenia. Am J Hum Genet 2002; 71: 337–348.

Schwab SG, Knapp M, Mondabon S, Hallmayer J, Borrmann-Hassenbach M, Albus M et al. Support for association of schizophrenia with genetic variation in the 6p22.3 gene, dysbindin, in sib-pair families with linkage and in an additional sample of triad families. Am J Hum Genet 2003; 72: 185–190.

Benson MA, Newey SE, Martin-Rendon E, Hawkes R, Blake DJ . Dysbindin, a novel coiled-coil-containing protein that interacts with the dystrobrevins in muscle and brain. J Biol Chem 2001; 276: 24232–24241.

Grady RM, Zhou H, Cunningham JM, Henry MD, Campbell KP, Sanes JR . Maturation and maintenance of the neuromuscular synapse: genetic evidence for roles of the dystrophin–glycoprotein complex. Neuron 2000; 25: 279–293.

Neely JD, Amiry-Moghaddam M, Ottersen OP, Froehner SC, Agre P, Adams ME . Syntrophin-dependent expression and localization of Aquaporin-4 water channel protein. Proc Natl Acad Sci USA 2001; 98: 14108–14113.

Vajda Z, Pedersen M, Fuchtbauer EM, Wertz K, Stodkilde-Jorgensen H, Sulyok E et al. Delayed onset of brain edema and mislocalization of aquaporin-4 in dystrophin-null transgenic mice. Proc Natl Acad Sci USA 2002; 99: 13131–13136.

Steffens DC, Krishnan KR . Structural neuroimaging and mood disorders: recent findings, implications for classification, and future directions. Biol Psychiatry 1998; 43: 705–712.

Veenstra-VanderWeele J, Anderson GM, Cook Jr EH . Pharmacogenetics and the serotonin system: initial studies and future directions. Eur J Pharmacol 2000; 410: 165–181.

Kuroda S, Tokunaga C, Kiyohara Y, Higuchi O, Konishi H, Mizuno K et al. Protein–protein interaction of zinc finger LIM domains with protein kinase C. J Biol Chem 1996; 271: 31029–31032.

Maeno-Hikichi Y, Chang S, Matsumura K, Lai M, Lin H, Nakagawa N et al. A PKCepsilon–ENH–channel complex specifically modulates N-type Ca(2+) channels. Nat Neurosci 2003; 6: 468–475.

Grabowski PJ . Splicing regulation in neurons: tinkering with cell-specific control. Cell 1998; 92: 709–712.

Fewell SW, Travers KJ, Weissman JS, Brodsky JL . The action of molecular chaperones in the early secretory pathway. Annu Rev Genet 2001; 35: 149–191.

Emamghoreishi M, Li PP, Schlichter L, Parikh SV, Cooke R, Warsh JJ . Associated disturbances in calcium homeostasis and G protein-mediated cAMP signaling in bipolar I disorder. Biol Psychiatry 2000; 48: 665–673.

Yoon IS, Li PP, Siu KP, Kennedy JL, Cooke RG, Parikh SV et al. Altered IMPA2 gene expression and calcium homeostasis in bipolar disorder. Mol Psychiatry 2001; 6: 678–683.

Hemby SE, Ginsberg SD, Brunk B, Arnold SE, Trojanowski JQ, Eberwine JH . Gene expression profile for schizophrenia: discrete neuron transcription patterns in the entorhinal cortex. Arch Gen Psychiatry 2002; 59: 631–640.
Acknowledgements
Postmortem brains were donated by the Stanley Foundation Brain Collection courtesy of Drs Michael B Knable, E Fuller Torrey, Maree J Webster, and Robert H Yolken. We are indebted to the Research Resource Center of our institute for microarray analysis. We are grateful to Bonnie L La Madeleine (BSI) for help in preparing the manuscript.
About this article
Cite this article
Iwamoto, K., Kakiuchi, C., Bundo, M. et al. Molecular characterization of bipolar disorder by comparing gene expression profiles of postmortem brains of major mental disorders. Mol Psychiatry 9, 406–416 (2004). https://doi.org/10.1038/sj.mp.4001437
Received:

Revised:

Accepted:

Published:

Issue Date:

DOI: https://doi.org/10.1038/sj.mp.4001437
Keywords
microarray

schizophrenia

depression

lymphoblastoid