Abstract
The glutamate hypothesis of schizophrenia derived from evidence that phencyclidine, a noncompetitive N-methyl-D-aspartate (NMDA) antagonist, produces schizophrenia-like symptoms in healthy humans. Sensorimotor gating, measured by prepulse inhibition (PPI), is a fundamental form of information processing that is deficient in schizophrenia patients and rodents treated with NMDA antagonists. Hence, PPI is widely used to study the neurobiology of schizophrenia. As the use of PPI as a model of gating deficits in schizophrenia has become more widespread, it has become increasingly important to assess such deficits accurately. Here we identify a possible role of mGluR5 in PPI by using wild type (WT) and mGluR5 knockout (KO) mice of two different background strains, 129SvPasIco and C57BL/6. In both strains, PPI was disrupted dramatically in the mGluR5 KO mice throughout a range of interstimulus intervals and sensory modalities. The present findings further support the glutamate hypothesis of schizophrenia and identify a functional role for mGluR5 in sensorimotor gating.
Access options
Subscribe to this journal
Receive 12 print issues and online access
$259.00 per year
only $21.58 per issue
Rent or buy this article
Get just this article for as long as you need it
$39.95
Prices may be subject to local taxes which are calculated during checkout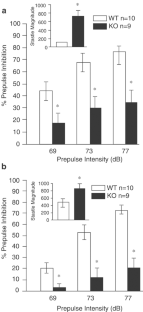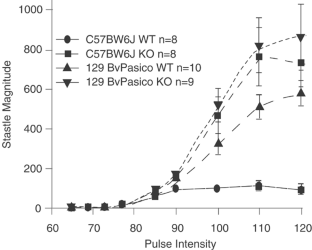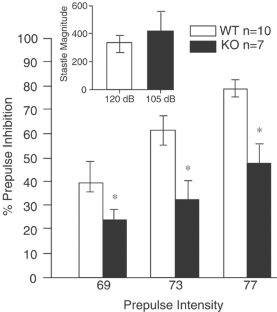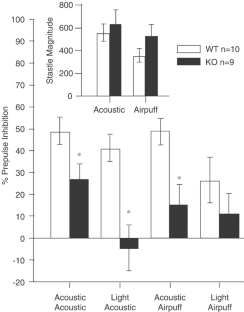 References
Braff DL, Geyer MA . Sensorimotor gating and schizophrenia: human and animal model studies. Arch Gen Psychiatry 1990; 47: 181–188.

Ison JR, Hoffman HS . Reflex modification in the domain of startle: II. The anomalous history of a robust and ubiquitous phenomenon. Psychol Bull 1983; 94: 3–17.

Hoffman HS, Ison JR . Reflex modification in the domain of startle: 1. Some empirical-findings and their implications for how the nervous-system processes sensory input. Psychol Rev 1980; 87: 175–189.

Braff DL, Geyer MA, Swerdlow NR . Human studies of prepulse inhibition of startle: normal subjects, patient groups, and pharmacological studies. Psychopharmacology 2001; 156: 234–258.

Geyer MA, Krebs-Thomson K, Braff DL, Swerdlow NR . Pharmacological studies of prepulse inhibition models of sensorimotor gating deficits in schizophrenia: a decade in review. Psychopharmacology 2001; 156: 117–154.

Swerdlow NR, Braff DL, Taaid N, Geyer MA . Assessing the validity of an animal model of deficient sensorimotor gating in schizophrenic patients. Arch Gen Psychiatry 1994; 51: 139–154.

Graham FK, Putnam LE, Leavitt LA . Lead-stimulation effects on human cardiac orienting and blink reflexes. J Exp Psychol—Hum Percept Perform 1975; 104: 161–169.

Allen RM, Young SJ . Phencyclidine-induced psychosis. Am J Psychiatry 1978; 135: 1081–1084.

Karper LP, Grillon C, Abi-Saab D, Morgan CAI, Charney DS, Krystal J . The effect of ketamine on pre-pulse inhibition and attention. Schizophr Res 1995; 15: 180.

Mansbach RS, Geyer MA . Effects of phencyclidine and phencyclidine biologs on sensorimotor gating in the rat. Neuropsychopharmacology 1989; 2: 299–308.

Dulawa SC, Geyer MA . Psychopharmacology of prepulse inhibition in mice. Chin J Physiol 1996; 39: 139–146.

Linn GS, Javitt DC . Phencyclidine (PCP)-induced deficits of prepulse inhibition in monkeys. NeuroReport 2001; 12: 117–120.

Conn PJ, Patel J . The Metabotropic Glutamate Receptors. Humana Press, Inc.: Totowa, NJ, 1994.

Bordi F, Ugolini A . Group I metabotropic glutamate receptors: implications for brain diseases. Prog Neurobiol 1999; 59: 55–79.

Swerdlow NR, Geyer MA, Braff DL . Neural circuit regulation of prepulse inhibition of startle in the rat: current knowledge and future challenges. Psychopharmacology 2001; 156: 194–215.

Abe T, Sugihara H, Nawa H, Shigemoto R, Mizuno N, Nakanishi S . Molecular characterization of a novel metabotropic glutamate receptor mGluR5 coupled to inositol phosphate/Ca2+ signal transduction. J Biol Chem 1992; 267: 13361–13368.

Ohnuma T, Augood SJ, Arai H, McKenna PJ, Emson PC . Expression of the human excitatory amino acid transporter 2 and metabotropic glutamate receptors 3 and 5 in the prefrontal cortex from normal individuals and patients with schizophrenia. Mol Brain Res 1998; 56: 207–217.

Devon RS, Porteous DJ . Physical mapping of a glutamate receptor gene in relation to a balanced translocation associated with schizophrenia in a large Scottish family. Psychiatr Genet 1997; 7: 165–169.

Oka A, Takashima S . The up-regulation of metabotropic glutamate receptor 5 (mGluR5) in Down's syndrome brains. Acta Neuropathol 1999; 97: 275–278.

Chiamulera C, Epping-Jordan MP, Zocchi A, Marcon C, Cottiny C, Tacconi S et al. Reinforcing and locomotor stimulant effects of cocaine are absent in mGluR5 null mutant mice. Nat Neurosci 2001; 4: 873–874.

Geyer MA, Swerdlow NR . Measurement of the startle response, prepulse inhibition, and habituation. In: Crawley JN, Skolnick P (eds). Current Protocols in Neuroscience. J Wiley: New York, 1998, pp. 8.7.1–8.7.15.

Varty GB, Walters N, Cohen-Williams M, Carey GJ . Comparison of apomorphine, amphetamine and dizocilpine disruptions of prepulse inhibition in inbred and outbred mice strains. Eur J Pharmacol 2001; 424: 27–36.

Braff DL, Stone C, Callaway E, Geyer MA, Glick ID, Bali L . Prestimulus effects on human startle reflex in normals and schizophrenics. Psychophysiology 1978; 15: 339–343.

Paylor R, Crawley JN . Inbred strain differences in prepulse inhibition of the mouse startle response. Psychopharmacology 1997; 132: 169–180.

Braff DL, Grillon C, Geyer MA . Gating and habituation of the startle reflex in schizophrenic patients. Arch Gen Psychiatry 1992; 49: 206–215.

Grillon C, Ameli R, Charney DS, Krystal J, Braff DL . Startle gating deficits occur across prepulse intensities in schizophrenic patients. Biol Psychiatry 1992; 32: 939–943.

Henry SA, Dulawa SC, Conquet F, Geyer MA . Severe disruption of prepulse inhibition (PPI) in mice lacking mGluR5. Soc Neurosci Abstr 1999; 25: 449.

Henry SA, Conquet F, Geyer MA . Prepulse inhibition (PPI) deficit in mGluR5 knockout mice after multiple manipulations. Soc Neurosci Abstr 2001; 27, 983.14.

Kinney GG, Burno M, Campbell UC, Hernandez LM, Rodriguez D, Bristow LJ et al. Metabotropic glutamate subtype 5 receptors (mGluR5) modulate locomotor activity and sensorimotor gating in rodents. J Pharmacol Exp Ther 2003; 306: 116–123.

Lu YM, Jia Z, Janus C, Henderson JT, Gerlai R, Wojtowicz JM et al. Mice lacking metabotropic glutamate receptor 5 show impaired learning and reduced CA1 long-term potentiation (LTP) but normal CA3 LTP. J Neurosci 1997; 17: 5196–5205.

Crawley JN, Belknap JK, Collins A, Crabbe JC, Frankel W, Henderson N et al. Behavioral phenotypes of inbred mouse strains: implications and recommendations for molecular studies. Psychopharmacology 1997; 132: 107–124.

Willott JF . Changes in frequency representation in the auditory-system of mice with age-related hearing impairment. Brain Res 1984; 309: 159–162.

Grauer SM, Marquis KL . Intracerebral administration of metabotropic glutamate receptor agonists disrupts prepulse inhibition of acoustic startle in Sprague–Dawley rats. Psychopharmacology 1999; 141: 405–412.

Monn JA, Valli MJ, Massey SM, Wright RA, Salhoff CR, Johnson BG et al. Design, synthesis, and pharmacological characterization of (+)-2-aminobicyclo[3.1.0]hexane-2,6-dicarboxylic acid (LY354740): a potent, selective, and orally active group 2 metabotropic glutamate receptor agonist possessing anticonvulsant and anxiolytic properties. J Med Chem 1997; 40: 528–537.

Schreiber R, Lowe D, Voerste A, De Vry J . LY354740 affects startle responding but not sensorimotor gating or discriminative effects of phencyclidine. Eur J Pharmacol 2000; 388: R3–R4.

Henry SA, Lehmann-Masten V, Gasparini F, Geyer MA, Markou A . The mGluR5 antagonist MPEP, but not the mGluR2/3 agonist LY314582, augments PCP effects on prepulse inhibition and locomotor activity. Neuropharmacology 2002; 43: 1199–1209.

Anderson JJ, Rao SP, Rowe B, Giracello DR, Holtz G, Chapman DF et al. H-3]methoxymethyl-3-[(2-methylyl-1,3-thiazol-4-yl)ethynyl]pyridine binding to metabotropic glutamate receptor subtype 5 in rodent brain: in vitro and in vivo characterization. J Pharmacol Exp Ther 2002; 303: 1044–1051.

Spooren WP, Gasparini F, van der Putten H, Koller M, Nakanishi S, Kuhn R . Lack of effect of LY314582 (a group 2 metabotropic glutamate receptor agonist) on phencyclidine-induced locomotor activity in metabotropic glutamate receptor 2 knockout mice. Eur J Pharmacol 2000; 397: R1–R2.
Acknowledgements
SAB was supported by MH12961. SCD was supported by MH12249. This work was supported by DA02925 and MH42228 to MAG. MAG holds an equity interest in San Diego Instruments.
About this article
Cite this article
Brody, S., Dulawa, S., Conquet, F. et al. Assessment of a prepulse inhibition deficit in a mutant mouse lacking mGlu5 receptors. Mol Psychiatry 9, 35–41 (2004). https://doi.org/10.1038/sj.mp.4001404
Published:

Issue Date:

DOI: https://doi.org/10.1038/sj.mp.4001404
Keywords
PPI

metabotropic glutamate

mGluR5

startle

prepulse inhibition

knockout mouse