Abstract
Positron emission tomography (PET) studies with the selective 5-HT1A receptor ligand, [11C]WAY-100635, have indicated that the binding potential (BP) of brain 5-HT1A receptors is lowered in unmedicated subjects with acute major depression. However, it is unclear if these changes persist after recovery from depression. To resolve this issue, we used [11C]WAY-100635 in conjunction with PET imaging to compare 5-HT1A BP in 18 healthy controls and 14 male subjects with recurrent major depression who were clinically recovered and free of antidepressant medication. BP values, derived from a reference tissue model, were analysed by region of interest and statistical parametric mapping. Both analyses showed a widespread and substantial (17%) decrease in 5-HT1A receptor BP in cortical areas in the recovered depressed subjects. In contrast, 5-HT1A BP in the raphe nuclei did not distinguish depressed subjects from controls. Our results suggest a persistent dysfunction in cortical 5-HT1A BP as measured by [11C]WAY-100635 in recovered depressed men. Lowered 5-HT1A receptor binding availability could represent a trait abnormality that confers vulnerability to recurrent major depression.
Relevant articles
Open Access articles citing this article.
Mark Abie Horowitz

,

Adele Framer

…

David Taylor

CNS Drugs Open Access 14 December 2022

Wonsuk Choi

,

Ju-Wan Kim

…

Jae-Min Kim

Scientific Reports Open Access 20 December 2021

Helena Caria Martins

&

Gerhard Schratt

Translational Psychiatry Open Access 03 May 2021
Access options
Subscribe to this journal
Receive 12 print issues and online access
$259.00 per year
only $21.58 per issue
Rent or buy this article
Get just this article for as long as you need it
$39.95
Prices may be subject to local taxes which are calculated during checkout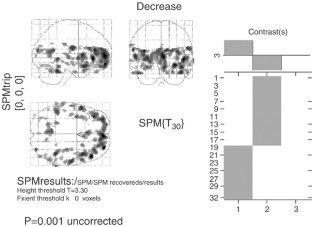 References
Smith KA, Cowen PJ . Serotonin and depression. In: Honig A, van Praag HM (eds). Depression: Neurobiological, Psychopathological and Therapeutic Advances. John Wiley & Sons Ltd: Chichester, 1997 pp 129–146.

Shapira B, Cohen J, Newman ME, Lerer B . Prolactin response to fenfluramine and placebo challenge following maintenance pharmacotherapy withdrawal in remitted depressed patients. Biol Psychiatry 1993; 33: 531–535.

Flory JD, Mann JJ, Manuck SB, Muldoon MF . Recovery from major depression is not associated with normalization of serotonergic function. Biol Psychiatry 1998; 43: 320–326.

Bhagwagar Z, Whale R, Cowen PJ . State and trait abnormalities in serotonin function in major depression. Br J Psychiatry 2002; 180: 24–28.

Golden RN, Heine AD, Ekstrom D, Bebchuk JM, Leatherman ME, Garbutt JC . A longitudinal study of serotonergic function in depression. Neuropsychopharmacology 2002; 26: 653–659.

Booij L, Van der Does W, Benkelfat C, Bremner JD, Cowen PJ, Fava M et al. Predictors of mood response to acute tryptophan depletion: a reanalysis. Neuropsychopharmacology 2002; 27: 852–861.

Sargent PA, Kjaer KH, Bench CJ, Rabiner EA, Messa C, Meyer J et al. Brain serotonin1A receptor binding measured by positron emission tomography with [11C] WAY-100635: effects of depression and antidepressant treatment. Arch Gen Psychiatry 2000; 57: 174–180.

Frank E, Prien RF, Jarrett RB, Keller MB, Kupfer DJ, Lavori PW et al. Conceptionisation and rationale for consensus definition of terms in major depressive disorder: remission, recovery, relapse and recurrence. Arch Gen Psychiatry 1991; 48: 851–855.

First MB, Spitzer RL, Gibbon M, Williams JBW . Structured Clinical Interview for DSM-IV Axis I disorders — Clinician Version (SCID-CV). American Psychiatric Press: Washington, DC, 1997.

Rabiner EA, Messa C, Sargent PA, Husted-Kjaer K, Montgomery A, Lawrence AD et al. A database of [11C]WAY-100635 binding to 5-HT1A receptors in normal male volunteers: normative data and relationship to methodological, demographic, physiological, and behavioral variables. NeuroImage 2002; 15: 620–632.

Spinks TJ, Jones T, Bailey DL, Townsend DW, Grootoonk S, Bloomfield PM et al. Physical performance of a positron tomograph for brain imaging with retractable septa. Phys Med Biol 1992; 37: 1637–1655.

Grootoonk S, Spinks TJ, Sashin D, Spyrou NM, Jones T . Correction for scatter in 3D brain PET using a dual energy window method. Phys Med Biol 1996; 41: 2757–2774.

McCarron J, Turton D, Pike V, Poole K . Remotely controlled production of the 5-HT1A receptor radioligand, [carbonyl-11C]WAY-100635, via 11C-carboxylation of an immobilized Gringard reagent. J Label Comp Radiopharm 1996; 38: 941–953.

Lammertsma AA, Hume SP . Simplified reference tissue model for PET receptor studies. Neuroimage 1996; 4: 153–158.

Gunn RN, Sargent PA, Bench CJ, Rabiner EA, Osman S, Pike VW et al. Tracer kinetic modeling of the 5-HT1A receptor ligand [carbonyl-11C]WAY-100635 for PET. Neuroimage 1998; 8: 426–440.

Hall H, Lundkvist C, Halldin C, Farde L, Pike VW, McCarron JA et al. Autoradiographic localization of 5-HT1A receptors in the post-mortem human brain using [3H]WAY-100635 and [11C]way-100635. Brain Res 1997; 745: 96–108.

Meyer JH, Gunn RN, Myers R, Grasby PM . Assessment of spatial normalization of PET ligand images using ligand-specific templates. Neuroimage 1999; 9: 545–553.

Drevets WC, Frank E, Price JC, Kupfer DJ, Holt D, Greer PJ et al. PET imaging of serotonin1A receptor binding in depression. Biol Psychiatry 1999; 46: 1375–1387.

Mann JJ, Oquendo M, Simpson N, Huang Y, Van Heertum R, Arango V et al. Altered 5HT-1A binding in major depression: an [11C]WAY100635 PET study. NeuroImage 2002; 16: S105.

Tauscher J, Verhoeff NP, Christensen BK, Hussey D, Meyer JH, Kecojevic A et al. Serotonin 5-HT1A receptor binding potential declines with age as measured by [11C]WAY-100635 and PET. Neuropsychopharmacology 2001; 24: 522–530.

Cidis Meltzer C, Drevets WC, Price JC et al. Gender-specific aging effects on the serotonin 1A receptor. Brain Res 2001; 895: 9–17.

Farde L, Ito H, Swahn CG, Pike VW, Halldin C . Quantitative analyses of carbonyl-carbon-11-WAY-100635 binding to central 5-hydroxytryptamine-1A receptors in man. J Nucl Med 1998; 39: 1965–1971.

Parsey RV, Slifstein M, Hwang DR et al. Validation and reproducibility of measurement of 5-HT1A receptor parameters with [carbonyl-11C]WAY-100635 in humans: comparison of arterial and reference tisssue input functions. J Cereb Blood Flow Metab 2000; 20: 1111–1133.

Gunn RN, Lammertsma AA, Grasby PM . Quantitative analysis of [carbonyl-(11)C]WAY-100635 PET studies. Nucl Med Biol 2000; 27: 477–482.

Slifstein M, Parsey RV, Laruelle M . Derivation of [11C]WAY-100635 binding parameters with reference tissue models: effect of violations of model assumptions. Nucl Med Biol 2000; 27: 487–492.

Ito H, Halldin C, Farde L . Localization of 5-HT1A receptors in the living human brain using [carbonyl-11C]WAY-100635: PET with anatomic standardization technique. J Nucl Med 1999; 40: 102–109.

Martinez D, Hwang D, Mawlawi O et al. Differential occupancy of somatodendritic and postsynaptic 5HT(1A) receptors by pindolol: a dose-occupancy study with [11C]WAY 100635 and positron emission tomography in humans. Neuropsychopharmacology 2001; 24: 209–229.

Rabiner EA, Gunn RN, Castro ME et al. β-Blocker binding to human 5-HT1A receptors in vivo and in vitro: implications for antidepressant therapy. Neuropsychopharmacology 2000; 23: 285–293.

Bremner JD, Narayan M, Anderson ER, Staib LH, Miller HL, Charney DS . Hippocampal volume reduction in major depression. Am J Psychiatry 2000; 157: 115–118.

Bremner JD, Vythilingam M, Vermetten E et al. Reduced volume of orbitofrontal cortex in major depression. Biol Psychiatry 2002; 51: 273–279.

MacQueen GM, Campbell S, McEwen BS et al. Course of illness, hippocampal function, and hippocampal volume in major depression. Proc Natl Acad Sci USA 2003; 100: 1387–1392.

Gross C, Zhuang X, Stark K et al. Serotonin1A receptor acts during development to establish normal anxiety-like behaviour in the adult. Nature 2002; 416: 396–400.

Kendler KS, Gardner CO, Prescott CA . Toward a comprehensive developmental model for major depression in women. Am J Psychiatry 2002; 159: 1133–1145.

Azmitia EC, Gannon PJ, Kheck NM, Whitaker-Azmitia PM . Cellular localization of the 5-HT1A receptor in primate brain neurons and glial cells. Neuropsychopharmacology 1996; 14: 35–46.

Cohen Z, Bouchelet I, Olivier A et al. Multiple microvascular and astroglial 5-hydroxytryptamine receptor subtypes in human brain: molecular and pharmacologic characterization. J Cereb Blood Flow Metab 1999; 19: 908–917.

Burnet PW, Eastwood SL, Lacey K, Harrison PJ . The distribution of 5-HT1A and 5-HT2A receptor mRNA in human brain. Brain Res 1995; 676: 157–168.

Harrison PJ . The neuropathology of primary mood disorder. Brain 2002; 125: 1428–1449.

Holsboer F . Stress, hypercortisolism and corticosteroid receptors in depression: implications for therapy. J Affect Disord 2001; 62: 77–91.

Sapolsky RM . Glucocorticoids and hippocampal atrophy in neuropsychiatric disorders. Arch Gen Psychiatry 2000; 57: 925–935.

López JF, Chalmers DT, Little KY, Watson SJ . Regulation of serotonin1A, glucocorticoid, and mineralcorticoid receptor in rat and human hippocampus: implications for the neurobiology of depression. Biol Psychiatry 1998; 43: 547–573.

Holsboer F, von Bardeleben U, Wiedemann K, Müller OA, Stalla GK . Serial assessment of corticotropin-releasing hormone response after dexamethasone in depression: implications for pathophysiology of DST nonsuppression. Biol Psychiatry 1987; 22: 228–234.
Acknowledgements
We thank all the volunteers without whom this study would not be possible. Thanks are also due to Andrew Blythe, Joanne Holmes, David Turton, Ray Khan, Safiye Osman, Jasbir Grewal, Vijaykumar Vaja, Keith Poole, Leonard Schnorr, Abdellah Haida, Ann Peers and others at the MRC Cyclotron Unit, London, for expert technical assistance. The study was supported by an MRC Co-operative Group grant. ZB was a MRC Clinical Training Fellow.
About this article
Cite this article
Bhagwagar, Z., Rabiner, E., Sargent, P. et al. Persistent reduction in brain serotonin1A receptor binding in recovered depressed men measured by positron emission tomography with [11C]WAY-100635. Mol Psychiatry 9, 386–392 (2004). https://doi.org/10.1038/sj.mp.4001401
Received:

Revised:

Accepted:

Published:

Issue Date:

DOI: https://doi.org/10.1038/sj.mp.4001401
Keywords
serotonin

5-HT1A receptor

depression

ligand PET