Abstract
We have reported lymphocytic colitis in children with regressive autism, with epithelial damage prominent. We now compare duodenal biopsies in 25 children with regressive autism to 11 with coeliac disease, five with cerebral palsy and mental retardation and 18 histologically normal controls. Immunohistochemistry was performed for lymphocyte and epithelial lineage and functional markers. We determined the density of intraepithelial and lamina propria lymphocyte populations, and studied mucosal immunoglobulin and complement C1q localisation. Standard histopathology showed increased enterocyte and Paneth cell numbers in the autistic children. Immunohistochemistry demonstrated increased lymphocyte infiltration in both epithelium and lamina propria with upregulated crypt cell proliferation, compared to normal and cerebral palsy controls. Intraepithelial lymphocytes and lamina propria plasma cells were lower than in coeliac disease, but lamina propria T cell populations were higher and crypt proliferation similar. Most strikingly, IgG deposition was seen on the basolateral epithelial surface in 23/25 autistic children, co-localising with complement C1q. This was not seen in the other conditions. These findings demonstrate a novel form of enteropathy in autistic children, in which increases in mucosal lymphocyte density and crypt cell proliferation occur with epithelial IgG deposition. The features are suggestive of an autoimmune lesion.
Relevant articles
Open Access articles citing this article.
Stephen J. Walker

,

Carl D. Langefeld

…

Arthur Krigsman

Scientific Reports Open Access 12 April 2019

Dominika Gładysz

,

Amanda Krzywdzińska

&

Kamil K. Hozyasz

Molecular Neurobiology Open Access 06 January 2018

Maria Fiorentino

,

Anna Sapone

…

Alessio Fasano

Molecular Autism Open Access 29 November 2016
Access options
Subscribe to this journal
Receive 12 print issues and online access
$259.00 per year
only $21.58 per issue
Rent or buy this article
Prices vary by article type
from$1.95
to$39.95
Prices may be subject to local taxes which are calculated during checkout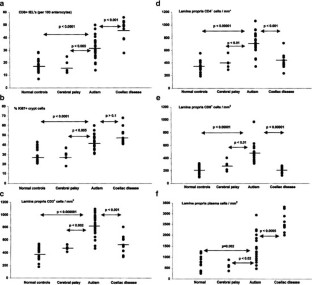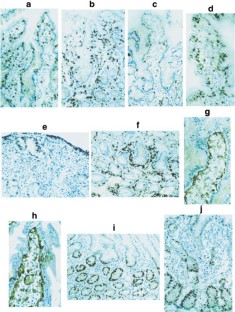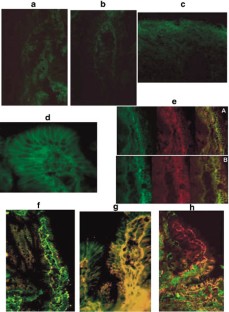 References
Wakefield AJ Murch SH Anthony A et alIleal-lymphoid-nodular hyperplasia, non-specific colitis, and pervasive developmental disorder in children Lancet 1998 351 637 641

Wakefield AJ Anthony A Murch SH et alEntero-colitis and immunodeficiency in children with developmental disorders Am J Gastroenterol 2000 95 2285 2295

Furlano RI Anthony A Day R et alLymphocytic colitis, with CD8 and T cell infiltration and epithelial damage, in children with autism J Pediatr 2001 138 366 372

Horvath K Papadimitriou JC Rabsztyn A Drachenberg C Tildon JT Gastrointestinal abnormalities in children with autism J Pediatr 1999 135 559 563

Alberti A Pirrone P Elia M Waring RH Romano C Sulphation deficit in 'low-functioning' autistic children: a pilot study Biol Psychiat 1999 46 420 424

D'Eufemia P Celli M Finocchiaro R Pacifico L Viozzi L Zaccaginini M et alAbnormal intestinal permeability in children with autism Acta Paediatr 1996 85 1076 1079

Lucarelli S Frediani T Zingoni AM et alFood allergy and infantile autism Panminerva Med 1995 37 137 141

Sandler RH Finegold SM Bolte ER et alShort-term benefit from oral vancomycin treatment of regressive-onset autism J Child Neurol 2000 15 429 435

Melmed RD Schneider CK Fabes RA et alMetabolic markers and gastrointestinal symptoms in children with autism and related disorders J Pediatr Gastroenterol Nutr 2000 31 (Suppl 2) S31

Walker-Smith JA Murch SH Diseases of the Small Intestine in Childhood, 4th edn Isis Medical Media: Oxford 1999pp1 412

Bry L Falk P Huttner K Ouellette A Midtvedt T Gordon JI Paneth cell differentiation in the developing intestine of normal and transgenic mice Proc Natl Acad Sci USA 1994 91 10335 10339

Weber FL Lactulose and combination therapy of hepatic encephalopathy: the role of the intestinal microflora Dig Dis 1996 14 (Suppl 1) 53 63

Garvey M Noyes R Yates W Frequency of constipation in major depression: relationship to other clinical variables Psychosomatics 1990 31 204 206

Minuk GY Gamma-aminobutyric acid (GABA) production by eight common pathogens Scand J Infect Dis 1986 18 465 467

Amir RE Van den Veyver IB Wan M Tran CQ Francke U Zoghbi HY Rett syndrome is caused by mutations in X-linked MECP2, encoding methyl-CpG-binding protein 2 Nat Genet 1999 23 185 188

LaSalle JM Goldstine J Balmer D Greco CM Quantitative localization of heterogeneous methyl-CpG-binding protein 2 (MeCP2) expression phenotypes in normal and Rett syndrome brain by laser scanning cytometry Hum Mol Genet 2001 10 1729 1740

Fiumara A Sciotto A Barone R et alPeripheral lymphocyte subsets and other immune aspects in Rett syndrome Pediatr Neurol 1999 21 619 621

Pearce CB Martin H Duncan HD Goggin PM Poller DN Colonic lymphoid hyperplasia in melanosis coli Arch Path Lab Med 2001 125 1110 1112

Turner M Barnby G Bailey A Genetic clues to the biological basis of autism Molec Med Today 2000 6 238 244

Lauritsen M Ewald H The genetics of autism Acta Psychiatrica Scand 2001 103 411 427

Rogers T Kalaydjieva L Hallmayer J Exclusion of linkage to the HLA region in ninety multiplex sibships with autism J Autism Devel Disord 1999 29 195 201

Satsangi J Parkes M Louis E et alTwo stage genome-wide search in inflammatory bowel disease provides evidence for susceptibility loci on chromosomes 3, 7 and 12 Nature Genet 1996 14 199 202

Satsangi J Jewell DP Bell JI The genetic of inflammatory bowel disease Gut 1997 40 572 574

Torres AR Maciulis A Odell D The association of MHC genes with autism Frontier Biosci 2001 6 936 943

Daniels WW Warren RP Odell JD et alIncreased frequency of the extended or ancestral haplotype B44-SC30-DR4 in autism Neuropsychobiology 1995 32 120 123

Warren RP Odell JD Warren WL et alStrong association of the third hypervariable region of HLA-DR 1 with autism J Neuroimmunol 1996 67 97 102

Comi AM Zimmerman AW Frye VH Law PA Peeden JH Familial clustering of autoimmune disorders and evaluation of medical risks in autism J Child Neurol 1999 14 388 394

Singh VK Warren R Averett R Ghaziuddin M Circulating autoantibodies to neuronal and glial filament proteins in autism Pediatr Neurol 1997 17 88 90

Connolly C Chez MG Pestronk A Arnold ST Mehta S Devel RK Serum autoantibodies to brain in Landau–Kleffner variant, autism and other neurologic disorders J Pediatr 1999 134 607 613

Sakic B Szetchtman H Denberg J Neurobehavioural alterations in autoimmune mice Neurosci Behav Rev 1997 21 327 340

Hornig M Lipkin WI Infectious and immune factors in the pathogenesis of neurodevelopmental disorders: epidemiology, hypotheses and animal models MRDD Research Rev 2001 7 200 210

Powell JE Edwards A Edwards M Pandit BS Sungum-Paliwal SR Whitehouse W Changes in the incidence of childhood autism and other autistic spectrum disorders in preschool children from two areas of the West Midlands, UK Dev Med Child Neurol 2000 42 624 628

Kaye JA del Mar Melero-Montes M Jick H Mumps, measles, and rubella vaccine and the incidence of autism recorded by general practitioners: a time trend analysis BMJ 2001 322 460 463

Taylor B Miller E Farrington CP et alAutism and measles mumps and rubella vaccine: no epidemiological evidence for a causal association Lancet 1999 353 2026 2029

Changes in the population of persons with Autism and Pervasive Developmental Disorders in California's Developmental Services system: 1987 through 1998. A report to the legislaturehttp://www.dds.ca.gov/Autism/main/AutismReport.cfm

Fombonne E Is there an epidemic of autism? Pediatrics 2001 107 411 412

Gupta S Immunological treatments for autism J Autism Devel Disord 2000 30 475 479
Acknowledgements
FT and PA were supported by Sir Samuel Scott of Yews Charitable Trust and Medical Interventions in Autism. RIF received support from the Swiss National Science Foundation, M und W Lichtenstein-Stiftung, FAG Basel, Ciba-Geigy Jubiläums-Stiftung and Akademische Nachwuchsförderung der Universität Basel, Switzerland. AA was supported by the Normanby Charitable Trust and the PF Charitable Trust. This study could not have been completed without the skill and expertise of the staff of Malcolm Ward and the paediatric endoscopy unit, Royal Free Hospital. We thank colleagues from the Departments of Haematology, Biochemistry, Immunology and Radiology for their analyses of the children.
About this article
Cite this article
Torrente, F., Ashwood, P., Day, R. et al. Small intestinal enteropathy with epithelial IgG and complement deposition in children with regressive autism. Mol Psychiatry 7, 375–382 (2002). https://doi.org/10.1038/sj.mp.4001077
Received:

Revised:

Accepted:

Published:

Issue Date:

DOI: https://doi.org/10.1038/sj.mp.4001077
Keywords
autism

small intestine

inflammation

lymphocytes

immunoglobulins

autoimmunity

complement