Abstract
Several reports have suggested the presence of anticipation in bipolar affective disorder (BPAD). In addition, independent studies using the RED (repeat expansion detection) have shown association between BPAD and longer CAG/CTG repeats. Therefore loci with large CAG/CTG repeats are plausible candidates in the inheritance of BPAD. The present study assesses the length of the repeats in four loci: the ERDA-1 locus which is known to account for most of the long CAG repeats detected by RED, the SEF2-1b locus which is placed in a region where positive linkage results have been reported and the loci MAB21L and KCNN3 as functional candidate genes. A Brazilian case-control sample with 115 unrelated BPAD patients and 196 healthy control subjects and 14 multiply affected bipolar families was investigated. With the case-control design the distribution of alleles between the two groups did not approach statistical significance. The extended transmission disequilibrium test (ETDT) performed in our families did not show evidence for linkage disequilibrium. Parametric and non-parametric linkage analysis also did not provide support for linkage between any of the four loci and BPAD. Our data do not support the hypothesis that variation at the polymorphic CAG/CTG repeat loci ERDA-1, SEF2-1b, MAB21L or KCNN3 influence susceptibility to BPAD in our sample.
Relevant articles
Open Access articles citing this article.
P. Pedarzani

&

M. Stocker

Cellular and Molecular Life Sciences Open Access 04 July 2008
Access options
Subscribe to this journal
Receive 12 print issues and online access
$259.00 per year
only $21.58 per issue
Rent or buy this article
Get just this article for as long as you need it
$39.95
Prices may be subject to local taxes which are calculated during checkout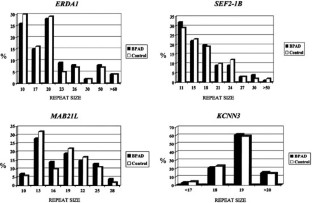 References
McGuffin P, Owen MJ, O'Donovan MC, Thapar A, Gottesman I . Seminars in Psychiatric Genetics Gaskell: London 1994 pp 110–127

Margolis RL, McInnis MG, Rosemblat A, Ross CA . Trinucleotide repeat expansion and neuropsychiatry disease Arch Gen Psychiatry 1999 56: 1019–1031

Vincent JB, Paterson AD, Strong E, Petronis A, Kennedy JL . The unstable trinucleotide story of major psychosis Am J Med Genet (Semin Med Genet) 2000 97: 77–97

McInnis MG, McHamon FJ, Chase GA, Simpson SG, Ross CA, DePaulo R . Anticipation in bipolar affective disorder Am J Hum Genet 1993 53: 385–390

Nylander P-O, Engstron C, Chotai J, Wahlstrom J, Adolfsson R . Anticipation in Swedish families with bipolar affective disorder J Med Genet 1994 31: 686–689

Serbanescu-Grigoroiu M, Wickramaratne PJ, Hodge S, Milea S, Mihailescu R . Genetic anticipation and imprinting in bipolar I illness Br J Psychiatry 1997 170: 162–163

Ohara K, Suzuki Y, Yoshida K, Ohara K . Anticipation and imprinting in Japanese familial mood disorders Psychiatry Res 1998 79: 191–198

Gelernter J . Genetics of bipolar affective disorder; time for another reinvention? Am J Hum Genet 1995 56: 1262–1266

Petronis A, Kennedy J . Unstable genes—unstable mind? Am J Psychiatry 1995 152: 164–172

Schalling M, Hudson TJ, Bustow KH, Housman DE . Direct detection of novel expanded trinucleotide repeat in the human genome Nat Genet 1993 4: 135–139

O'Donovan M, Guy C, Craddock N, Murphy KC, Cardno AG, Jones LA et al. Expanded CAG repeats in schizophrenia and bipolar disorder Nat Genet 1995 10: 380–381

Lindblad K, Nylander P-O, De Bruyn S, Sourey D, Zander C, Engstrom C et al. Detection of expanded CAG repeats in bipolar affective disorder using the repeat expansion detection (RED) method Neurobiol Dis 1995 2: 55–62

O'Donovan M, Guy C, Craddock N, Bowen T, McKeon P, Macedo A et al. Confirmation of association between expanded CAG/CTG repeats and both schizophrenia and bipolar disorder Psychol Med 1996 26: 1145–1153

Oruc L, Lindblad K, Verheyen GR, Ahlberg S, Jakovljevic M, Ivezic S et al. CAG repeat expansions in bipolar and unipolar disorders Am J Hum Genet 1997 60: 730–732

Mendlewicz J, Lindblad K, Souery D, Mahieu B, Nylander PO, De Bruyn A et al. Expanded trinucleotide CAG repeats in families with bipolar affective disorder Biol Psychiatry 1997 42: 1115–1122

Vincent JB, Klempan T, Parikh SS, Sasaki T, Meltzer HY, Sirugo G et al. Frequency analysis of large CAG/CTG trinucleotide repeats in schizophrenia and bipolar affective disorder Mol Psychiatry 1996 1: 141–148

Li T, Vallada HP, Liu X, Xie T, Tang X, Zhao J et al. Analysis of CAG/CTG repeat size in Chinese subjects with schizophrenia and bipolar affective disorder using the repeat expansion detection method Biol Psychiatry 1998 44: 1160–1165

Zander C, Schurhoff F, Laurent C, Chavand O, Bellivier F, Samolyk D et al. CAG repeat sequences in bipolar affective disorder: no evidence for association in a French population Am J Med Genet 1998 81: 338–341

Nakamoto M, Takebayashi H, Kawaguchi Y, Narumiya S, Taniwaki M, Nakamura Y et al. CAG/CTG expansion in the normal population Nat Genet 1997 17: 385–386

Ikeuchi T, Sanpei K, Takano H, Sasaki H, Tashiro K, Cancel G et al. A novel long and unstable CAG/CTG trinucleotide repeat on chromosome 17q Genomics 1998 49: 321–326

Sidransky E, Burgess C, Ikeuchi T, Lindblad K, Long RT, Philibert RA et al. A triplet repeat on 17q accounts for most expansions detected by the repeat-expansion detection technique Am J Hum Genet 1998 62: 1148–1151

Lindblad K, Nylander P-O, Zander C, Yuan Q-P, Stahle L, Engstrom C et al. Two commonly expanded CAG/CTG repeat loci: involvement in affective disorders? Mol Psychiatry 1998 3: 405–410

Breschel TS, McInnis M, Margolis R, Sirugo G, Corneliussen B, Simpsom SG et al. A novel, heritable, expanding CTG repeat in an intron of the SEF2-1 gene on chromosome 18q21.1 Hum Mol Genet 1997 6: 1855–1863

Stine OC, Xu J, Koskela AR, McMahon FJ, Gschwend M, Friddle C et al. Evidence for linkage of bipolar disorder to chromosome 18 with parent-of-origin effect Am J Hum Genet 1995 57: 1384–1394

Van Broeckhoven C, Verheyen G . Chromosome 18 Workshop Psychiatric Genet 1998 8: 97–108

Margolis RL, Stine OC, McInnis MG, Ranen NG, Rubinsztein DC, Leggo J et al. cDNA cloning of a human homologue of the Caenorhabditis elegans cell fate determining gene Mab21: expression, chromosomal localisation and analysis of highly polymorphic (CAG)n trinucleotide repeat Hum Mol Genet 1996 100: 114–122

Chandy KG, Fantino E, Wittekindt O, Kalman K, Tong LL, Ho TH et al. Isolation of a novel potassium channel gene hSKCa3 containing a polymorphic CAG repeat: a candidate for schizophrenia and bipolar disorder? Mol Psychiatry 1998 3: 32–37

Krieger H, Morton NE, Mi MP, Azevedo E, Freire-Maia A, Yasuda N . Racial admixture in north-eastern Brazil Ann Hum Genet 1965 29: 113–125

Sham PC, Curtis D . Monte Carlo tests for association between disease and alleles at highly polymorphic loci Ann Hum Genet 1995 59: 97–105

Sham PC, Curtis D . An extended transmission/disequilibrium test (TDT) for multi-allele marker loci Ann Hum Genet 1995 59: 323–336

Vincent JB, Kovacs M, Krol R, Baar CL, Kennedy JL . Intergenerational CAG repeat expansion at ERDA1 in a family with childhood-onset depression, schizoaffective disorder, and recurrent major depression Am J Med Genet 1999 88: 79–82

Verheyen GR, Del-Favero J, Mendlewicz J, Lindblad K, Vanzand K, Aalbregtse M et al. Molecular interpretation of expanded RED products in bipolar disorders by CAG/CTG repeats located at chromosome 17q and 18q Neurobiol Dis 1999 6: 424–432

Crowe RR . Candidates genes in psychiatry: an epidemiological perspective Am J Med Genet 1993 48: 74–77

Gastier JM, Brody T, Pulido JC, Businga T, Sunden S, Hu X et al. Development of a screening set for new (CAG/CTG)n dynamic mutations Genomics 1996 32: 75–85
Acknowledgements
We thank Dr Naylora Troster, Dr Valéria Lauriano, Dr Guilherme Messas, Dr Silvia Arcurie and Dr Ana Maria Almeida for their participation in the sample collection. This study was supported by Fundação de Amparo a Pesquisa do Estado de São Paulo, FAPESP (97/12454-1 and 97/11083-0). The family collection was supported by the European Union (C11*-CT92–0010).
About this article
Cite this article
Meira-Lima, I., Zhao, J., Sham, P. et al. Association and linkage studies between bipolar affective disorder and the polymorphic CAG/CTG repeat loci ERDA1, SEF2-1B, MAB21L and KCNN3. Mol Psychiatry 6, 565–569 (2001). https://doi.org/10.1038/sj.mp.4000898
Received:

Revised:

Accepted:

Published:

Issue Date:

DOI: https://doi.org/10.1038/sj.mp.4000898
Keywords
trinucleotide repeats

psychosis

genetic

manic-depressive illness
This article is cited by
Cellular and Molecular Life Sciences (2008)

Ian Jones
Katherine Gordon-Smith
Nick Craddock

Current Psychiatry Reports (2002)