Abstract
Somatic symptoms and aversion of opiate withdrawal, regulated by noradrenergic signaling, were attenuated in mice with a CNS-wide conditional ablation of neurotrophin-3. This occurred in conjunction with altered cAMP-mediated excitation and reduced upregulation of tyrosine hydroxylase in A6 (locus coeruleus) without loss of neurons. Transgene-derived NT-3 expressed by noradrenergic neurons of conditional mutants restored opiate withdrawal symptoms. Endogenous NT-3 expression, strikingly absent in noradrenergic neurons of postnatal and adult brain, is present in afferent sources of the dorsal medulla and is upregulated after chronic morphine exposure in noradrenergic projection areas of the ventral forebrain. NT-3 expressed by non-catecholaminergic neurons may modulate opiate withdrawal and noradrenergic signalling.
Access options
Subscribe to this journal
Receive 12 print issues and online access
$259.00 per year
only $21.58 per issue
Rent or buy this article
Get just this article for as long as you need it
$39.95
Prices may be subject to local taxes which are calculated during checkout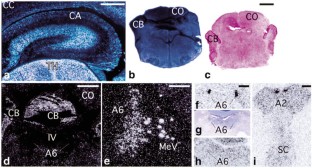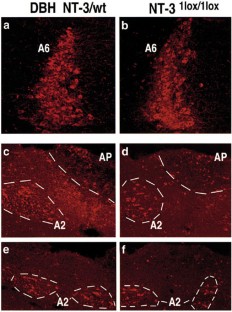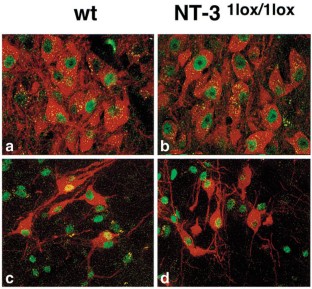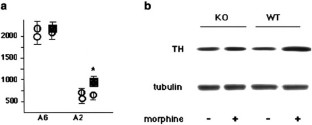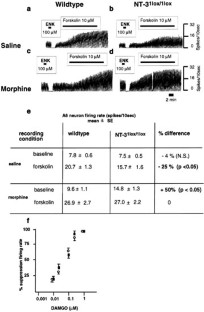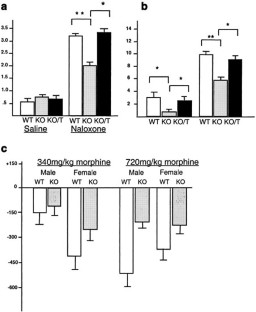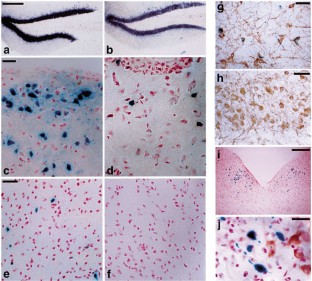 References
Koob GF, Le Moal M . Drug abuse: hedonic homeostatic dysregulation Science 1997 278: 52–58

Maldonado R . Participation of noradrenergic pathways in the expression of opiate withdrawal: biochemical and pharmacological evidence Neurosci Biobehav Rev 1997 21: 91–104

Delfs JM, Zhu Y, Druhan JP, Aston-Jones G . Noradrenaline in the ventral forebrain is critical for opiate withdrawal-induced aversion Nature 2000 403: 430–434

Nestler EJ, Aghajanian GK . Molecular and cellular basis of addiction Science 1997 278: 58–63

Numan S, Lane-Lad SB, Zhang L, Lundgren KH, Russell DS, Seroog KB et al. Differential regulation of neurotrophin and trk receptor mRNA in catecholaminergic nuclei during chronic opiate treatment and withdrawal J Neurosci 1998 18: 10700–10708

Sandell JH, Baker LS Jr, Davidov T . The distribution of neurotrophin receptor trkC like immunoreactive fibers and varicosities in the rhesus moneky brain Neuroscience 1998 86: 1181–1194

King VR, Michael GJ, Joshi RK, Priestley JV . trkA, trkB and trkC messenger RNA expression by bulbospinal cells of the rat Neuroscience 1999 92: 935–944

Davies AM, Minichiello L, Klein R . Developmental changes in NT-3 signalling via TrkA and TrkB in embryonic neurons EMBO J 1995 14: 4482–4489

Tessarollo L, Tsoulfas P, Donovan MJ, Palko ME, Blair-Flynn J, Hempstead BL et al. Targeted deletion of all isoforms of the trkC gene suggests the use of alternate receptors by its ligand neurotrophin-3 in neuronal development and implicates trkC in normal cardiogenesis Proc Natl Acad Sci USA 1997 94: 14776–14781

Huang EJ, Wilkinson GA, Farinas I, Backus C, Zang K, Wongl SL et al. Expression of Trk receptors in the developing mouse trigeminal ganglion: in vivo evidence for NT-3 activation of trk A and trkB in addition to trkC Development 1999 126: 2191–21203

Farinas I, Jones KR, Backus C, Wang XY, Reichardt LF . Severe sensory and sympathetic deficits in mice lacking neurotrophin-3 Nature 1994 369: 658–661

Ernfors P, Lee K-F, Kucera J, Jaenisch R . Lack of neurotrophin-3 leads to deficiencies in the peripheral nervous system and loss of limb proprioceptive afferents Cell 1994 77: 503–512

Donovan MJ, Hahn R, Tessarollo L, Hempstead BL . Identification of an essential non-neuronal function of Neurotrophin-3 in mammalian cardiac development Nat Genet 1996 14: 210–213

Bates B, Rios M, Trumpp A, Chen C, Fan G, Bishop JM et al. Neurotrophin-3 is required for proper cerebellar development Nat Neurosci 1999 2: 115–117

Soriano P . Generalized lacZ expression with the ROSA26 Cre reporter strain Nat Genet 1999 21: 70–71

Arenas E, Persson H . Neurotrophin-3 prevents the death of adult central noradrenergic neurons in vivo Nature 1994 376: 368–371

Kalia M, Fuxe K, Goldstein M . Rat medulla oblongata. II. Dopaminergic, noradrenergic (A1 and A2) and adrenergic neurons, nerve fibers, and presumptive terminal processes J Comp Neurol 1985 233: 308–332

Boundy VA, Gould SJ, Messer CJ, Chen J, Son JH, Joh TH et al. Regulation of tyrosine hydroxylase promoter activity by chronic morphine in TH9.0-LacZ transgenic mice J Neurosci 1998 18: 9989–9995

Tinti C, Conti B, Cubells JF, Kim KS, Baker H, Joh TH . Inducible cAMP early repressor can modulate tyrosine hydroxylase gene expression after stimulation of camp synthesis J Biol Chem 1996 271: 25375–25381

Mercer EH, Hoyle GW, Kapur RP, Brinster RL, Palmiter RD . The dopamine beta hydroxylase gene promoter directs expression of E. coli lacZ to sympathetic and other neurons in adult transgenic mice Neuron 1991 7: 703–716

Ginty DD, Bonni A, Greenberg ME . Nerve growth factor activates a Ras-dependent protein kinase that stimulates c-fos transcription via phosphorylation of CREB Cell 1994 77: 713–725

Maldonado R, Blendy JA, Tzavara E, Gass P, Roques BP, Hanoune J et al. Reduction of morphine abstinence in mice with a mutation in the gene encoding CREB Science 1996 273: 657–659

Lane-Ladd SB, Pineda J, Boundy V, Pfeuffer T, Krupinski J, Aghajanian GK et al. CREB in the locus coeruleus: biochemical, physiological, and behavioral evidence for a role in opiate dependence J Neurosci 1997 17: 7890–7901

Hayward MD, Duman RS, Nestler EJ . Induction of the c-fos proto oncogene during opiate withdrawal in the locus coeruleus and other regions of rat brain Brain Res 1990 525: 256–266

Kogan JH, Nestler EJ, Aghajanian GK . Elevated basal firing rates and enhanced responses to 8-Br-cAMP in locus coeruleus neurons in brain slices from opiate-dependent rats Eur J Pharmacol 1992 211: 47–53

Zhang J, Ferguson SS, Barak LS, Boddulir SR, Laporte SA, Law PY et al. Role for G protein-coupled receptor kinase in agonist-specific regulation of responsiveness Proc Natl Acad Sci USA 1998 95: 7157–7162

Vigers AJ, Baquet ZC, Jones KR . Expression of neurotrophin-3 in the mouse forebrain: insight from a targeted lacZ reporter J Comp Neurol 2000 416: 398–415

Gehlert DR, Schober DA, Gackenheimer SL . Comparison of (R)–[3H] tomoxetine and (R/S)–[3H] nisoxetine binding in rat brain J Neurochem 1995 64: 2792–2800

Sklair-Tavron L, Nestler EJ . Opposing effects of morphine and the neurotrophins, NT-3, NT-4 and BDNF, on locus coeruleus neurons in vitro Brain Res 1995 702: 117–125

Christie MJ, Williams JT, Osborne PB, Bellchambers CE . Where is the locus in opioid withdrawal? Trends Pharmacol Sci 1997 18: 134–140

Caille S, Espejo EF, Reneric JP, Cador M, Koob GF, Stinus L . Total neurochemical lesion of noradrenergic neurons of the locus coeruleus does not alter either naloxone-precipitated or spontaneous opiate withdrawal nor does it influence ability of clonidine to reverse opiate withdrawal J Pharmacol Exp Ther 1999 290: 881–892

Smith MA, Makino S, Altemus M, Michelson D, Hong SK, Kvetnansky R et al. Stress and antidepressants differentially regulate neurotrophin 3 mRNA expression in the locus coeruleus Proc Natl Acad Sci USA 1995 92: 8788–8792

DiStefano PS, Friedman B, Radziejewski C, Alexander C, Boland P, Schick CM et al. The neurotrophins BDNF, NT-3 and NGF display distinct patterns of retrograde axonal transport in peripheral and central neurons Neuron 1992 8: 983–993

Altar CA, DiStefano PS . Neurotrophin trafficking by anterograde transport Trends Neurosci 1998 21: 433–437

Conner JM, Lauterborn JC, Gall CM . Anterograde transport of neurotrophin proteins in the CNS—a reassessment of the neurotrophic hypothesis Rev Neurosci 1998 9: 91–103

Maisonpierre PC, Belluscio L, Friedman B, Alderson RF, Wiegand SJ, Furth ME et al. NT-3, BDNF, and NGF in the developing rat nervous system: parallel as well as reciprocal patterns of expression Neuron 1990 5: 501–509

Lauterborn JC, Isackson PJ, Gall CM . Cellular localization of NGF and NT-3 mRNAs in postnatal rat forebrain Mol Cell Neurosci 1994 5: 46–62

Acheson A, Lindsay RM . Non-target derived roles of the neurotrophins Philos Trans R Soc Lond Biol Sci 1996 351: 417–422

Drolet G, Van Bockstaele EJ, Aston-Jones G . Robust enkephalin innervation of the locus coeruleus from the rostral medulla J Neurosci 1992 12: 3162–3174

Van Bockstaele EJ, Peoples J, Telegan P . Efferent projections of the nucleus of the solitary tract to peri-locus coeruleus dendrites in rat brain: evidence for a monosynaptic pathway J Comp Neurol 1999 412: 410–428

Duncan GE, Knapp DJ, Breese GR . Neuroanatomical characterization of Fos induction in rat behavioral models of anxiety Brain Res 1996 713: 79–81

Desmedt A, Garcia R, Jaffard R . Vasopressin in the lateral septum promotes elemental conditoning to the detriment of contextual fear conditioning in mice Eur J Neurosci 1999 11: 3913–3921

DiCicco-Bloom E, Friedman WJ, Black IB . NT-3 stimulates sympathetic neuroblast proliferation by promoting precursor survival Neuron 1993 11: 1101–1111

Albers KM, Perrone TM, Goodness TP, Jones ME, Green MA, Davis BM . Cutaneous overexpression of NT-3 increases sensory and sympathetic neuron number and enhances touch dome and hair follicle innervation J Cell Biol 1996 134: 487–497

Francis N, Farinas I, Brennan C, Rivas-Plata K, Backus C, Reichardt L et al. NT-3, like NGF, is required for survival of sympathetic neurons, but not their precursors Dev Biol 1999 210: 411–427

Moller JC, Kruttgen A, Heymach JV Jr, Ghori N, Shooter EM . Subcellular localization of epitope-tagged neurotrophins in neuroendocrine cells J Neurosci Res 1998 51: 463–472

Trumpp A, Depew MJ, Rubenstein JL, Bishop JM, Martin GR . Cre-mediated gene inactivation demonstrates that FGF8 is required for cell survival and patterning of the first branchial arch Genes Dev 1999 13: 3136–3148

Taylor JR, Elsworth JD, Garcia EJ, Grant SJ, Roth RH, Redmond DE Jr . Clonidine infusions into the locus coeruleus attenuate behavioral and neurochemical changes associated with naloxone-precipitated withdrawal Psychopharmacology 1988 96: 121–134

Punch LJ, Self DW, Nestler EJ, Taylor JR . Opposite modulation of opiate withdrawal behaviors on microinfusion of a protein kinase A inhibitor versus activator into the locus coeruleus or periaqueductal gray J Neurosci 1997 17: 8520–8527

Huerta PT, Sun LD, Wilson MA, Tonegawa ST . Formation of temporal memory requires NMDA receptors within CAI pyramidal neurons Neuron 2000 25: 473–480
Acknowledgements
The authors thank Ruth Curry, Valyphone Phantharagnsy, Cathy Steffen, Victoria Stewart and Jeannie Reis for technical assistance, Drs Maribel Rios, Christine Konradi and William Carlezon Jr for experimental advice. This work was supported by NARSAD (National Alliance for Research on Schizophrenia and Depression), by the National Institute of Drug Abuse (NIDA) grant 1-K08-DA00479 to SA, by NCI/NIH grant 5-R35-CA44339 to RJ and by the Fidelity Foundation.
About this article
Cite this article
Akbarian, S., Bates, B., Liu, RJ. et al. Neurotrophin-3 modulates noradrenergic neuron function and opiate withdrawal. Mol Psychiatry 6, 593–604 (2001). https://doi.org/10.1038/sj.mp.4000897
Received:

Revised:

Accepted:

Published:

Issue Date:

DOI: https://doi.org/10.1038/sj.mp.4000897
Keywords
locus coeruleus

morphine

addiction

norepinephrine

cre recombinase

pons

medulla
This article is cited by
Shiva Nasiraei-Moghadam
Mohammad Amin Sherafat
Leila Dargahi

Journal of Molecular Neuroscience (2013)

The Pharmacogenomics Journal (2012)

Christie D. Fowler
Paul J. Kenny

Human Genetics (2012)