Abstract
We show here that clozapine, a beneficial antipsychotic, down-regulates the expression of the glutamate transporter GLT-1 in the rat cerebral cortex, thereby reducing glutamate transport and raising extracellular glutamate levels. Clozapine treatment (25–35 mg kg−1 day−1 orally) reduced GLT-1 immunoreactivity in several brain regions after 3 weeks; this effect was most prominent after 9 weeks and most evident in the frontal cortex. GLT-1 protein levels were reduced in the cerebral cortex of treated rats compared with controls and were more severely affected in the anterior (71.9 ± 4.5%) than in the posterior (53.2 ± 15.4%) cortex. L-[3H]-glutamate uptake in Xenopus laevis oocytes injected with mRNA extracted from the anterior cerebral cortex of rats treated for 9 weeks was remarkably reduced (to 30.6 ± 8.6%) as compared to controls. In addition, electrophysiological recordings from oocytes following application of glutamate revealed a strong reduction in glutamate uptake currents (46.3 ± 10.2%) as compared to controls. Finally, clozapine treatment led to increases in both the mean basal (8.1 ± 0.7 μM) and the KCl-evoked (28.7 ± 7.7 μM) output of glutamate that were 3.1 and 3.5, respectively, higher than in control rats. These findings indicate that clozapine may potentiate glutamatergic synaptic transmission by regulating glutamate transport.
This is a preview of subscription content
Access options
Subscribe to Journal
Get full journal access for 1 year
$119.00
only $9.92 per issue
All prices are NET prices.
VAT will be added later in the checkout.
Tax calculation will be finalised during checkout.
Buy article
Get time limited or full article access on ReadCube.
$32.00
All prices are NET prices.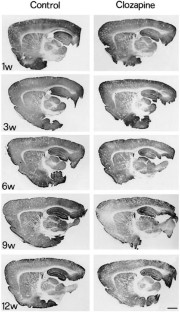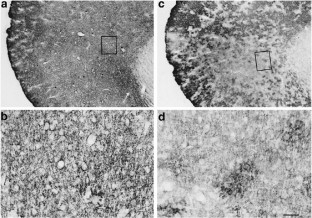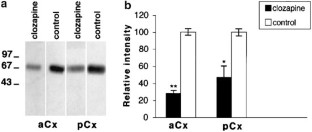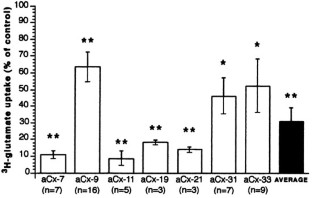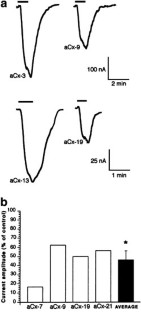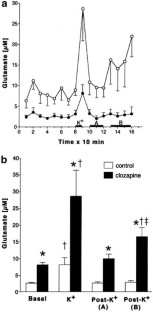 References
Olney JW, Farber NB . Glutamate receptor dysfunction and schizophrenia Arch Gen Psychiatry 1995 52: 998–1007

Tsai G, Passani L, Slusher BS, Carter R, Baer L, Kleinmann JE et al. Abnormal excitatory neurotransmitter metabolism in schizophrenic brains Arch Gen Psychiatry 1995 52: 829–836

Akbarian S, Sucher NJ, Bradley D, Tafazzoli A, Trinh D, Hetrick WP et al. Selective alterations in gene expression for NMDA receptor subunits in prefrontal cortex of schizophrenics J Neurosci 1996 16: 19–30

Benes FM . The role of glutamate in the pathophysiology of schizophrenia. In: Conti F, Hicks TP (eds) Excitatory Amino Acids and the Cerebral Cortex Cambridge: MIT 1996 pp ;361–374

Carlsson A, Hansson LO, Waters N, Carlsson ML . A glutamatergic deficiency model of schizophrenia Br J Psychiatry 1999 174(37S): 2–6

Mohn AR, Gainetdinov RR, Caron MG, Koller BH . Mice with reduced NMDA receptor expression display behaviors related to schizophrenia Cell 1999 98: 427–436

Tamminga C . Glutamatergic aspects of schizophrenia Br J Psychiatry 1999 174(37S): 12–15

Meador-Woodruff JH, Healy DJ . Glutamate receptor expression in schizophrenic brain Brain Res Rev 2000 31: 288–294

Javitt DC, Zukin SR . Recent advances in the phencyclidine model of schizophrenia Am J Psychiatry 1991 148: 1301–1308

Conti F, Weinberg RJ . Shaping excitation at glutamatergic synapses Trends Neurosci 1999 22: 451–458

Rothstein JD, Dykes-Hoberg M, Pardo CA, Bristol LA, Jin L, Kuncl RW et al. Knockout of glutamate transporters reveals a major role for astroglial transport in excitotoxicity and clearance of glutamate Neuron 1996 16: 675–686

Tanaka K, Watase K, Manabe T, Yamada K, Watanabe M, Takahashi K et al. Epilepsy and exacerbation of brain injury in mice lacking the glutamate transporter GLT-1 Science 1997 276: 1699–1702

Fitzgerald LW, Deutch AY, Gasic G, Heinemann SF, Nestler EJ . Regulation of cortical and subcortical glutamate receptor subunit expression by antipsychotic drugs J Neurosci 1995 15: 2453–2461

Duncan GE, Zorn S, Lieberman JA . Mechanisms of typical and atypical antipsychotic drug action in relation to dopamine and NMDA receptor hypofunction hypotheses of schizophrenia Mol Psychiatry 1999 4: 418–428

Wahlbeck K, Cheine M, Essali A, Adams C . Evidence of clozapine's effectiveness in schizophrenia: a systematic review and meta-analysis of randomized trials Am J Psychiatry 1999 156: 990–999

See RE, Ellison G . Comparison of chronic administration of haloperidol and the atypical neuroleptics, clozapine and raclopride, in an animal model of tardive dyskinesia Eur J Pharmacol 1990 181: 175–186

Rupniak NMJ, Mann S, Hall MD, Fleminger S, Kilpatrick G, Jenner P et al. Differential effects of continuous administration for 1 year of haloperidol or sulpiride on striatal dopamine function Psychopharmacology 1984 84: 503–511

Titeler M, Seeman P . Radioligand labeling of pre- and postsynaptic dopamine receptors Adv Biochem Psychopharmacol 1980 24: 159–165

Wilk S, Stanley M . Clozapine concentrations in brain regions: relationship to dopamine metabolite increase Eur J Pharmacol 1978 51: 101–107

Baldessarini RJ, Centorrino F, Flood JG, Volpicelli SA, Huston-Lyons D, Cohen BM . Tissue concentrations of clozapine and its metabolities in the rat Neuropsychopharmacology 1993 9: 117–124

Gao XM, Hashimoto T, Cooper TB, Tamminga CA . The dose-response characteristics of rat oral dyskinesias with chronic haloperidol or clozapine administration J Neural Transm 1997 104: 97–104

Fischer V, Schmitt U, Weigmann H, Von Keller B, Reuss S, Hiemke C et al. Chronical haloperidol and clozapine treatment in rats: differential RNA display analysis, behavioral and serum level determination Prog Neuropsychopharmacol Biol Psychiatry 1998 22: 1129–1139

Paxinos G, Watson C . The Rat Brain in Stereotaxic Coordinates Academic Press: New York 1982

Conti F, De Biasi S, Minelli A, Rothstein JD, Melone M . EAAC1, a high-affinity glutamate transporter, is localized to neurons and astrocytes in the cerebral cortex Cereb Cortex 1998 8: 108–116

Rothstein JD, Martin L, Levey AI, Dykes-Hoberg M, Jin L, Wu D et al. Localization of neuronal and glial glutamate transporters Neuron 1994 13: 713–725

Minelli A, DeBiasi S, Brecha NC, Vitellaro Zuccarello L, Conti F . GAT-3, a high affinity GABA plasma membrane transporter, is localized exclusively to astrocytic processes in the cerebral cortex J Neurosci 1996 16: 6255–6264

Chomsczynski P, Sacchi N . Single-step method of RNA isolation by acid guanidinium thiocyanate-phenol-chloroform extraction Anal Biochem 1987 162: 156–159

Matute C, Miledi R . Neurotransmitter receptors and voltage-dependent Ca2+ channels encoded by mRNA from the adult corpus callosum Proc Natl Acad Sci USA 1993 90: 3270–3274

Domercq M, Sánchez-Gómez MV, Areso P, Matute C . Expression of glutamate transporters in rat optic nerve oligodendrocytes Eur J Neurosci 1999 11: 2226–2236

Pellegrini-Giampietro DE, Peruginelli F, Meli E, Cozzi A, Albani-Torregrossa S, Pellicciari R et al. Protection with metabotropic glutamate 1 receptor antagonists in models of ischemic neuronal death: time-course and mechanisms Neuropharmacology 1999 38: 1607–1619

Pines G, Danbolt NC, Bjoras M, Zhang Y, Bendaham A, Eide L et al. Cloning and expression of a rat brain L-glutamate transporter Nature 1992 360: 464–467

Meltzer HY . Pre-clinical pharmacology of atypical antipsychotic drugs: a selective review Br J Psychiatry 1996 168 (Suppl 29): 23–31

Leveque J-C, Macias W, Rajadhyaksha A, Carlson RR, Barczak A, Kang S et al. Intracellular modulation of NMDA receptor function by antipsychotic drugs J Neurosci 2000 20: 4011–4020

Baldessarini RJ, Frankenburg FR . Clozapine. A novel antipsychotic agent New Engl J Med 1991 324: 746–754

Allison DB, Mentore JL, Heo M, Chandler LP, Cappelleri JC, Infante MC et al. Antipsychotic-induced weight gain: a comprehensive research synthesis Am J Psychiatry 1999 156: 1686–1696

Bustillo JR, Buchanan RW, Irish D, Breier A . Differential effect of clozapine on weight: a controlled study Am J Psychiatry 1996 153: 817–819

Bromel T, Blum WF, Ziegler A, Schulz E, Bender M, Fleischhaker C et al. Serum leptin levels increase rapidly after initiation of clozapine therapy Mol Psychiatry 1998 3: 76–80

Schneider JS, Wade T, Lidsky TI . Chronic neuroleptic treatment alters expression of glial glutamate transporter GLT-1 mRNA in the striatum NeuroReport 1998 9: 133–136

Daly DA, Moghaddam B . Actions of clozapine and haloperidol on the extracellular levels of excitatory amino acids in the prefrontal cortex and striatum of conscious rats Neurosci Lett 1993 152: 61–64

Kuroki T, Meltzer HY, Ichikawa J . Effects of antipsychotic drugs on extracellular dopamine levels in rate medial prefrontal cortex and nucleus accumbens J Pharmacol Exp Ther 1999 288: 774–781

Youngren KD, Inglis FM, Pivirotto PJ, Jedema HP, Bradberry CW, Goldman-Rakic PS et al. Clozapine preferentially increases dopamine release in the rhesus monkey prefrontal cortex compared with the caudate nucleus Neuropsychopharmacology 1999 20: 403–412

Bourdelais AJ, Deutch AY . The effects of clozapine on extracellular GABA levels in the prefrontal cortex of the rat: an in vivo microdialysis study Cereb Cortex 1994 4: 69–77

Robertson GS, Fibiger HC . Neuroleptics increase c-fos expression in the forebrain: contrasting effects of haloperidol and clozapine Neuroscience 1992 46: 315–328

Deutch AY, Duman RS . The effects of antipsychotic drugs on Fos protein expression in the prefrontal cortex: cellular localization and pharmacological characterization Neuroscience 1996 70: 377–389

Merchant KM, Figur LM, Evans DL . Induction of c-fos mRNA in rat medial prefrontal cortex by antipsychotic drugs: role of dopamine D2 and D3 receptors Cereb Cortex 1996 6: 561–570

Lidow MS, Williams GV, Goldman-Rakic PS . The cerebral cortex: a case for a common site of action on antipsychotics Trends Pharmacol Sci 1998 19: 136–140

Spurney CF, Baca SM, Murray AM, Jaskiw GE, Kleinman JE, Hyde TM . Differential effects of haloperidol and clozapine on ionotropic glutamate receptors in rats Synapse 1999 34: 266–276

Moghaddam B, Adams BW . Reversal of phencyclidine effects by a group II metabotropic glutamate receptor agonist in rats Science 1998 281: 1349–1352
Acknowledgements
This paper is dedicated to GianFranco Marchesi (1940–1998), Professor of Psychiatry at the University of Ancona, who stimulated this study. This work was supported by a Theodore and Vana Stanley Foundation Research Award (to FC) and by grants from Telethon (962/97 to FC) and University del Pais Vasco (CM). We are grateful to Marco Catalano, Aldo Rustioni, and Giulio Tononi for critical comments on an earlier version of this paper and Andrea Minelli for helpful discussions.
About this article
Cite this article
Melone, M., Vitellaro-Zuccarello, L., Vallejo-Illarramendi, A. et al. The expression of glutamate transporter GLT-1 in the rat cerebral cortex is down-regulated by the antipsychotic drug clozapine. Mol Psychiatry 6, 380–386 (2001). https://doi.org/10.1038/sj.mp.4000880
Received:

Revised:

Accepted:

Published:

Issue Date:

DOI: https://doi.org/10.1038/sj.mp.4000880
Keywords
glutamate

glutamate uptake

neuroleptics

transporter regulation

synaptic transmission

schizophrenia