Abstract
Advances in controlling immunological rejection have raised the possibility that pigs could be used as a source of organs and tissues for transplantation into humans1,2. However, the report that one pig kidney cell line, PK15, produces Ctype retroviruses capable of infecting human cells3 has reinforced fears over the potential risks of viral infections associated with xenotransplantation4,5. Further support for these fears comes from the discovery of two different classes of porcine endogenous proviruses (PERVs), capable of infecting human cells, in PK15 cells as well as in a variety of normal porcine tissues.
Access options
Subscribe to Journal
Get full journal access for 1 year
$199.00
only $3.90 per issue
All prices are NET prices.
VAT will be added later in the checkout.
Rent or Buy article
Get time limited or full article access on ReadCube.
from$8.99
All prices are NET prices.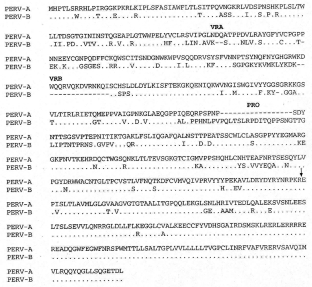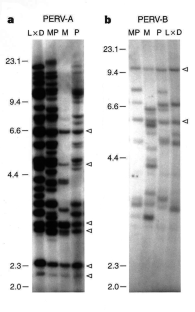 References
1

Cozzi, E. & White, D. J. G. Nature Med. 1, 964–966 (1995).

2

Sharma, A. et al. Proc. Natl Acad. Sci. USA 93, 7190–7195 (1996).

3

Patience, C., Takeuchi, Y. & Weiss, R. A. Nature Med. 3, 282–286 (1997).

4

Stoye, J. P. & Coffin, J. M. Nature Med. 1, 1100 (1995).

5

Advisory Group on the Ethics of Xenotransplantation Animal Tissues into Humans (HMSO, Norwich, 1997).

6

Coffin, J. M. in Fields Virology 3rd edn (eds Fields, B. N. et al. .) 1767-1847 (Lippincott-Raven, Philadelphia, 1996).

7

Frohman, M. A. & Martin, G. R. Technique 1, 165–170 (1989).

8

Battini, J. L., Danos, O. & Heard, J. M. J. Virol. 69, 713–719 (1995).

9

Frankel, W. N., Stoye, J. P., Taylor, B. A. & Coffin, J. M. Genetics 124, 221–236 (1990).

10

Stoye, J. P., Frankel, W. N. & Coffin, J. M. Technique 3, 123–128 (1991).
About this article
Cite this article
Le Tissier, P., Stoye, J., Takeuchi, Y. et al. Two sets of human-tropic pig retrovirus. Nature 389, 681–682 (1997). https://doi.org/10.1038/39489
Comments
By submitting a comment you agree to abide by our Terms and Community Guidelines. If you find something abusive or that does not comply with our terms or guidelines please flag it as inappropriate.