Abstract
It is well known that testosterone enhances sexual interest leading to an increased frequency of sexual acts and an increase in the frequency of sleep-related erections. However, it has little effect on fantasy- or visually induced erections. Exact contribution to erection from testosterone in men remains unclear. Animal studies have well demonstrated that testosterone plays critical physiological (activity of nitric oxide synthases and phosphodiesterases), biochemical (through an endothelial-independent pathway and adrenergic tonicity) and structural (change of fibroelasticity and hollow cell accumulation) roles in erectile function. The supplementation of testosterone to castrated animals can restore erectile function. Clinically, reports of patients with erectile dysfunction (ED) combined with hypogonadism who receive testosterone therapy have inconsistent results. However, testosterone may ameliorate the expression of the phosphodiesterase-5 (PDE5) inhibitor, and the use of testosterone in conjunction with the PDE5 inhibitor revealed convincing results. Because of potential risks in clinical use, testosterone therapy should be individualized, carefully considered and closely monitored, especially, in patients with possible occult prostate cancer, and large benign prostatic hyperplasia. Lower urinary tract symptoms might be worsened by this treatment, since the prostate is an androgen-dependent tissue.
Access options
Subscribe to Journal
Get full journal access for 1 year
$119.00
only $14.88 per issue
All prices are NET prices.
VAT will be added later in the checkout.
Tax calculation will be finalised during checkout.
Buy article
Get time limited or full article access on ReadCube.
$32.00
All prices are NET prices.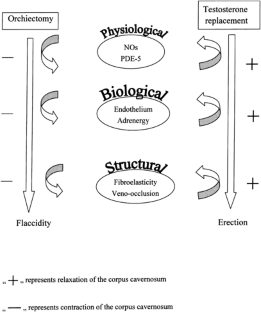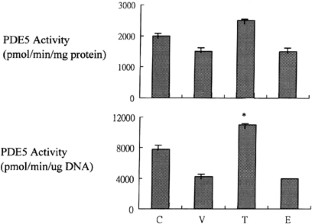 References
Buvat J, Lemaire A . Endocrine screening in 1022 men with erectile dysfunction: clinical significance and cost-effective strategy. J Urol 1997; 158: 1764–1767.

Feldman HA, Goldstein I, Hatzichristou DG, Krane RJ, McKinlay JB . Impotence and its medical and psychological correlates: results of the Massachusetts Male Aging Study. J Urol 1994; 151: 54–61.

Mulhall JP, Valenzuela R, Aviv N, Parker M . Effect of testosterone supplementation on sexual function in hypogonadal men with erectile dysfunction. Urology 2004; 63: 348–352.

Seftel AD, Mark RJ, Secrest AR, Smith TM . Restorative increases in serum testosterone levels are significantly correlated to improvements in sexual functioning. J Androl 2004; 25: 963–972.

Aversa A, Isidori AM, De Martino MU, Caprio M, Fabbrini E, Rochietti-March M et al. Androgens and penile erection: evidence for a direct relationship between free testosterone and cavernous vasodilation in men with erectile dysfunction. Clin Endocrinol (Oxf) 2000; 53: 517–522.

Hwang TIS, Chen HE, Tsai TF, Lin YC . Combined use of androgen and sildenafil for hypogonadal patients unresponsive to sildenafil alone. Int J Impot Res 2006; 18: 400–404.

Chiang HS, Hwang TIS, Hsui YS, Lin YC, Chen HE, Chen GC et al. Transdermal testosterone gel increases serum testosterone levels in hypogonadal men in Taiwan with improvements is sexual function. Int J Impot Res 2007; 19: 411–417.

Araujo AB, O'Donnell AB, Brambilla DJ, Simpson WB, Longcope C, Matsumoto AM et al. Prevalence and incidence of androgen deficiency in middle-aged and older men: estimates from the Massachusetts Male Aging Study. J Clin Endocrinol Metab 2004; 89: 5920–5926.

Morales A, Lunenfeld B . Investigation, treatment and monitoring of late-onset hypogonadism in males. Official recommendations of ISSAM. International society for the study of the aging male. Aging Male 2002; 5: 151–158.

Lin YC, Hwang TIS, Chiang HS, Yang CR, Wu HC, Wu TL et al. Correlations of androgen deficiency with clinical symptoms in Taiwanese males. Int J Impot Res 2006; 18: 343–347.

Morley JE, Charlton E, Patrick P, Kaiser FE, Cadeau P, McCready D et al. Validation of a screening questionnaire for androgen deficiency in aging males. Metabolism 2000; 49: 1239–1242.

Smith KW, Feldman HA, McKinlay JB . Construction and field validation of a self-administered screener for testosterone deficiency (hypogonadism) in ageing men. Clin Endocrinol (Oxf) 2000; 53: 703–711.

Christ-Crain M, Mueller B, Gasser TC, Kraenzlin M, Trummler M, Huber P et al. Is there a clinical relevance of partial deficiency of the aging male? J Urol 2004; 172: 624–627.

Chen KK, Chiang HS, Jiann BP, Lin JSN, Liu WJ, Hsieh JT et al. Prevalence of erectile dysfunction and impacts on sexual activity and self-reported intercourse satisfaction in men older than 40 years in Taiwan. Int J Impot Res 2004; 16: 249–255.

Donatucci CF, Lue TF . Erectile dysfunction in men under 40: etiology and treatment choice. Int J Impot Res 1993; 5: 97–103.

Hatzichristou D, Hatzimouratidis K, Bekas M, Apostolidis A, Tzortzis V, Yannakoyorgos K . Diagnostic steps in the evaluation of patients with erectile dysfunction. J Urol 2002; 168: 618–620.

Rhoden EL, Teloken C, Sogari PR, Souto CAV . The relationship of serum testosterone to erectile function in normal aging men. J Urol 2002; 167: 1745–1748.

Traish AM, Park K, Dhir V, Kim NN, Moreland RB, Goldstein I . Effects of castration and androgen replacement on erectile function in a rabbit model. Endocrinology 1999; 140: 1861–1868.

Traish AM, Toselli P, Jeong SJ, Kim NN . Adipocyte accumulation in penile corpus cavernosum of the orchidectomized rabbit: a potential mechanism for veno-occlusive dysfunction in androgen deficiency. J Androl 2005; 26: 242–248.

Morelli A, Filippi S, Mancina R, Luconi M, Vignozzi L, Marini M et al. Androgens regulate phosphodiesterase type 5 expression and functional activity in corpora cavernosa. Endocrinology 2004; 145: 2253–2263.

Rajfer J, Aronson WJ, Bush PA, Dorey FJ, Ignarro LJ . Nitric oxide as a mediator of relaxation of the corpus cavernosum in response to nonadrenergic, noncholinergic neurotransmission. N Engl J Med 1992; 326: 90–94.

Mills TM, Lewis RW, Stopper VS . Androgenic maintenance of inflow and veno-occlusion during erection in the rat. Biol Reprod 1998; 59: 1413–1418.

Scragg JL, Jones RD, Channer KS, Jones TH, Peers G . Testosterone is a potent inhibitor of 1-type Ca2+ channels. Biochem Biophys Res Commun 2004; 318: 503–506.

Reilly CM, Stopper VS, Mills TM . Androgens modulate the alpha-adrenergic responsiveness of vascular smooth muscle in the corpus cavernosum. J Androl 1997; 18: 26–31.

Rogers RS, Graziottin TM, Lin CM, Kan YW, Lue T . Intracavernosal vascular endothelial growth factor (VEGF) injection and adeno-associated virus-mediated VEGF gene therapy prevent and reverse venogenic erectile dysfunction in rats. Int J Impot Res 2003; 15: 26–27.

Steidle C, Schwartz S, Jacoby K, Sebree T, Smith T, Bachand R . AA2500 testosterone gel normalizes androgen levels in aging males with improvements in body composition and sexual function. J Clin Endocrinol Metab 2003; 88: 2673–2681.

Zitzmann M, Faber S, Nieschlag E . Association of specific symptoms and metabolic risks with serum testosterone in older men. J Clin Endocrinol Metabol 2006; 91: 4335–4343.

Becker AJ, Uckert S, Stief CG, Truss MC, Machtens S, Scheller F et al. Cavernous and systemic testosterone levels in different phases of human penile erection. Urology 2000; 56: 125–129.

Shabsigh R, Kaufman JM, Steidle C, Padma-Nathan H . Randomized study of testosterone gel as adjunctive therapy to sildenafil in hypogonadal men with erectile dysfunction who do not respond to sildenafil alone. J Urol 2004; 172: 658–663.

Wang C, Swerdloff RS, Iranmanesh A, Dobs A, Snyder PJ, Cunningham G . Transdermal testosterone gel improves sexual function mood, muscle strength, and body composition parameters in hypogonadal men. Testosterone Gel Study Group. J Clin Endocrinol Metab 2000; 85: 2839–2853.

Rhoden EL, Morgentaler A . Testosterone replacement therapy in hypogonadal men at high risk for prostate cancer: results of 1 year of treatment in men with prostatic intraepithelial neoplasia. J Urol 2003; 170(6 Part 1): 2348–2351.

Morales A, Johnston B, Heaton JW, Clark A . Oral androgens in the treatment of hypogonadal impotent men. J Urol 1994; 152: 1115–1118.

Amory JK, Watts NB, Easley KA, Sutton PR, Anawalt BD, Matsumoto AM et al. Exogenous testosterone or testosterone with finasteride increases bone mineral density in older men with low serum testosterone. J Clin Endocrinol Metab 2004; 89: 503–510.

Whitsel EA, Boyko EJ, Matsumoto AM, Anawalt BD, Siscovick DS . Intramuscular testosterone esters and plasma lipids in hypogonadal men: a meta-analysis. Am J Med 2001; 111: 261–269.
About this article
Cite this article
Hwang, T., Lin, YC. The relationship between hypogonadism and erectile dysfunction. Int J Impot Res 20, 231–235 (2008). https://doi.org/10.1038/sj.ijir.3901633
Received:

Revised:

Accepted:

Published:

Issue Date:

DOI: https://doi.org/10.1038/sj.ijir.3901633
Keywords
hypogonadism

erectile dysfunction

testosterone replacement