Abstract
Hypercholesterolemia is a major risk factor for erectile dysfunction. To understand the mechanism(s) of hypercholesterolemia-induced erectile dysfunction, we studied the effect of lysophosphatidylcholine (LPC) on the membrane conductance of corporal smooth muscle cells. We used cultured human corporal smooth muscle cells. The intracelluar Ca2+ concentration ([Ca2+]i) and the influx of divalent cation was monitored by the ratio of fura-2 fluorescence (F340/380) and by the Mn2+-induced quenching rate of fura-2, respectively. The LPC-induced membrane current was characterized by the whole-cell patch-clamp technique and the molecular identity of suspected channels was probed by RT-PCR. LPC (20 μM) induced a statistically significant increase in F340/380 to 119.9±3.9% of initial control (n=6) in corporal smooth muscle cells. The addition of 20 μM LPC accelerated the quenching rate of F360 by 59.5±11.8% (n=5). LPC activated nonselective cationic current (ILPC), similar to the known effects of phenylephrine in corporal myocytes. The size of ILPC at −60 mV was −55.3±6.3 pA (n=8). The transcript of transient receptor potential channel 6 (TRPC6) was detected in human corporal myocytes. We also found one splicing variant of TRPC6, TRPC6α. In conclusion, the present study suggests that the LPC, a major component of oxidized low-density lipoprotiens, increases calcium in corporal smooth muscle cells probably through activation of a TRPC6 channel and the increased [Ca2+]i by LPC via TRP channels is one of mechanisms for hypercholesterolemia-induced erectile dysfunction.
Access options
Subscribe to Journal
Get full journal access for 1 year
$119.00
only $14.88 per issue
All prices are NET prices.
VAT will be added later in the checkout.
Tax calculation will be finalised during checkout.
Buy article
Get time limited or full article access on ReadCube.
$32.00
All prices are NET prices.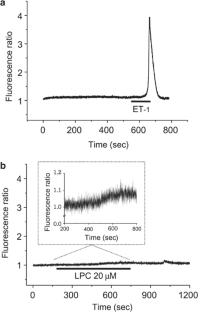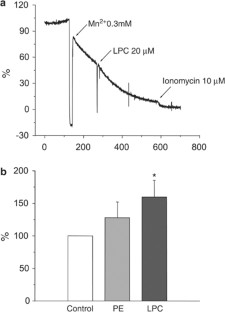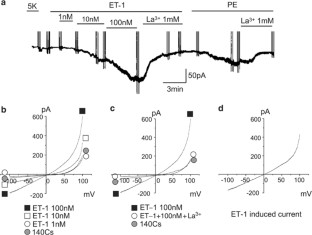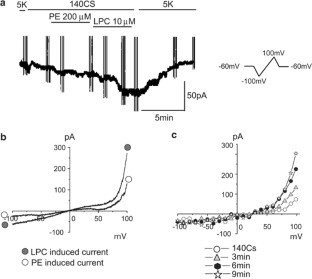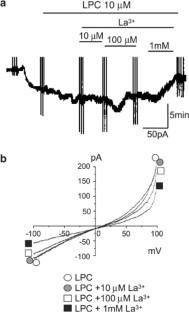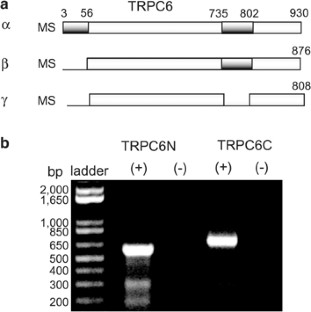 References
Wei M, Macera CA, Davis DR . Total cholesterol and high density lipoprotein cholesterol as important predictors of erectile dysfunction. Am J Epidemiol 1994; 140: 930–937.

Kim JH . Experimental hypercholesterolemia in rabbits induces cavernosal atherosclerosis with endothelial and smooth muscle cell dysfunction. J Urol 1994; 151: 198–205.

Ahn TY et al. Enhanced contractility of rabbit corpus cavernosum smooth muscle by oxidized low density lipoproteins. Int J Impot Res 1999; 11: 9–14.

Yesilli C, Yaman O, Anafarta K . Effect of experimental hypercholesterolemia on cavernosal structures. Urology 2001; 57: 1184–1188.

Kugiyama K et al. Impairment of endothelium-dependent arterial relaxation by lysolecithin in modified low density lipoproteins. Nature 1990; 344: 160–169.

Cox DA, Cohen ML . Effects of oxidized low-density lipoprotein on vascular contraction and relaxation: Clinical and pharmacological implications in atherosclerosis. Pharmacol Rev 1996; 48: 3–19.

Kume N, Cybulsky MI, Gimbrone Jr MA . Lysophosphatidylcholine, a component of atherogenic lipoproteins, induces mononuclear leukocyte adhesion molecules in cultured human and rabbit arterial endothelial cells. J Clin Invest 1992; 90: 1138–1144.

Christ GJ . The penis as a vascular organ: the importance of corporal smooth muscle tone in the control of erection. Urol Clin North Am 1995; 22: 727–745.

Kuriyama H, Kitamura K, Nabata H . Pharmacological and physiological significance of ion channels and factors that modulate them in vascular tissues. Pharmacol Rev 1995; 47: 387–573.

Nelson MT et al. Relaxation of arterial smooth muscle by calcium sparks. Science 1995; 270: 633–637.

Vennekens R et al. Current understanding of mammalian TRP homologues. Cell Calcium 2002; 31: 253–264.

Lee YM et al. TRPC5 as a candidate for the nonselective cation channel activated by muscarinic stimulation in murine stomach. Am J Physiol Gastrointest Liver Physiol 2003; 284: G604–G616.

SO I et al. Molecular basis and characteristics of KATP channel in human corporal smooth muscle cells. Int J Impot Res 2003; 15: 258–266.

Merritt JE, Jacob R, Hallam TJ . Use of manganese to discriminate between calcium influx and mobilization from internal stores in stimulated human neutrophils. J Biol Chem 1989; 264: 1522–1527.

Inoue R, Kuriyama H . Dual regulation of cation-selective channels by muscarinic and α1-adrenergic receptors in the rabbit portal vein. J Physiol 1993; 465: 427–448.

Helliwell RM, Large WA . Dual effect of external Ca2+ on noradrenaline-activated cation current in rabbit portal vein smooth muscle cells. J Physiol 1996; 492: 75–88.

Inoue R et al. The transient receptor potential protein homologue TRP6 is the essential component of vascular α1-adrenoceptor-activated Ca2+-permeable cation channel. Circ Res 2001; 88: 325–332.

Zhang L, Saffen D . Muscarinic acetylcholine receptor regulation of TRPC6 Ca2+ channel isoforms. J Biol Chem 2001; 276: 13331–13339.

Terasawa K et al. Nonselective cation currents regulate membrane potential of rabbit coronary arterial cell: modulation by lysophosphatidylcholine. Circulation 2002; 106: 3111–3119.

Wamhoff BR, Dixon JL, Sturek M . Atorvastatin treatment prevents alterations in coronary smooth muscle nuclear Ca2+ signaling in diabetic dyslipidemia. J Vasc Res 2002; 39: 208–220.

Andersson KE . Erectile physiological and pathophysiological pathways involved in erectile dysfunction. J Urol 2003; 170: S6–S14.

Kim SJ et al. Ca2+ influx through carbachol-activated non-selective cation channels in guinea-pig gastric myocytes. J Physiol 1998; 513: 749–760.

Montell C, Birnbaumer L, Flockerzi V . The TRP channels, a remarkably functional family. Cell 2002; 108: 595–598.

Vazquez G et al. The mammalian TRPC cation channels. Biochim Biophys Acta 2004; 1742: 21–36.

Kabarowski JH et al. Lysophosphatidylcholine as a ligand for the immunoregulatory receptor G2A. Science 2001; 293: 702–705.

Zhu K et al. Sphingosylphosphorylcholine and lysophosphatidylcholine are ligands for the G protein-coupled receptor GPR4. J Biol Chem 2001; 276: 41325–41335.

Jung S, Strotmann R, Schultz G, Plant TD . TRPC6 is a candidate channel involved in receptor-stimulated cation currents in A7r5 smooth muscle cells. Am J Physiol Cell Physiol 2002; 282: C347–C359.
Acknowledgements
This study was supported by a grant of the Korea Health 21 R&D Project, Ministry of Health & Welfare, Republic of Korea (No.: 01-PJ1-PG3-20500-0053).
About this article
Cite this article
So, I., Chae, M., Kim, S. et al. Lysophosphatidylcholine, a component of atherogenic lipoproteins, induces the change of calcium mobilization via TRPC ion channels in cultured human corporal smooth muscle cells. Int J Impot Res 17, 475–483 (2005). https://doi.org/10.1038/sj.ijir.3901356
Received:

Revised:

Accepted:

Published:

Issue Date:

DOI: https://doi.org/10.1038/sj.ijir.3901356
Keywords
erectile dysfunction

lysophosphatidylcholine

transient receptor potential channel

corporal smooth muscle cells