Abstract
The relationship between lower urinary tract symptoms (LUTS) due to benign prostatic hyperplasia and sexual health in men participating in a national multicenter screening program was studied. A total of 12 679 men were screened for prostate cancer in the year 2003. Of these, 6641 men had completed both the American Urological Association Symptom Score (AUA-SS) and the Sexual Health Inventory for Men (SHIM) questionnaires. We assessed the apparent effect of comorbidities (ischemic heart disease, hypertension, hypercholesteremia and diabetes), smoking habits and testosterone level on the overall sexual health. Age and race were also assessed as factors affecting the SHIM score. We used a general linear multivariable regression analysis to express the effect of these variables on the sexual health in these men adjusting for the apparent effect of LUTS. The mean and median age of the population was 58.4 ± 9.8 and 58 y, respectively. The median AUA-SS was 4/25 (mean=5.7 ± 5.3) and SHIM score was 19/25 (mean=16.3 ± 5.9). Of the men, 4948 (75%) were Caucasian and 1154 (17%) were from African-American racial origin. A high AUA-SS appears to have a negative effect on the overall sexual health (P<0.05) after adjusting for all other confounding factors. As expected, age showed a significant inverse correlation with SHIM score (P<0.05). Caucasian men on average appear to have a significantly higher SHIM score by 6.5 points when compared to African-American men after adjusting for age, comorbidities, smoking habits, and AUA-SS (P<0.05). However, with increasing age, the difference in SHIM score diminishes between the two groups. Further, smoking and comorbidities were strong predictors of poor sexual health performance. Interestingly, hypogonadism (testosterone <300 ng/dl) was not a significant risk factor (P=0.104) when adjusting for all other variables. Nonetheless, in a univariate analysis, testosterone levels significantly correlated with reported SHIM scores (P<0.05). The overall sexual health in aging men is substantially affected not only by age, but by the severity of their urinary symptoms after adjusting for the most common known risk factors, suggesting perhaps a common underlying pathophysiology. Moreover, race appears to constitute another neglected potential risk factor, which should be investigated further in future studies.
Access options
Subscribe to Journal
Get full journal access for 1 year
$119.00
only $14.88 per issue
All prices are NET prices.
VAT will be added later in the checkout.
Tax calculation will be finalised during checkout.
Buy article
Get time limited or full article access on ReadCube.
$32.00
All prices are NET prices.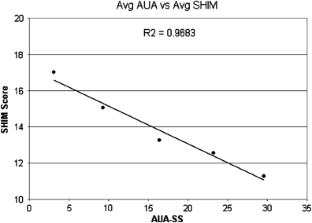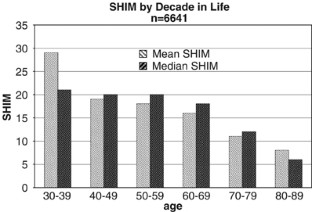 References
Rosen R et al. Lower urinary tract symptoms and male sexual dysfunction: the multinational survey of the aging male (MSAM-7). Prog Urol 2004; 14: 332–344.

McKinlay JB . The worldwide prevalence and epidemiology of erectile dysfunction. Int J Impot Res 2000; 12(Suppl 4): S6–S11.

Rosen R et al. Lower urinary tract symptoms and male sexual dysfunction: the multinational survey of the aging male (MSAM-7). Eur Urol 2003; 44: 637–649.

Hansen BL . urinary tract symptoms (LUTS) and sexual function in both sexes. Eur Urol 2004; 46: 229–234.

Braun M et al. Epidemiology of erectile dysfunction: results of the 'Cologne Male Survey'. Int J Impot Res 2000; 12: 305–311.

Carbone Jr DJ, Hodges S . Medical therapy for benign prostatic hyperplasia: sexual dysfunction and impact on quality of life. Int J Impot Res 2003; 15: 299–306.

Chung WS et al. Lower urinary tract symptoms and sexual dysfunction in community-dwelling men. Mayo Clin Proc 2004; 79: 745–749.

Elliott SP et al. Obstructive lower urinary tract symptoms correlate with erectile dysfunction. Urology 2004; 63: 1148–1152.

Gacci M et al. Urinary symptoms, quality of life and sexual function in patients with benign prostatic hypertrophy before and after prostatectomy: a prospective study. BJU Int 2003; 91: 196–200.

Barry MJ et al. Correlation of the American Urological Association symptom index with self-administered versions of the Madsen-Iversen, Boyarsky and Maine Medical Assessment Program symptom indexes. Measurement Committee of the American Urological Association. J Urol 1992; 148: 1558–1563, discussion 1564.

Cappelleri JC et al. Relationship between patient self-assessment of erectile dysfunction and the sexual health inventory for men. Clin Ther 2001; 23: 1707–1719.

Calais Da Silva F et al. Relative importance of sexuality and quality of life in patients with prostatic symptoms. Results of an international study. Eur Urol 1997; 31: 272–280.

Macfarlane GJ et al. The relationship between sexual life and urinary condition in the French community. J Clin Epidemiol 1996; 49: 1171–1176.

Frankel SJ et al. Sexual dysfunction in men with lower urinary tract symptoms. J Clin Epidemiol 1998; 51: 677–685.

Feldman HA et al. Construction of a surrogate variable for impotence in the Massachusetts Male Aging Study. J Clin Epidemiol 1994; 47: 457–467.

Ross R et al. Serum testosterone levels in healthy young black and white men. J Natl Cancer Inst 1986; 76: 45–48.

Kubricht III WS et al. Serum testosterone levels in African-American and white men undergoing prostate biopsy. Urology 1999; 54: 1035–1038.

Olapade-Olaopa EO et al. Androgen receptor protein expression in prostatic tissues in Black and Caucasian men. Prostate 2004; 59: 460–468.

Anderson RA et al. 7Alpha-methyl-19-nortestosterone maintains sexual behavior and mood in hypogonadal men. J Clin Endocrinol Metab 1999; 84: 3556–3562.

Gillum RF . Coronary heart disease in black populations. I. Mortality and morbidity. Am Heart J 1982; 104: 839–851.

Henderson SO, Bretsky P, Henderson BE, Stram DO . Risk factors for cardiovascular and cerebrovascular death among African Americans and Hispanics in Los Angeles, California. Acad Emerg Med 2001; 8: 1163–1172.

Kountz D, Assiamah A . Diabetes mellitus in African Americans: impact of race on medical complications, sexual function, and general well-being. Med Aspects Hum Sex 2001; 1: 13–23.

Kountz DS, Levine SL . Cardiovascular risk profiling in blacks: don't forget the lipids. Am Fam Physician 1998; 58: 1541–1542.

Davidson JM et al. Hormonal changes and sexual function in aging men. J Clin Endocrinol Metab 1983; 57: 71–77.

Ahn HS, Park CM, Lee SW . The clinical relevance of sex hormone levels and sexual activity in the ageing male. BJU Int 2002; 89: 526–530.

Shibata Y et al. Changes in the endocrine environment of the human prostate transition zone with aging: simultaneous quantitative analysis of prostatic sex steroids and comparison with human prostatic histological composition. Prostate 2000; 42: 45–55.

Jeremy JY et al. Platelets, oxidant stress and erectile dysfunction: a hypothesis. Cardiovasc Res 2000; 46: 50–54.

Haidinger G et al. Risk factors for lower urinary tract symptoms in elderly men. For the Prostate Study Group of the Austrian Society of Urology. Eur Urol 2000; 37: 413–420.

Seidman SN . Exploring the relationship between depression and erectile dysfunction in aging men. J Clin Psychiatry 2002; 63(Suppl 5): 5–12, discussion 23–25.

Kassabian VS . Sexual function in patients treated for benign prostatic hyperplasia. Lancet 2003; 361: 60–62.
About this article
Cite this article
Barqawi, A., O'Donnell, C., Kumar, R. et al. Correlation between LUTS (AUA-SS) and erectile dysfunction (SHIM) in an age-matched racially diverse male population: data from the Prostate Cancer Awareness Week (PCAW). Int J Impot Res 17, 370–374 (2005). https://doi.org/10.1038/sj.ijir.3901340
Received:

Revised:

Accepted:

Published:

Issue Date:

DOI: https://doi.org/10.1038/sj.ijir.3901340
Keywords
LUTS

erectile dysfunction

race

testosterone
This article is cited by
Journal of Endocrinological Investigation (2022)