Abstract
Our aim was to compare the ultrastructure of penile cavernous tissue in the spontaneous hypertensive rat (SHR) and normotensive rat, and study the relation of blood pressure with erectile function. After injection of apomorphine (APO), penile erectile frequency in 16-week-old SHR (group A) and Wistar–Kyoto rat (WKY) (group B) was observed and noted. The ultrastructure of the penile cavernous tissue was studied by scanning electron microscope and transmission electron microscope. The mean blood pressures were significantly higher in group A than in group B (P=0; 171.20±10.94 and 117.60±12.38, n=5, for group A and group B, respectively). After treatment of the two groups with APO, the erectile frequency in group A was significantly less than in group B (P=0.007; 0.40±0.55 and 2.40±1.14, n=5, for group A and group B, respectively). Significant ultrastructural pathological changes were observed in the tunica albuginea and penile cavernous tissue of SHR. The elastic fibers were decreased and the collagen fibers of the sinusoid were increased in group A. The tunica albuginea thickness (mean±s.d.) was 100.20±7.22 μm and 126.00±7.65 μm in group A and group B, respectively. The tunica albuginea of group A was significantly thinner than that in B (P=0.001). Some endothelial cells and smooth muscle cells exhibited damaged mitochondria, and endoplasmic reticulums and Schwann cells were degenerated in group A. Although the function of penile erection might be affected by a secondary effect related to endothelial dysfunction of hypertension, these ultrastructural pathological changes of the penile cavernous tissue might also be one of the important mechanisms of erectile dysfunction caused by hypertension.
Access options
Subscribe to Journal
Get full journal access for 1 year
$119.00
only $14.88 per issue
All prices are NET prices.
VAT will be added later in the checkout.
Tax calculation will be finalised during checkout.
Buy article
Get time limited or full article access on ReadCube.
$32.00
All prices are NET prices.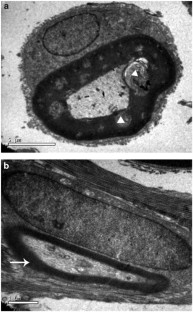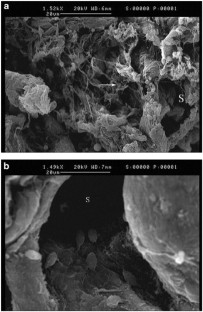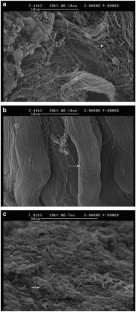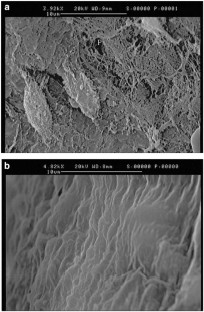 References
Mersdorf A et al. Ultrastructural changes in impotent penile tissue: a comparison of 65 patients. J Urol 1991; 145: 749–758.

Karadeniz T et al. Correlation of ultrastructural alterations in cavernous tissue with the clinical diagnosis vasculogenic impotence. Urol Int 1996; 57: 58–61.

Persson C et al. Correlation of altered penile ultrastructure with clinical arterial evaluation. J Urol 1989; 142: 1462–1468.

Aydos K et al. Ultrastructual changes of corpora cavernosa in vascular erectile dysfunction. Int Urol Nephrol 1996; 28: 375–385.

Basar M et al. Electron microscopic findings of penile tissues in veno-occlusive dysfunction: is penile biopsy necessary? Int Urol Nephrol 1998; 30: 331–338.

Bellinghieri G et al. Ultrastructural changes of corpora cavernosa in men with erectile dysfunction and chronic renal failure. Semin Nephrol 2004; 24: 488–491.

Basar MM et al. Comparative study between corpus cavernosum-electromyography findings and electron microscopy of cavernosal muscle biopsies in erectile dysfunction patients. Int J Urol 1998; 5: 252–255.

Iacono F et al. Scanning electron microscopy of the tunica albuginea of the corpora cavernosa in normal and impotent subjects. Urol Res 1995; 23: 221–226.

Ushiyama M et al. Erectile dysfunction in hypertensive rats results from impairment of the relaxation evoked by neurogenic carbon monoxide and nitric oxide. Hypertens Res 2004; 27: 253–261.

Wilkes N et al. Phophodiesterase-5 inhibition synergizes rho-kinase antagonism and enhances erectile response in male hypertensive rats. Int J Impot Res 2004; 16: 187–194.

Behr-Roussel D et al. Erectile dysfunction in spontaneously hypertensive rats: pathophysiological mechanisms. Am J Physiol Regul Integr Comp Physiol 2003; 284: R682–R688.

Toblli JE et al. Morphological changes in cavernous tissue in spontaneously hypertensive rats. Am J Hypertens 2000; 13 (6 Part 1): 686–692.

Hale TM, Okabe H, Heaton JP, Adams MA . Antihypertensive drugs induce structural remodeling of the penile vasculature. J Urol 2001; 166: 739–745.

Hale TM et al. Recovery of erectile function after brief aggressive antihypertensive therapy. J Urol 2002; 168: 348–354.

Sala C et al. Humoral effects of selective adenosine agonists in spontaneously hypertensive rats. J Hypertens 1996; 14: 75–79.

Heaton JPW, Varrin SJ, Morales A . The characterization of a bio-assay of erectile function in a rat model. J Urol 1991; 145: 1099–1101.

Jensen J et al. The prevalence and etiology of impotence in 101 male hypertensive outpatients. Am J Hypertens 1999; 12: 271–275.

Johansson BB . Hypertension mechanisms causing stroke. Clin Exp Pharmacol Physiol 1999; 26: 563–565.

Gobe G et al. Apoptosis occurs in endothelial cells during hypertension-induced microvascular rarefaction. J Struct Biol 1997; 118: 63–72.

Jaffe A et al. Erectile dysfunction in hypertensive subjects. Assessment of potential determinants. Hypertension 1996; 28: 859–862.

User HM et al. Penile weight and cell subtype specific changes in a post-radical prostatectomy model of erectile dysfunction. J Urol 2003; 169: 1175–1179.

Shen ZJ, Zhou XL, Lu YL, Chen ZD . Effect of androgen deprivation on penile ultrastructure. Asian J Androl 2003; 5: 33–36.

Shen ZJ, Jin XD, Chen ZD, Shi YH . Effect of aging on penile ultrastructure. Asian J Androl 2001; 3: 281–284.

Jevtich MJ, Khawand NY, Vidic B . Clinical significance of ultrastructural findings in the corpora cavernosa of normal and important men. J Urol 1990; 143: 289–293.

Wespes E et al. Computerized analysis of smooth muscle fibers in potent and impotent patients. J Urol 1991; 146: 1015–1017.

Heaton JPW, Varrin S . The impact of alcohol ingestion on erections in rats as measured by a novel bioassay. J Urol 1991; 145: 192–194.

Hsieh GC et al. Central mechanisms regulating penile erection in conscious rats: the dopaminergic systems related to the proerectile effect of apomorphine. J Pharmacol Exp Ther 2004; 308: 330–338.

Martin WJ et al. Activation of melanocortin MC(4) receptors increases erectile activity in rats ex copula. Eur J Pharmacol 2002; 454: 71–79.

Hayes ES, Adaikan PG . The effects of 5HT(1) agonists on erection in rats in vivo and rabbit corpus cavernosum in vitro. Int J Impot Res 2002; 14: 205–212.

Hu WL et al. Expression of transforming growth factor-beta1 in penile tissue from rats with bilateral cavernosal nerve ablation. BJU Int 2004; 94: 424–428.

Della Chiesa A, Pfiffner D, Meier B, Hess OM . Sexual activity in hypertensive men. J Hum Hypertens 2003; 17: 515–521.

Ferrario CM, Levy P . Sexual dysfunction in patients with hypertension: implications for therapy. J Clin Hypertens (Greenwich) 2002; 4: 424–432.

Khan MA, Morgan RJ, Mikhailidis DP . The choice of antihypertensive drugs in patients with erectile dysfunction. Curr Med Res Opin 2002; 18: 103–107.
About this article
Cite this article
Jiang, R., Chen, J., Jin, J. et al. Ultrastructural comparison of penile cavernous tissue between hypertensive and normotensive rats. Int J Impot Res 17, 417–423 (2005). https://doi.org/10.1038/sj.ijir.3901329
Received:

Revised:

Accepted:

Published:

Issue Date:

DOI: https://doi.org/10.1038/sj.ijir.3901329
Keywords
hypertension

erectile dysfunction

rat

penis

electron microscopy

elastic fibers

collagen