Abstract
Clinical and basic science studies provide strong indirect evidence that smoking may affect penile erection. The objective of this retrospective research was to investigate the role of smoking for erectile dysfunction (ED) in order to obtain some insight into the prevention of ED. We reviewed the data from 860 male patients aged between 18 and 44 visited during the period January 1999 to December 2002. The patients were divided into three groups: smokers, never smokers and former smokers. All patients were submitted of medical history, such as, IIEF 5 Questionnaire, physical examination, serum levels of glucose, cholesterol, prolactin and free testosterone. Our data were compared with ISTAT (Italian Institute of Statistics) and data on the Italian population of smokers. We have stratified the data by age and area of residence. The 860 patients, mean age 32.4 y old (range 18–44), are distributed into three groups: smokers 460 (53.5%), never smokers 320 (37.2%) and former smokers 80 (9.3%). Current smokers in our series are 460 (53.5%) in comparison to 34.7% of male current smokers in Italy, in the same range (18–44). Out of 860, 337 are patients who smoked more than 20 cigarettes per/day (39.2%) and these data are extremely interesting; while comparing the same aged men through ISTAT, it is found that only 4% are heavy smokers. On analysing the incidence of heavy smoking in middle-aged patients affected by ED with the whole Italian population by means of ISTAT, taking into account males with the same age range and area of residence, it was shown that the data of our population (sample) compared all Italian middle-aged patients are 39.2 vs 4%; this explains the need for education within a comprehensive smoking cessation programme, and should be reserved especially for young smokers, in order to be aware and informed of the effect of tobacco on erectile function.
Your institute does not have access to this article
Access options
Subscribe to Journal
Get full journal access for 1 year
$119.00
only $14.88 per issue
All prices are NET prices.
VAT will be added later in the checkout.
Tax calculation will be finalised during checkout.
Buy article
Get time limited or full article access on ReadCube.
$32.00
All prices are NET prices.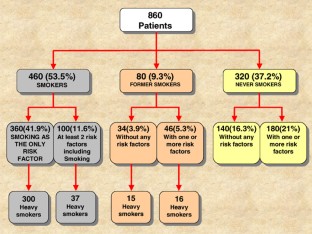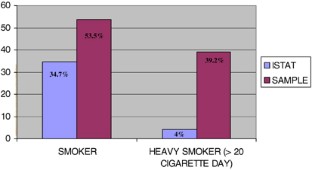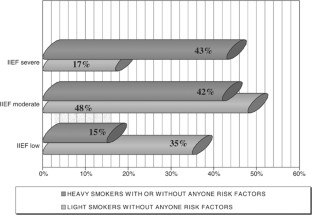 References
Virag R, Bouilly P, Frydman D . Is impotence an arterial disorder? A study of arterial risk factors in 440 impotent men. Lancet 1985; 1: 181–184.

Mirone V et al. Cigarette smoking as risk factor for erectile dysfunction: results from an Italian epidemiological study. Eur Urol 2002; 41: 294–297.

Kevin T . McVary, Serge Carrier, Hunter Wessells and the Subcommittee on smoking and erectile dysfunction socioeconomic committee, sexual medicine society of North America: smoking and erectile dysfunction: evidence based analysis. J Urol 2001; 166: 1624–1632.

Parazzini F et al. Gruppo Italiano Studio Deficit Erettile:frequency and determinants of erectile dysfunction in Italy. Eur Urol 2000; 37: 43–49.

Mannino DM, Klevens RM, Flanders WD . Cigarette smoking:an independent risk factor for impotence. Am J Epidemiol 1994; 140: 1003.

Rosen MP et al. Cigarette smoking: an independent risk factor for atherosclerosis in the hypogastric-cavernous arterial bed of men with arteriogenic impotence. J Urol 1991; 145: 759–763.

Guay AT, Perez JB, Heathley GJ . Cessation of smoking rapidly decreases ED. Endocr Pract 1998; 4: 23–26.
Acknowledgements
We thank Dr Eugenio Marro for Statistical analysis, Ms Anna Calzolai for the revision of the tables and figures and Mr Salvatore Chiari for the review of the translation.
About this article
Cite this article
Natali, A., Mondaini, N., Lombardi, G. et al. Heavy smoking is an important risk factor for erectile dysfunction in young men. Int J Impot Res 17, 227–230 (2005). https://doi.org/10.1038/sj.ijir.3901275
Received:

Revised:

Accepted:

Published:

Issue Date:

DOI: https://doi.org/10.1038/sj.ijir.3901275
Keywords
risk factors

erectile dysfunction

smoking
Further reading
Current Sexual Health Reports (2014)

G Lombardi
N Mondaini
G D Popolo

Spinal Cord (2008)